Fall has shaken me out of a bit of a food rut. It's so easy to get stuck eating pasta a couple nights a week and a soup the rest. But fall doesn't have to be boring. These vegetarian fall recipes are healthy, quick, and delicious. All of the recipes can easily be made gluten-free and/or vegan.
Did I mention they are also easy? I can't stand recipes with endless instructions and ingredients. Nor do I care for things that have to be made exactly the right way or they fail epically. These recipes are perfect for a quick weeknight dinner or a cozy weekend meal. All of them are recipes I have made multiple times and still love.
And to be fair, most of them would be great year round. These are just the recipes I reach for when it's cold and I'm already hungry.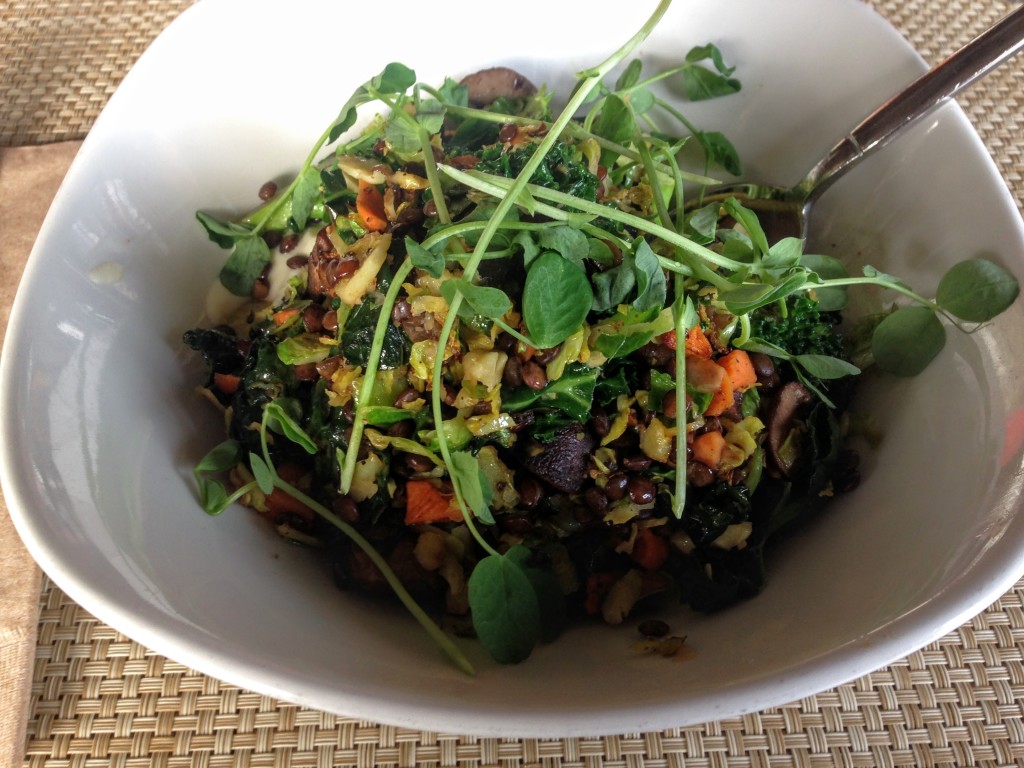 Vegetarian Fall Recipes: Dinner
1-Pot Kale Sweet Potato Curry
If you only make on dish off this list, it has to be this one from Minimalist Baker. I cannot shut up about it. So easy. So filling. So satisfying. It's my new go-to "stew." If you don't like sweet potato, a squash or really any vegetable would substitute well.
Enlightened Miso Power Bowl
This bowl is straight out of the Oh She Glows Cookbook. I love bowls, especially when someone else is going to make it for me. This one feels filling and interesting without forcing you to cut every vegetable in the market and cook it separately. I've made the Orange Miso Dressing (swapping olive oil for the toasted sesame oil because it's not my thing) to use on other dishes. Oh, and it has 20.3g protein in each serving. Score.
1-Pot Vegetable Penne Pasta
For those lucky enough to live in California and still have ripe cherry tomatoes, this one from Love and Lemons is golden. It reminds me of the frozen Trader Joe's pasta dish my roommates ate nearly daily in college, but it's even better. I overload it with vegetables so I don't have to feel guilty for not making a side dish. You seriously just throw everything in the pot, wait a few minutes while it cooks, and devour.
Gnocchi With Pomodoro Sauce
This recipe from Foodie Crush makes me make Homer noises. My boyfriend and I have made this recipe so many times that we don't need the recipe anymore. To be fair, it is simple with only a few ingredients. We don't do the cheese or broil – who can wait that long!?! (It's only an extra eight minutes, so totally feel free to complete the recipe as written.) We made it with a bit of mozzarella once and it was good, but for my dairy-hating stomach we just sprinkle on a bit of aged parmigiano-reggiano afterwards. I also frequently just make the sauce to use over pasta or another dish. It's that good and stupid easy.
Miso-Kale Noodles
I am head over heels for miso. The salty stuff makes my heart beat a little faster (and it's not the extra sodium). To make this recipe I start with Veganomicon's Udon Recipe. Due to dietary constrictions I now make it with zucchini instead of the mushrooms, garlic olive oil, no onion, and rice noodles instead. It's a forgiving recipe and I just want to drink the broth anyway. If you don't have to eat low-FODMAP, the original is great.
Butternut Squash Kale Risotto
I've only made this recipe once, but it seemed like a sin not to include a butternut squash dish. The recipe turned out pretty well, but there was a bit too much liquid and I had some trouble cooking the squash evenly. Next time I would roast the cubed squash while I made the rice and cut out a time-consuming step.
Vegetarian Fried Rice
Fried rice is of course a great idea year round, but it's also a nice way to use up leftover rice and make a fast hot meal when you don't feel like cooking. You can really use any vegetables that sauté well, even a frozen medley. I use this recipe from The Kitchn as a guide, and I highly recommend opting for the fresh ginger.
One Pan Mexican Quinoa
Tacos are a year-round staple around here, but there is something distinctly fall/winter about this dish for me. It's hearty without being heavy. You can easily swap in rice for the quinoa, just be sure to check the water ratio and increase the cooking time.
Polenta Bake with Feta and Tomato
This dish is another one where you can pretty much add what you like. It makes a great base for just about any veggie. It's also really quick.
Veggie Bowl
There isn't really a recipe for this, and that's why I like it. But here's the basic principles: 1. Roast or sauté whatever vegetables you want. 2. Make or use leftover rice, quinoa, cauliflower rice, etc. 3. Put it in your bowl. 4. Drizzle with olive oil and a squeeze of lemon or add whatever sauce you want. 5. Completely cover in parm until you can no longer see the contents of the bowl (optional).
Vegetarian Fall Recipes: Breakfast
Let's be honest, I eat toast 95 percent of the time. Usually with butter and sunflower seed butter. But when I don't eat that (or eggs), these are my favorites. Did I include this section just so I could talk about waffles? Yes.
Easy Gluten Free Oat Waffles
I would happily eat these every day. Breakfast, snack, you name it. They are incredibly filling because they are made with oat flour – not to mention nutritious and protein packed. I thought the texture would be dense, but I was so wrong. This recipe by Cookie and Kate ruined me for waffles. I only want these ones… okay I'll eat a different one if it really came down to it.
Quinoa Oatmeal
Thug Kitchen is a staple in my family. I always have at least one jar of this oatmeal in my freezer. Between the quinoa and the steel cut oats, it's packed with protein. When it isn't berry season, I stir in some frozen fruit. My absolute favorite way to make this is with an entire can of full fat coconut milk. It keeps me full longer and the flavor is subtle. (It ends up being close to two cups and I just add water to get the full four).
Still hungry? I have tons more recipes here.
What's your favorite fall recipe or ingredient?