Phew, what a year.
This list concludes the rambling reviews/thoughts/complaints/useless nonsense I have written for all 79 of the books I read in 2017. (Yes, I too wish it was 80. Although that seems greedy given that I had originally set out to read 52.) More than any year in the past, these posts have reflected my worries, my hopes, my weird obsessions. These books have offered me comfort, answers, and a nice dose of 'well at least it's not that bad… right?' I hope you were able to sneak in a little bit of that too.
2017 Reading Stats
For the curious:
Books read:79
Fiction: 32
Nonfiction: 44
Poetry: 3
Average length: 297 pages
Total pages: 23,432
Shortest book: 78 pages
Longest book: 707 pages
November and December Books
I got a bit behind on my monthly book posts, so you'll have to excuse this massive post with both November's and December's list.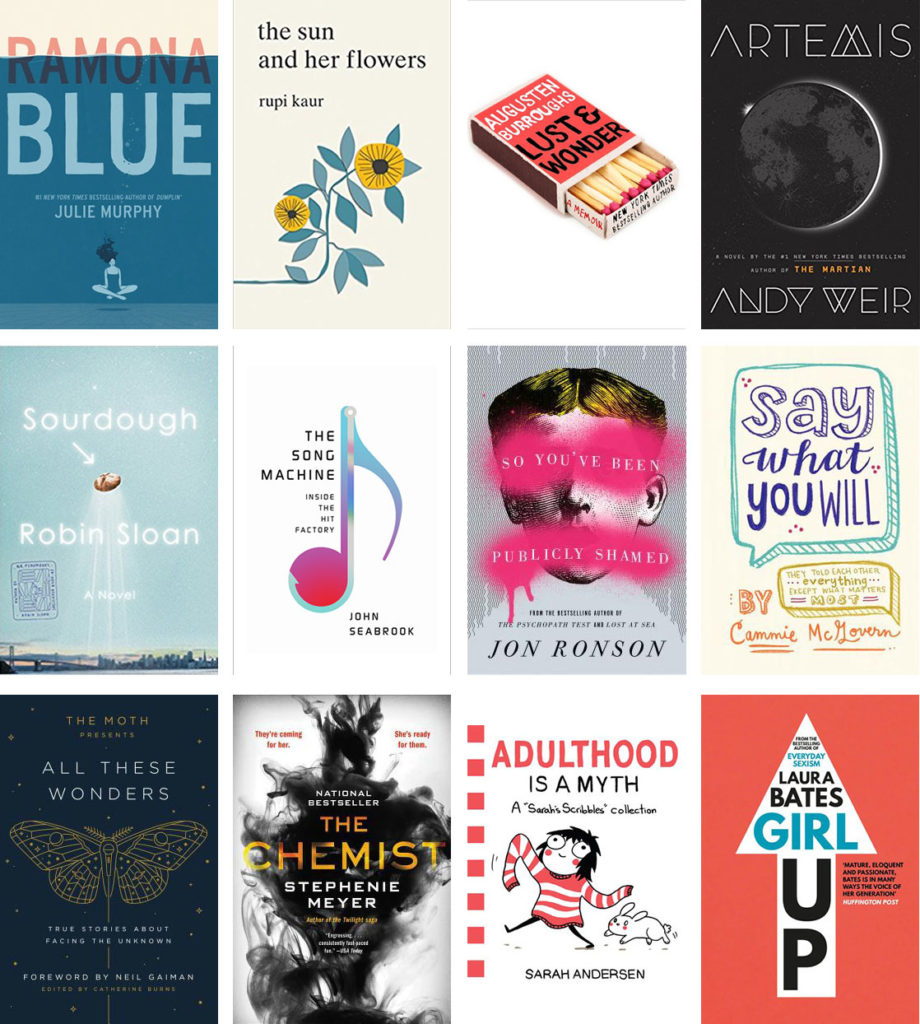 Say What You Will
This book was not what I expected, and two months later I'm even less sure what I think about it. I enjoyed that the focus of the story and the narrater is a teen with cerebral palsy who can't talk or walk without assistance. For the most part it was a believable story that does a good job of keeping you engaged. Unfortunately there were times where it was just a bit too over the top for my taste.
So You've Been Publicly Shamed
Add this to the list of things I fear and hope I never need to draw on. Jon Ronson digs into the frightening world of public (typically online) shaming and what it really looks like in the aftermath.
The main things I learned from So You've Been Publicly Shamed: women have their bodies and lives threatened, while men are made fun of and have their masculinity challenged. Women are more likely to be permanently marked by a public shaming, while men can move in on mere months and go back to having the life they had before. Being called out on the Internet can ruin your life, especially if you are a woman who relies on public acceptance for work.
Perhaps not a great vacation read, but I think it's an important issue that we all need to be more aware of before we jump on the shame wagon and attempt to obliterate people off the internet.
Sourdough
Mr. Penumbra's 24-Hour Bookstore turned out to be a tough act to follow. Robin Sloan's new book, Sourdough, is also set in the Bay Area and features distinctly dystopian views of the world. The story follows a software engineer as she leaves behind a start-up job that makes her miserable in favor of learning how to make sourdough bread.
I enjoyed Lois and her oddities, and I can't say I don't agree with some of Sloan's views on where our tech-fueled culture is headed. But I can't lie. I was dissapointed that Lois had to choose between her career that she excelled at and a new passion. The whole book had me on edge. Maybe no one wants to read a book where women can carve out professional success while still having a fully functional personal life, but I felt like the plot followed old tropes.
We Were Feminists Once: From Riot Grrrl to CoverGirl®, the Buying and Selling of a Political Movement
I dragged my feet on We Were Feminists Once. I take issue with some of the underlying premises of this book, but I too sat in a class only a handful of years ago where I was one of two women, out of 20, who raised their hand when asked if they considered themselves a feminist.
Andi Zeisler chronicles the commodification of feminism and the glaring misunderstanding of what it means. (Apparently she was spot on about that one. Why did so many people have to look up 'feminism' this year?)
It didn't revolutionize my world, but I do think it's an important read to understand the last decade and where we need to go from here.
The Sun and Her Flowers
Rupi Kaur is the poet I wanted to be when I was 13. I say screw the establishment's uproar and turned up noses. I'm all for more accessible, heartfelt poetry that so many women can see their own lives in.
The Moth Presents All These Wonders: True Stories about Facing the Unknown
Tears were shed. Socially inappropriate laughs burst out. This collection of true short stories that were adapted from live tellings gave me a much needed hit of unforgettable performances.
The Chemist
I enjoyed The Chemist more than I'd like to admit. Since leaving her job at a secret government group, the main character is on the run stay one step ahead of everyone, including her previous boss wants her dead thanks to the secrets she helped them uncover.
I liked the premise of the book. The main character's paranoia felt right at home, and her problem-solving skills were believable (and often humorous). The chemistry portions of the book made it feel fresh and less like a shoot 'em up spy movie.
My gripe? Stephenie Meyer yet again made a book that could be about a woman fighting for the control of her life into a story about how said woman gives up everything to follow a man. You can see the love story coming from the first brush, and it annoyed me.
The Song Machine: Inside the Hit Factory
Something about The Song Machine just didn't work for me. Its sweeping coverage of song making since the '60s left me feeling unmoored and bored. There's no connection with the people he writes about, and it often felt like he spent too much time on certain people and decades. I wish that it had been more about individual songs or albums. It was just too hard to grasp if you aren't obsessively following producers and the charts for the past 20 years.
It was interesting to read about how song writing and making has completely transformed into a corporate group effort. The assembly line has been brought in, and it robs the most popular hits of their individualism and soul.
If you do love the top 20, you will hate this book. It will show you that every song you listen to is heartless and made like a shitty inexpensive sports car. All flash and no lasting power.
Lust & Wonder
Pure love. I first read Augusten Burroughs in high school, and this autobiography had me flashing back to sitting against a locker while desperately trying to devour as much of Running with Scissors as possible before I had to go to class.
Along with David Sedaris, Burroughs perfectly hums along with my humor. His life choices drive me absolutely insane, but I don't want him to stop telling me about them.
Artemis
Artemis is one of the books I looked forward to most this year. I still recommend The Martian to people, and I was hoping this one would be just as good. I was so desperate to read Andy Weir's latest that I actually bought it (it was one of the maybe four books I bought all year).
The plot is outlandish as Jazz Bashara, Artemis' unofficial smuggling expert, takes on her biggest project yet. But overall it's easy to be fully onboard with the world Weir creates and his community on the moon. The book was great fun.
Girl Up
Written for teens, this book is a handbook for carving out your life in a sexist world. Laura Bates acts as a friendly guide and a wise older sister as she breaks down some of the most frustrating and unfair things girls come up against. Her advice is spot on, and I enjoyed the humor she was able to bring to what are often stuffy, overly serious, scarring conversations.
Adulthood Is a Myth
I think Sarah Andersen and I should be friends in real life. But the kind of friends where you mostly text and only see each other in quiet, uncrowded places. My introverted soul nodded along to every page of this fun illustrated book.
Ramona Blue
Set a little more than a decade after Hurricane Katrina, this YA novel brings together race, poverty, and sexuality without it feeling forced or preachy. From her off-kilter friends to her fierce protection of her sister to her constant push and pull with her hometown, it's hard not to dive right in alongside Ramona as she struggles to choose her future and let her family stand on their own. Julie Murphy managed to make Ramona Blue entertaining and relatable even when tackling the realities of being stuck in the wake of a disaster.
Want more? Here's everything I read in 2017
October
September
August
July
June
May
April
March
February
January
You can see all of my book reviews here.
More Like This
10 Best Books to Read on Vacation