The fact that this post is going live a little more than week before the next edition is due is telling. Life can be frustratingly disruptive on the reading and writing front. But no matter, still we continue.
Escape the news, laugh at yourself (and the people toiling away in the gym while you eat a donut), dig into culture, and find a little happiness with these January Book Reviews.
January Book Reviews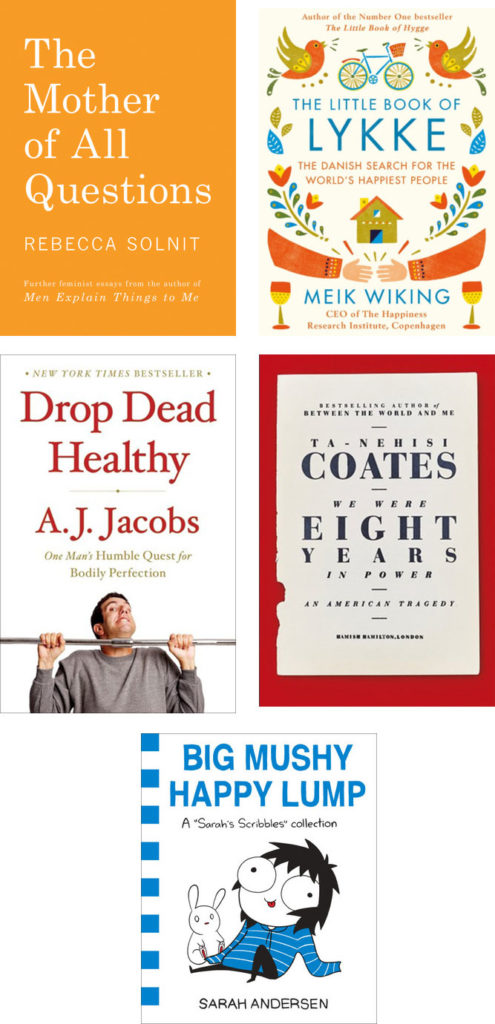 Drop Dead Healthy: One Man's Humble Quest for Bodily Perfection
I did get a few laughs out of Drop Dead Healthy, but I was kind of surprised at the weird knowledge he chose to follow and the lack of sturdy science. That said, it was mostly entertaining just to listen to his thoughts and follow along with his always-a-little-out-there experiments.
Big Mushy Happy Lump (Sarah's Scribbles #2)
There are times when I read a book and I think "Yes, this author and I so get each other!" Big Mushy Happy Lump was just as great as Adulthood Is a Myth. When you can't take the news anymore or you just want 30 minutes where it's perfectly alright to laugh by yourself in a corner, I can't recommend Sarah Andersen enough.
The Little Book of Lykke: The Danish Search for the World's Happiest People
Everyone is obsessed with Scandinavia. Even I can't help myself. Both with The Little Book of Hygge and the latest, The Little Book of Lykke, I found myself thinking how at home I would feel  nestled amongst the candles, hot drinks, warm cinnamon buns, and bicycles.
This book was less handbook and more of an intentional eye-opener. I loved the stats and examples, and it made me start thinking of ways that I could live a little more like a Dane (preferably somewhere without snow and ample winter sunlight). Be forewarned, it will also make you want to hop on a plane and see what all of the fuss is about.
We Were Eight Years in Power: An American Tragedy
Ta-Nehisi Coates is one of those writers that I compulsively read, but he makes me work for it. His books are never well-suited for tearing through, but instead make you reread entire pages and stare off into the distance while you rethink what you thought you knew about the world or imagine a world that owned up to its mistakes and rectified them quickly instead of desperately clutching onto lies and undeserved power.
While it's true that you can read most of the essays in We Were Eight Years in Power on The Atlantic's website, I much preferred being able to take my time with them, set the book down when I needed to, and come back a few days later when I was ready again. I may be an outlier, but I also really enjoyed his introduction to each essay where he explained what was going on in his personal life, what he would have done differently, the work that went into the piece, and the parts of it that he still feels strongly about or has changed his mind on.
The Mother of All Questions
From the author of Men Explain Things to Me, The Mother of All Questions takes on rape jokes, violence against women, damaging masculinity and femininity, and the power of women who cannot be silenced.