This winter I have been waging a battle against some resilient mold in the bathroom. We replaced leaking, cracked calk around the tub of our shower this summer, and since then it has been slowly growing a pink mold. I'm not about to rip out the calk and do it all over again (although it has crossed my mind!), but the mold is driving me crazy.
I scrub our entire shower weekly with castile soap, but the mold kept coming back until even the castile soap didn't seem to do much at all. Recent heavy rains in California meant our grout also started to grow black mold in some patches along the calk. (Lesson learned, always pay extra for the mold resistant calk.)
I finally got fed up and doused the entire shower with undiluted vinegar. When I stepped in the next morning, I was pleasantly surprised! While it was a bit extreme, it gave me a nice starting point.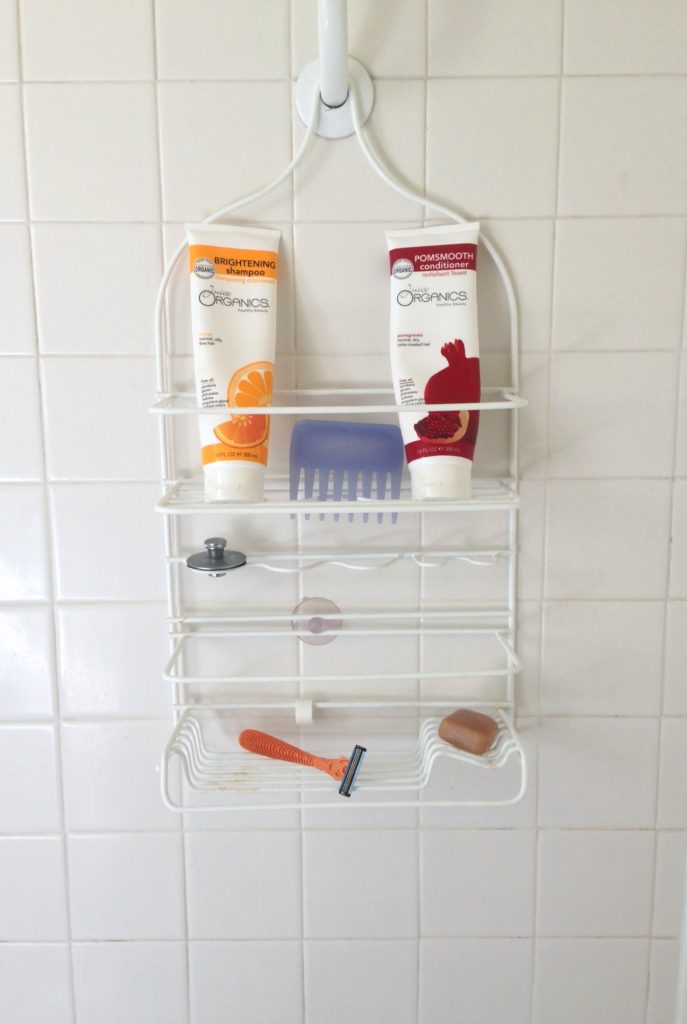 DIY Mold Cleaner Recipe
1 part white vinegar
2 parts water
This is a strong solution. After the first few rounds of using the cleaner I would recommend reducing the amount of vinegar for maintenance. You can just add some more water to your partially-used container.
How to Use the Mold Cleaner
I filled an empty (completely rinsed) dish soap container with 1 cup of vinegar and 2 cups of water. After a couple of shakes I squirted the liquid onto the grout, tile, calk, and our reusable shower curtain. Then I Let it sit overnight or until completely dry.
Our reusable, fabric shower curtain still has quite a bit of mold trapped in the hem at the bottom, so I have been drenching the bottom with the solution and letting it sit overnight after every shower (every two days or so). The mold is almost completely gone, and the vinegar has been slowly removing old mold stains as well.
If you are applying the liquid to your entire shower, the squirt bottle works great. For everything else, I would use a spry bottle. It's less wasteful and makes it easier to apply to smaller areas. While the squirt bottle works well, it also floods the whole area with more of the cleaner than necessary. I will eventually upgrade to a spray bottle.
Once you have let the vinegar dry completely, you can add more of the cleaner and scrub with a microfiber cloth to remove any surface mold and soap residue.
It's important to let the vinegar sit until it's dry. This allows the vinegar (an acid) to slowly remove the mold on the surface and deeper into the fabric/grout/surface. I leave it overnight because it's easy and it has been too cold and humid for it dry quickly.
Warning
Do not use this on natural stone! Vinegar is too acidic and may permanently etch the stone.
Your entire bathroom (or house/apartment if it's small like ours) will also smell heavily of vinegar until it dries. It's best to apply it before bed so the smell is gone by morning. You could also add some essential oils like tea tree oil or lemon essential oil to help reduce the intense salad dressing scent and help boost the mold removal process.