I'm spending most of this month traveling around New Zealand, and while I will certainly post more about what my boyfriend and I have done and all of the details (packing list, itinerary, must-sees, etc.), I thought I'd start with the part that most influenced everything else, our Great Walk.
We planned our entire trip around doing one of New Zealand's famed Great Walks. We didn't get our first choice (Milford), but we gladly signed up for the Routeburn Track. Outside of booking places to stay, planning for our hike took up most of our pre-trip preparation time. To be honest, we fumbled our way through and learned the hard way that we weren't quite as prepared as we hoped.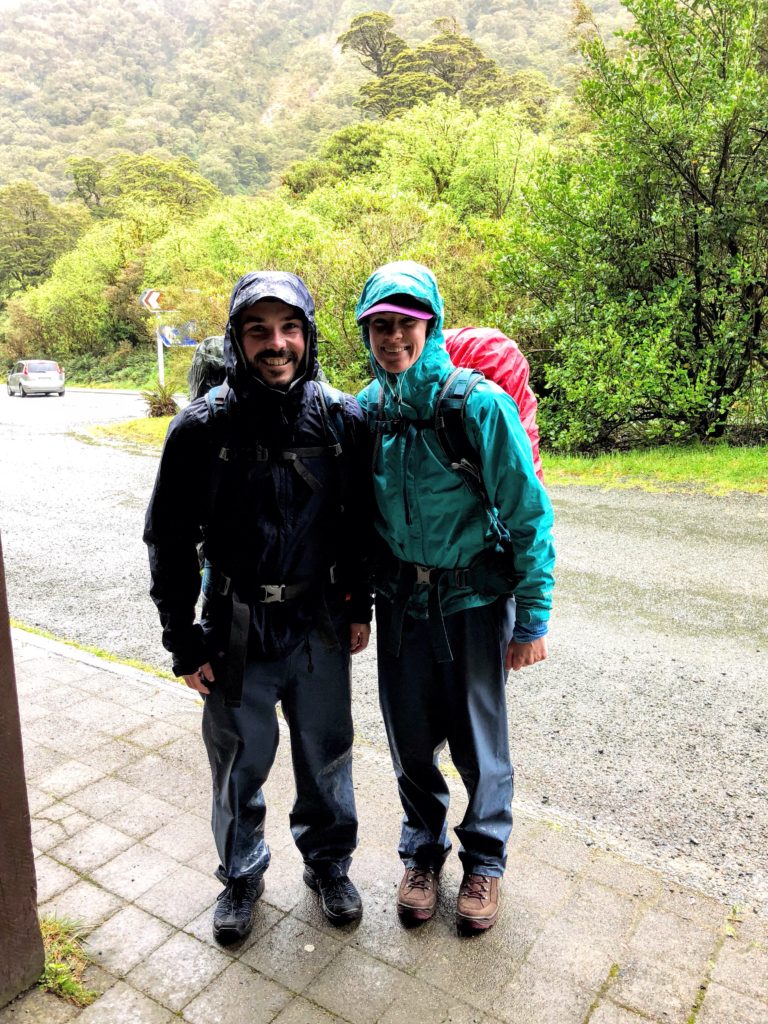 Routeburn Track Itinerary
Day 1 (Nov. 7): Drive to The Divide outside Te Anau. Hike 12km (7.5 miles) to Lake Mackenzie Hut. Sleep at the hut.
Day 2 (Nov. 8): Hike 11.3km (7 miles) to Routeburn Falls Hut. Sleep at the hut and eat as much of our rations as possible.
Day 3 (Nov. 9): Leisurely hike 8.8km (5.5 miles) to the end of the track at the Routeburn Shelter. Drive our thoughtfully relocated rental car on to our hostel in Wanaka before collapsing.
Spoiler Alert: This definitely didn't happen.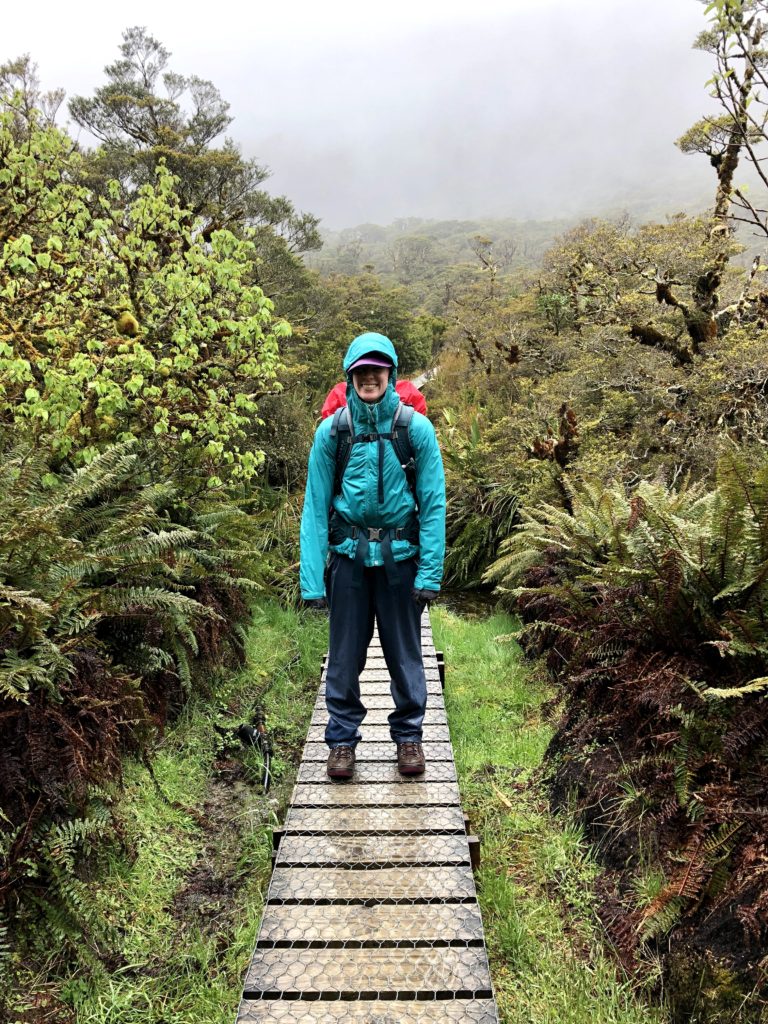 What I Wish I Knew Before Starting New Zealand's Routeburn Track
1. The Weather is No Joke
We booked our hut stays in July (4 months before our trip) when weather and the real details of our trip were completely unknown. Our hike was scheduled for early November with two hut stays along the way. We planned for inclement weather that could change on a dime. I had packed thermal tights (meant for running/hiking in the snow), fleece pants, a fleece sweatshirt, a down jacket, a raincoat, two pairs of hiking socks, 1 pair of socks for the huts, a baseball hat, two long-sleeve quick-dry shirts, and two short sleeve quick-dry tops. I figured I would layer up and strip things off as I went. HA.
We were not at all ready to be rained on for hours or to have that rain turn into thick flurries of snow. It rained on us for 4 hours and snowed on us for 2 on the way to Mackenzie Lake. I was in no way prepared to be this drenched. If we would have been able to continue on to the next hut, I would have had to hike all day in wet clothes or risk getting my only dry clothes soaked through. Another pair of clothes would have been essential.
I also desperately wished I had not worn my down jacket while hiking because once it got wet, it was useless. I shivered like crazy and wore my sleeping bag in the hut while being green with envy over other people's warm, dry coats. I did my best to dry it out in front of the fire and then let it hang overnight, but it was still quite damp the next day.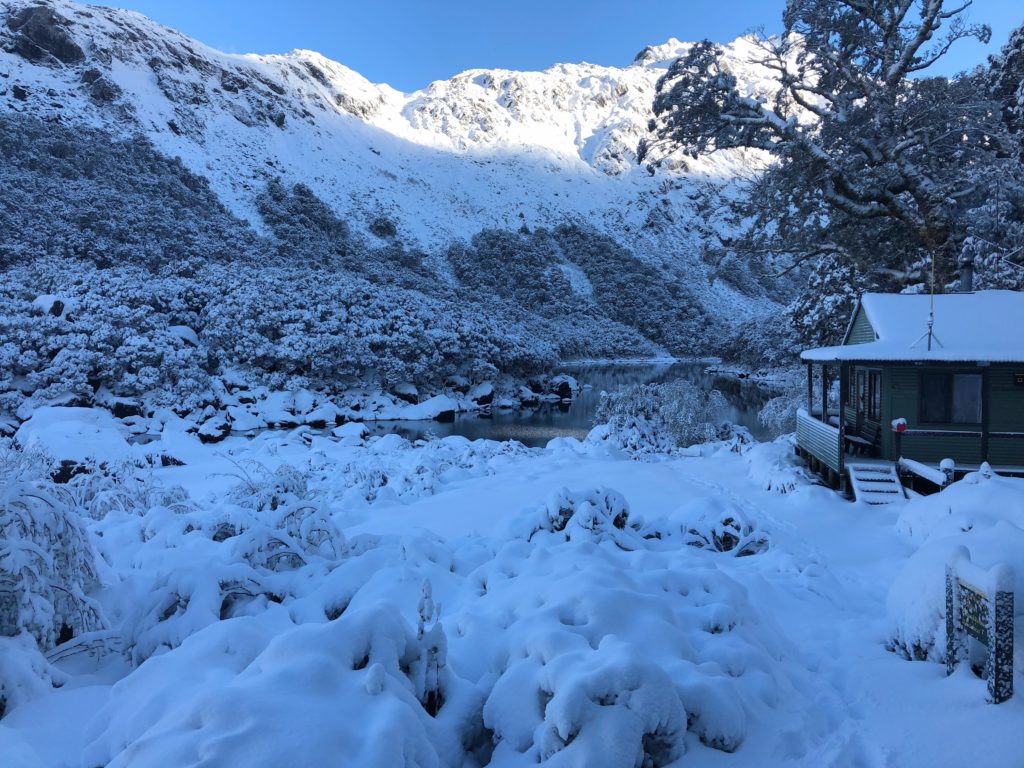 Lucky for us, it kept snowing and the track was closed between Mackenzie Lake and Routeburn Falls. We were turned back and told to hike back to our car on day 2, which meant hiking for hours in untouched snow (gorgeous) before it started to melt from the trees and leave us just as drenched as the rainstorm.
Lesson: This was the best weather forecast we could find, but it only shows you three days at a time. Plan for the worst case scenario. And if the track may be closed due to snow, assume it will snow or sleet at the lowest elevation too. The weather when you pack your bag will not be the same when you get there.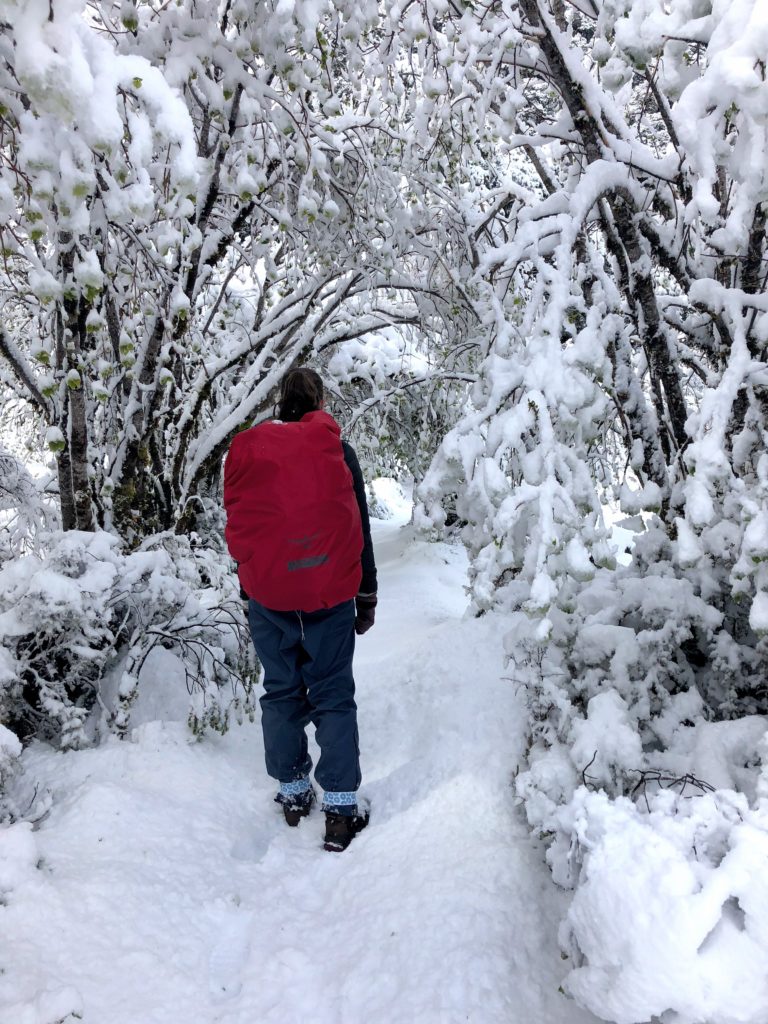 2. Being in Decent Shape is Not Enough
Ouch. Our poor feet and calves were not prepared for this hike. Training would have made us much more comfortable, and left us with more energy to explore in the days following our hike. We physically could have completed the full hike, but two days of grueling conditions left us immensely thankful to be done.
3. Most Raincoats Are Useless (AKA Rent Real Gear)
I was dry for maybe 3o minutes before my raincoat became more of a wet plastic layer I was wearing for show. After 6 hours, I was drenched all the way through. I really wished I had rented a hardcore raincoat that would have gotten me at least 2 hours of dryness. One of our fellow Routeburn Track hikers had on all of her rain gear and a heavy-duty poncho. She was the happiest, and driest, among us.
4. My Boots Would Bring Me Great Joy
It took me months and painful trips to try on hiking boots before I finally found the right pair. And then the cost almost stopped me at the register. I am so glad I followed through. My hiking boots kept my feet dry and (mostly) warm through 6 hours of rain and 5 hours of stomping through snow/slush. They were even better than I imagined, and I felt fairly secure in my footing given my ankle history. Almost everyone else was desperately trying to dry out their boots and socks at the hut. My feet were so dry I was able to wear my socks for the full two days and give my other dry pair to my boyfriend.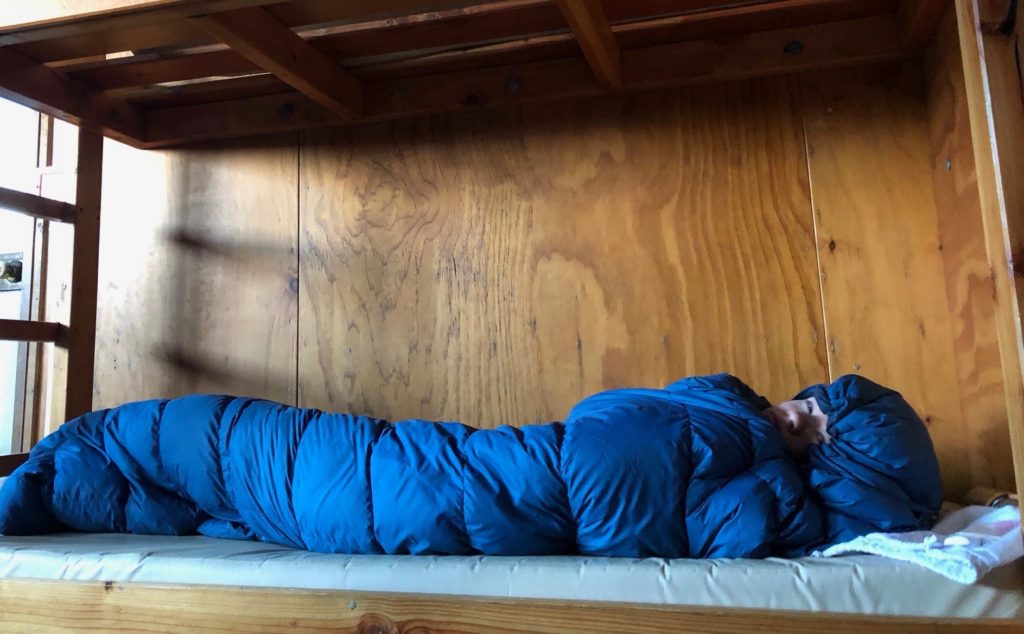 5. The Huts Aren't Actually Heated
I know, I was upset too. I read that the huts were heated, and that is really far from the truth. Lake Mackenzie had a single wood-burning stove in the kitchen/lounge area. It was maybe large enough to warm a tiny cabin built for 2, not a massive hut built for 60. There were only 10 of us in our hut that night, and we couldn't all comfortably fit around it. It did zero to heat the bunk area upstairs, which had no heater of its own. With temps below zero that night, our hut was somewhere just above zero (no one's water froze, but we sure did).
6. Just Pack the Candy
It seemed downright bonkers to me to bring candy on a long hike where I was going to be making unheard of demands on my body. I was wrong, I should have brought the candy. I was fiercely jealous of another woman's stash. Some gummy bears would have gone a long way to boost moral.
7. More Food
Yes, pack more. Twice as much as you think. We would have been quite hungry on day three if we had been able to make it that far.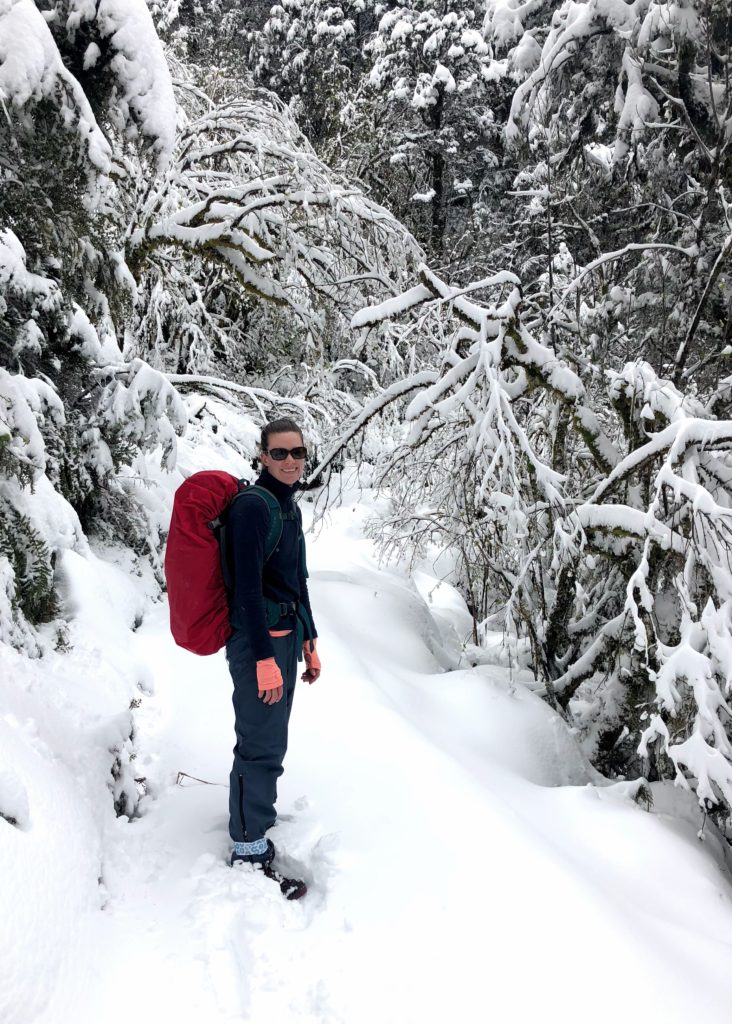 Top Routeburn Track Tips:
1. Our car may not have been relocated by TrackHopper, but we were thrilled with their service and I would 100 percent recommend them. They were the first ones to let us know that part of our track was closed (Um… hello DOC… Are you out there?). They assured us that they wouldn't move our car or charge us unless the closed portion reopened and we were able to hike through.
Our hut-mates were not so lucky. One family was charged for the relocation that didn't happen and told they would just have to claim it on their trip insurance for a refund. We by far got the better service.
2. Packing our bags for more than three weeks of travel and a three day backcountry hike was not possible. There was no way we could have fit everything we needed into easy to carry bags. Bev's Tramping Gear Hire saved the day on this one. We picked up our stuff in Te Anau the morning of our first day of hiking. We rented rain pants that kept our legs dry (much unlike our epic failures of jackets), a cooking pot to use in the huts, and sleeping bags. Our car relocation service was going to drop off our rented gear back at Bev's for us, but we ended up driving back through ourselves given the closure.
3. Most grocery stores around NZ have freeze dried foods and other backpacking food. We brought some from home to try to make things easier with my dietary restrictions, but if you don't have to worry about that you'll easily find food here.
Questions? Worried about something weirdly specific (yeah, me too). Let me know!