I'm obsessed with organizing. I love looking at how people fit things in tiny places. But that's no secret around here. I thought since I spend so much time staring inside other people's closets and drawers online (in a totally not creepy way, swear), I should share our small space clothing storage solutions and give a little peek at what things look like around here.
Our storage space is limited – we use the space under our bed as our garage, complete with golf clubs and snowboard. But after six months of splitting a single dresser and a tiny closet I've come to realize that it's really working for us. Our tiny space is plenty of room for two.
Here's how we do it.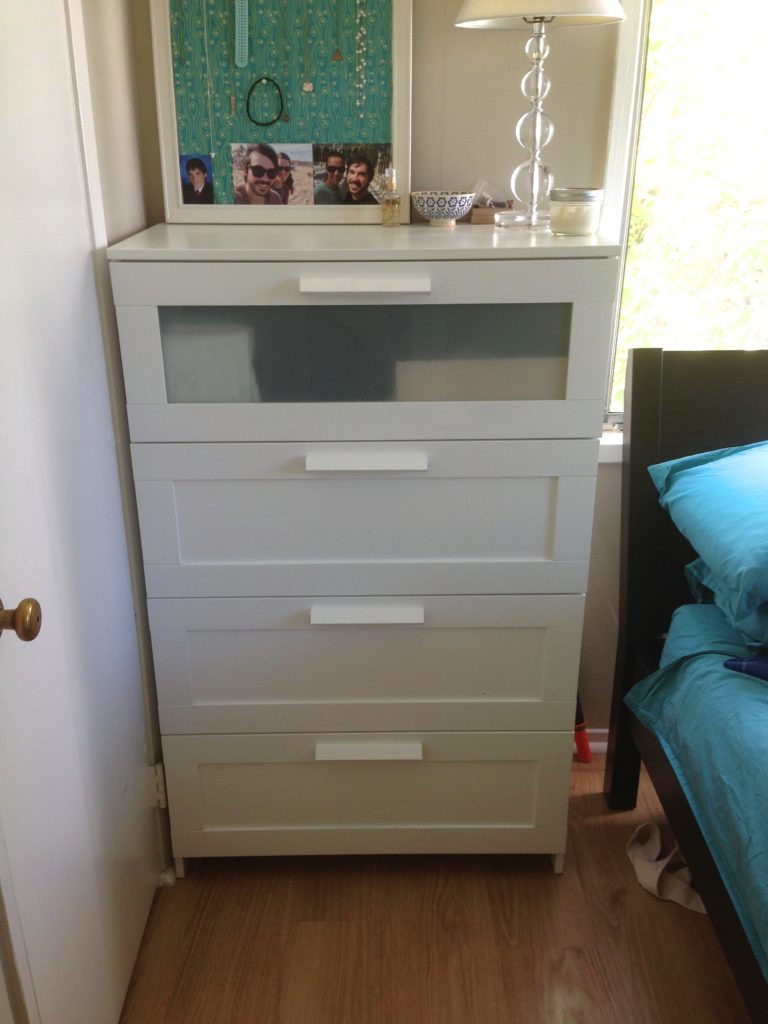 Stand It Up
It took me a long time to finally succumb to the organization goddess' folding method. But once I went KonMari I'll never go back to stacking my clothes. I first tried this when I had the luxury of an entire dresser to myself. It worked so well that I had a fully empty drawer. Standing folded clothes up vertically makes it super easy to see what's in the drawer and grab what you need. It also means we fit significantly more per drawer.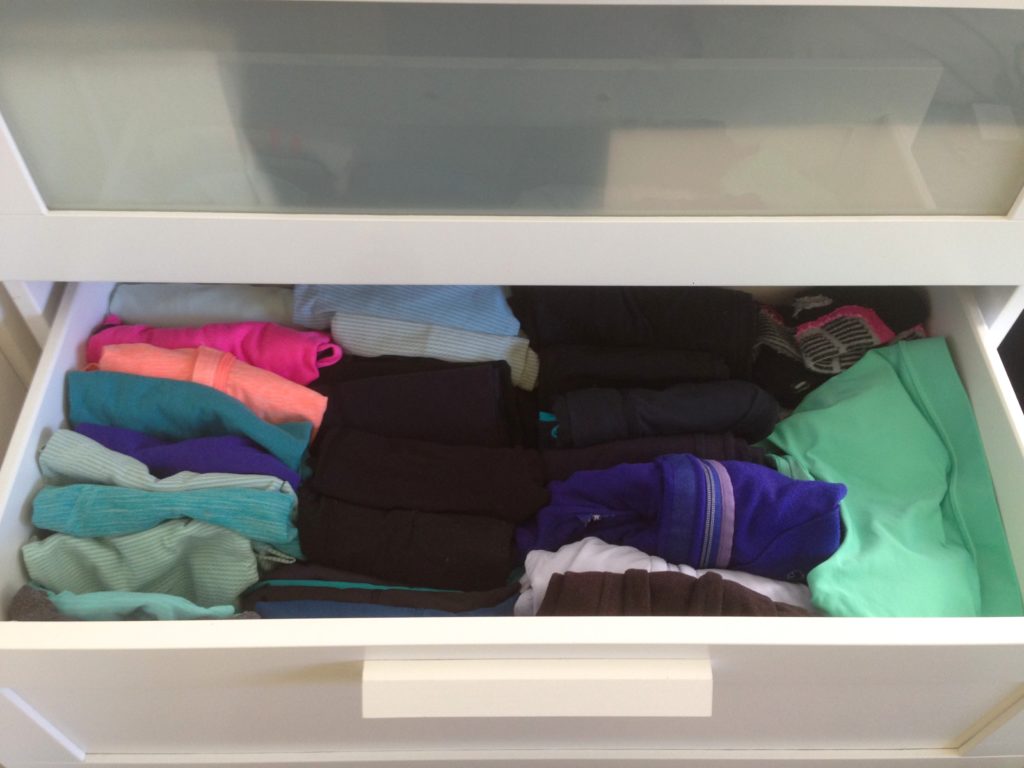 Line It Up
My boyfriend laughs at me for this, but I store my clothes in a particular order. I don't have separate drawers for each item, instead I have rows. Take my exercise clothing drawer (yes, this is 50 percent of my wardrobe and you better believe it's my most loved and most used). My tank tops, t-shirts, and long sleeve shirts are all down the left side. Next to them are my shorts, cropped leggings, and the last of my long sleeves in the back. The third row is sweatshirts and long leggings (which are typically used for lounging or layering, less so working out). On the far right side I have my sports bras and miscellaneous socks, arm warmers, etc. in the far back.
This setup means I can reach my arm over while still in bed and pull out exactly what I need for the day. A cold girl's dream.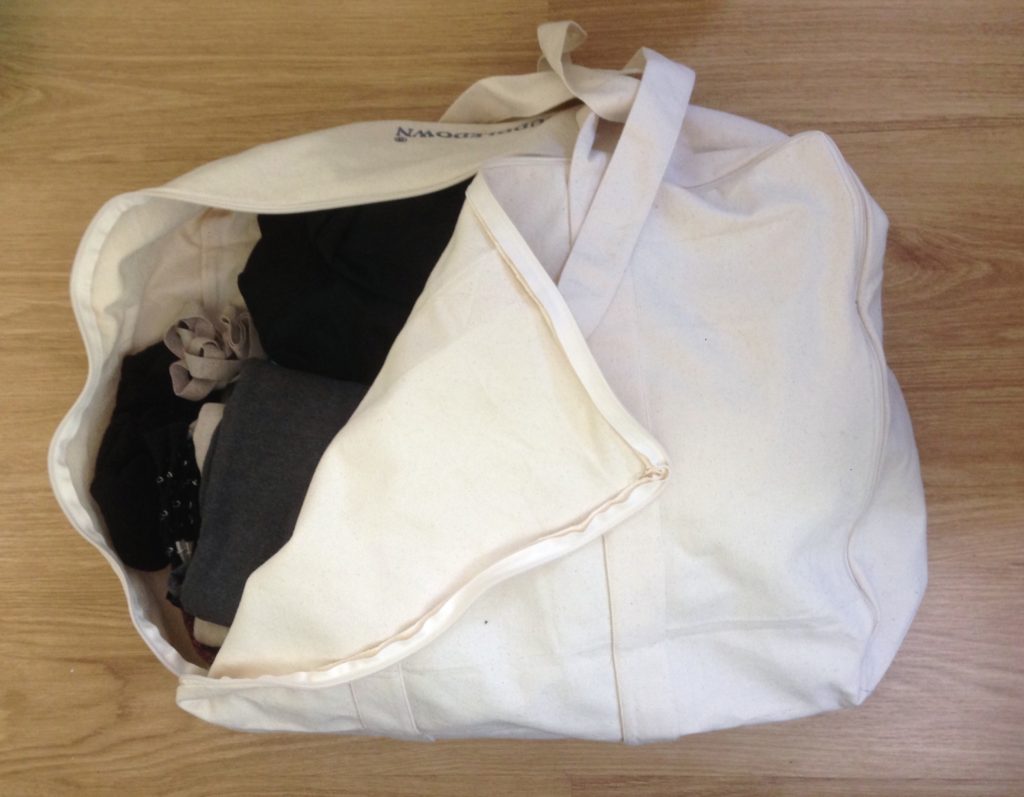 Store Out of Season Clothes Elsewhere
Yes, we each have two drawers in an average-sized dresser and half of a hall closet, but it's unfair to say that we keep all of our clothes between the two. Out of season storage makes our small space work.
I've been trying hard to streamline my wardrobe, but even with the harshest knife I can't fit everything in my allotted space. Thankfully Northern California really only has two "seasons" – cold or warm. In the fall I put away my light sweaters and pulled out my heavy sweater dresses, long sleeve shirts, and thick cords. In a couple of weeks I'll make the swap again and pull out my dresses and other warm weather gear.
About 85 percent of my clothes stay in my drawers or the closet, but by swapping out season-specific pieces I can save a lot of space. It's also really nice to not stare at thick sweaters in the middle of the summer. I hate being reminded that winter will come around again. It also means that everything in front of me is something I could wear right now instead of cluttering my daily choices with out of season items.
I keep my off-season clothes as well as anything I don't frequently wear (rash guard, bike shorts, fancy pea coat) in a canvas bag under my bed. The bag breathes, which is really important for storing clothes or fabric long-term, and the zipper keeps dirt and unmentionables (ie. spiders) out.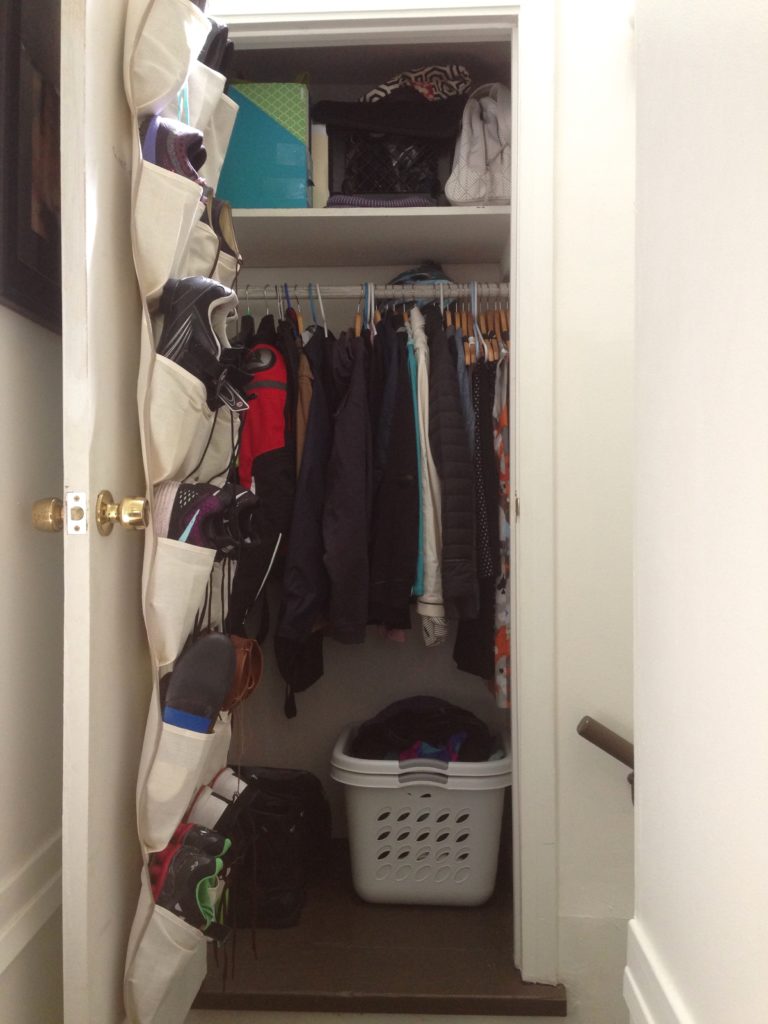 Limit Hangers
We only hang up the clothes that absolutely must hang. There just isn't room to put all of our clothes into the closet. Instead it's a place for things that wrinkle easily or are too bulky to fold. Dresses, jackets, skirts, and dress shirt are the only things we hang. Okay, that and my boyfriend's motorcycle gear.
Say Goodbye
We don't have any magical storage solutions or 'life-changing' products. We didn't take any trips to organizing stores or have our closet professionally designed to fit all of our stuff. Our clothes fit in this small space because we made sure we only had as much as we could store.
My boyfriend and I both like simple, hardworking clothes. We wear the majority of our clothes frequently, with exceptions for fancy occasion clothes. Before we moved in together we both had to downsize two full drawers and half a closet (way more than half in my case). We got rid of a lot of the things we never wore, and we keep getting rid of things as the seasons change or our style shifts. New clothes are also welcome, but if one comes in another must go.