My February books kept me afloat this month. They gave me a break from my own chaotic, self-doubting mind. The books I read this month were either full of much needed advice and encouragement or they were the perfect escape from my overwhelm.
February was my busiest month ever as a freelancer. I worked more hours than I have at any job in years. I'm not saying this to complain, despite the fact that most of this month was downright miserable, or do a weird 'I'm so busy' brag. But rather, I'm trying to explain just how much these books meant to me.
The fact that I read at all this month is something worth celebrating. There were days where my brain had turned to mush and my eyes were deep in the throws of revolt. But without fail I started nearly every morning with at least 15 minutes of reading. Those 15-30 minutes were often the best part of my day.
Despite the tears after going to bed and the ice-cream-after-lunch days and the downright shocking amount of work I powered through, I somehow managed to read five books this month. In doing so I also realized that my dream job might actually be getting paid to read engaging books all day. If you've figured out a way to make that a reality, please let me know.
In the meantime, prepare yourself for some long, rambling thoughts on this month's books.
February Books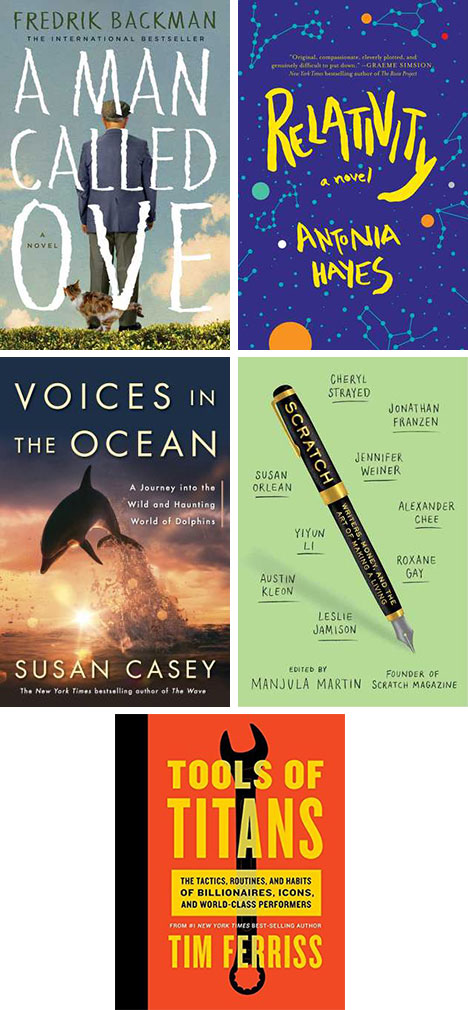 Relativity
This fiction was straight nourishment for the heart. I loved the way that 12-year-old Ethan saw the world (both literally and figuratively). The switching perspectives/ narrators kept me hooked and made it even easier to root for them all, even when I felt conflicted about it. Be prepared to have a greater appreciation for physics and a deep desire to watch Cosmos: A Spacetime Odyssey with Neil deGrasse Tyson after reading this one.
Voices in the Ocean
For as long as I can remember I have always loved to be in and around water. I used to dream about being an oceanographer (didn't realize it was mostly about staring at maps on computers) or a marine biologist until the realities of the math/chemistry required and the amount of time I would spend living in a lab set in.
This book was for the 10-year-old marine biologist inside of me. Voices dives into the complex world of dolphins and our fascination with them. It both filled me with a sense of appreciation and awe for our oceans and the incredible animals that live in them, and it also made me feel depressed and helpless about the current state of our oceans and the horrific things we do to their inhabitants.
I loved Susan Casey's The Wave (and have made just about everyone I know read it). This book didn't quite live up to my expectations, but I still enjoyed it. Lovers of The Cove and Blackfish will likely enjoy it.
Tools of Titans
Another massive tome from Tim Ferriss, Tools of Titans lays out the best lessons, advice, and habits from the world-renowned guests on The Tim Ferriss Show. I read this one in little chunks throughout the month, and I feel like it's one that might be worthwhile in going back to. It's packed with great information (and things that will never apply to my life).
While I recommend picking it up, I will say that if you are a regular listener to the podcast it can feel repetitive (you've already heard the interviews, and much of it is direct quotes from guests). It's also, purposely, all over the place. Advice directly conflicts, people disagree on how to get to the same place, and a lot of it may not be helpful at all.
I think I should also say that I've generally been cooling on Ferriss lately. I'm not interested in taking adaptogens or biohacking my body, and he seems to be going further and further into quick fixes and magic pills. A lot of the things that excited him the most in this book just didn't click with my lifestyle or interests.
A Man Called Ove
Oh man, I loved A Man Called Ove. It caught my eye on the shelf at the library, and despite no time and lots of other books in my arms, I just couldn't help myself.
I'm so glad I picked it up. This was my favorite book of the year so far.
This grump felt like an alternate-reality version of me. I cracked up constantly, and the dark humor was top-notch for me. The curmudgeon inside of me felt perfectly at home inside the pages. This book was the highlight of the month. It's obvious why A Man Called Ove a best seller in so many countries.
Scratch
I have yet to learn that books about writing, especially how to make a living at it, are never uplifting. I have not once finished a book about writing and thought, 'yes, of course I can do this and it will obviously be easy!'
Scratch was real. Cheryl Strayed exposed the debt that was quickly sinking her and her husband before Wild came out. Sarah Smarsh showed that not being able to afford a haircut means that a best-selling novel is right around the corner (or something not even close to that but that's the version I need right now). Austin Kleon turned 'selling out' on its head and made me regret being terrible at visual arts.
The writers in this book talked straight to the voices in my head that have the same doubts, fears, and ambitions. They constantly made me face the reality of what I'm trying to do (not great timing on that one), and also showed me that they all started here too: broke, tentative, unsure, and desperate for someone, anyone, to help them figure out how to make this work.
While the book is great for anyone who wants to know what their favorite writer's life is really like and what writing looks like behind the scenes, it's written for aspiring fiction writers. I still found it helpful for non-fiction, especially the general commiseration about the lack of pay across writing and the terror of setting out on your own.