Portland has been on my list for a while, and when a trip to New Zealand was no longer possible after my ankle surgery, it seemed like a great time to go. My boyfriend and I spent a long weekend in Portland last week and thoroughly enjoyed it. The weather was quintessential fall – clouds and a slight chill in the air. It hardly rained while we were there. I left feeling ready for the holiday season (but not ready for Christmas decorations or music. It's too soon people! Give Thanksgiving a chance!).
To be clear, this is less of a direct 'you have to go here!' and more of a list of the things we did and enjoyed on our long weekend in Portland. We were only able to explore Southwest Portland around the Pearl District. I know there are amazing things in the rest of Portland and outside of the city.
Also, despite spending three days in Portland, I only have four pictures to show for the trip. This is partly to blame on my inability to ever remember to take a photo, but also a conscious decision. It was important to me to really see the city and be present. While we used a phone for directions or restaurant advice, for the most part we didn't use our phones outside of the hotel room.
I highly recommend trying this. Instead of taking photos I journaled daily about all of the things we did and ate so I can look back and remember what we did/saw/experienced.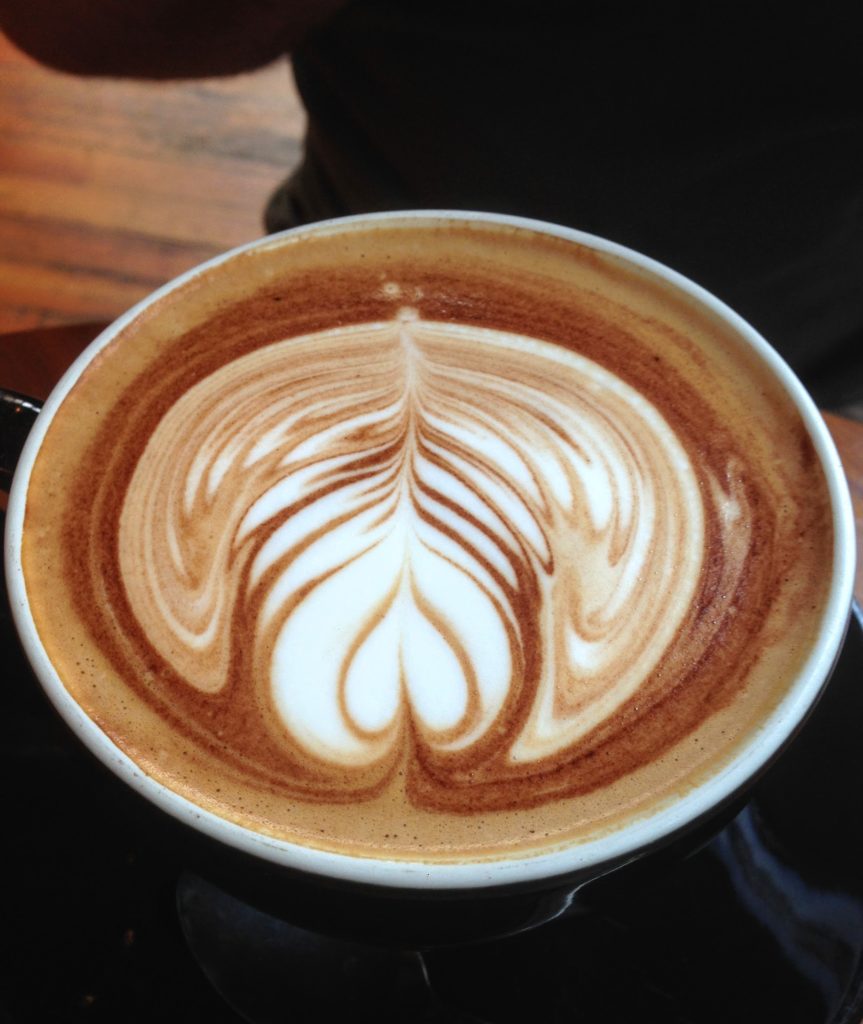 Food
The downside of only having a long weekend in Portland is all of the food we weren't able to eat. Our first dinner in the city was my favorite restaurant meal from the past few years. So good!
We went to the city without any plans (other than a place to stay and a general idea of how to get to our hotel), and we spent our entire time blissfully planning out our day based on where we wanted to eat. My kind of vacation.
Here's what we ate:
Cheryl's On 12th
Not my favorite. Our flight landed during lunch and it took us a couple hours to get off the plane and to our hotel. I had been dreaming about eating for hours by the time we got into Portland proper, so I wasn't super picky with our first meal. I just wanted something hot and fast. Cheryl's was a minute walk from the hotel.
The vegetarian fried rice was alright, but I left dissapointed. I saw something about complementary beignets on Yelp and was under the impression that they came with every meal. Totally not true, totally my misunderstanding. Also, turns out I'm not a fan of "cheesy" hash browns sprinkled with a sprinkling.
Imperial
I honestly would have eaten here for every meal. This was our first dinner in Portland, and we got so lucky. We found Imperial on Yelp that afternoon and ended up being able to snag a spot at their dinner service.
The restaurant was packed! They squeezed us in at their chef's counter facing their open wood fire cooking area. It was hot and the kitchen was busy. It was like watching the Food Network while eating dinner, but way more satisfying. I loved watching the kitchen and seeing what everyone was ordering.
For dinner I had a killer kale salad that puts all tough, boring kale salads to shame. It had a citrusy goat cheese dressing that didn't taste anything like goat cheese. The salad was topped with sunflower seed brittle (mmm, sugar) and shaved winter veggies. I paired the salad with a coal roasted sweet potato that I slathered in butter and their pepita salsa. It was flavorful, comforting, and filling.
This is killing me. I want to eat it all again.
I also snagged a couple of bites of their buttery, flakey, didn't-leave-a-single-crumb Parker House Rolls and their house made fettuccine with yam, kabocha squash, brussels sprout leaves, chanterelles, and pepitas. (Do note that the menu changes daily and none of these may be on the menu if you visit).
Imperial had fantastic gluten free and vegetarian options, and they clearly marked everything on their menu. Yes, you should definitely go.
The Daily Feast
The Daily Feast is small and cozy with a nice mix of classic and healthy options. Our breakfast was solid, although I'm still craving their oatmeal. I made a last minute decision to go with fried eggs and hash browns instead, and I'm still not sure if it was the right call.
Food Carts
I've never seen so many food carts in one city. The grilled cheese was calling me, but since I can't really eat that I went for juicy vegetable tacos. According to Yelp, there are a ton of food carts definitely worth trying.
Oven and Shaker
After multiple meals of stuffing our faces, it seemed like it was time for some vegetables. We headed to Oven and Shaker for a glass of red wine and a salad… and pizza. Unfortunately the pizza wasn't gluten free, but I made up for it with rosemary-parmesan fried chickpeas. Yummy! They were almost as satisfying as fries.
Unfortunately my salad was disappointing – super salty and otherwise bland. Rumor has it the pizza was good.
Byways Cafe
A table of locals brought their own hot sauce and shared it. This place felt far from touristy. Byways serves classic breakfast and lunch food. It felt like a diner without the shitty menu and soggy potatoes. It's worth the wait.
Pine Street Market
I panicked that there wouldn't be anything for me to eat at the market and picked up a salad at a local salad chain on the way. Major regrets. I got to choose what was in my salad, but it was so under-dressed that it was a crime. Nothing will make you feel like a cow quite like eating a dry kale salad. Yum.
I had major ramen envy. And the glutenous pita bread was like tasty pillows for your mouth.
Before you feel too sorry for me, you should know that I had a mind-numbingly delicious, non-dairy strawberry soft serve. Oh man it was good. I also got the best of both worlds with a few bites of their vanilla soft serve covered in their homemade hard-shell chocolate sauce. (*insert homer noises here*) I'll eat a dry kale salad every day if you give me a cup of soft serve from Wizbangbar. (Don't click on that unless you are going to go there or you'll end up depressed with a top-notch soft-serve craving. Trust me, it just happened to me.)
Bamboo
It's a tough call between Imperial and Bamboo. This was my first time ordering sushi at a restaurant (hey, tempura is amazing). While I enjoyed the sushi, it was the rest of the meal that I really loved.
Their twist on a French 75 is possibly even better than the classic. I wanted to sip on one all night despite the fact that half a glass in I was feeling it. 
I'm still craving the sweet and sour cauliflower. I can't tell you the last time I had sweet and sour. There was no frightening red sauce anywhere to be seen, and the flavor was impeccable. Deep, acidic, lightly sweet – I could have eaten them all night.
Also, major bonus points for being incredibly sustainable.
Final Breakfast
Our last breakfast was so bad I'm not going to include it. My steel cut oats were watery and tasted strongly of soap. This is why I ended up eating leftover sushi at the airport at 9 a.m. The restaurant we went to had okay reviews online, but it was the only place open on the way to the light rail station. It turns out most places aren't open at 7 a.m. on a Sunday. Life lessons.
Coffee:
Case Study Coffee
You cannot go to Portland and not get coffee… or maybe you can. I might have done it.
Case Study Coffee's homemade chai tea was spicy and creamy without being painfully sweet. I could happily drink it daily. I'm heavily considering emailing them for the recipe.
The space was perfect for hanging out and slowly sipping a hot drink. We went here twice (I got regular tea the second time), and both times we spent at least an hour writing and reading. The staff was ridiculously, genuinely nice and easy-going, and the space was both gorgeous and comfortable.
I'm so jealous this coffee shop isn't in my neighborhood.
Stumptown
This is on the list so no one yells at me. We shamelessly went to the one in the airport. I heard that their drip is good, although I can't taste anything for the next week after scalding myself on their chai latte (made with actual tea! Hallelujah!).
I think it was good? I'll let you know my ultimate decision when the nickel-sized heat blister on the roof of my mouth finally heals. Seriously.
Things to Do:
There are so many things to do in Portland and it can be difficult to fit them all, especially if you are only visiting for a long weekend.
We didn't really sight see or do any outdoor adventures. We were honestly lucky I was able to walk around at all. (We've been home for days and my ankle/feet are still punishing me for the amount of walking and standing we did.) For the most part we tried to keep each trip under .5 mile of walking, and we walked everywhere.
Powell's Books
I 100 percent picked our neighborhood and our hotel based on its proximity to Powell's. Our hotel room looked out on the sign for the famous bookstore. This was the only thing I wanted to do in Portland.
This place is stuffed with millions of books, and it felt like just as many people. Our first 15 minutes in the store were completely overwhelming. I almost asked to leave. But once we got out of the main entrance area and into the actual shelves the crowds thinned out and I was only overwhelmed by the amount of books.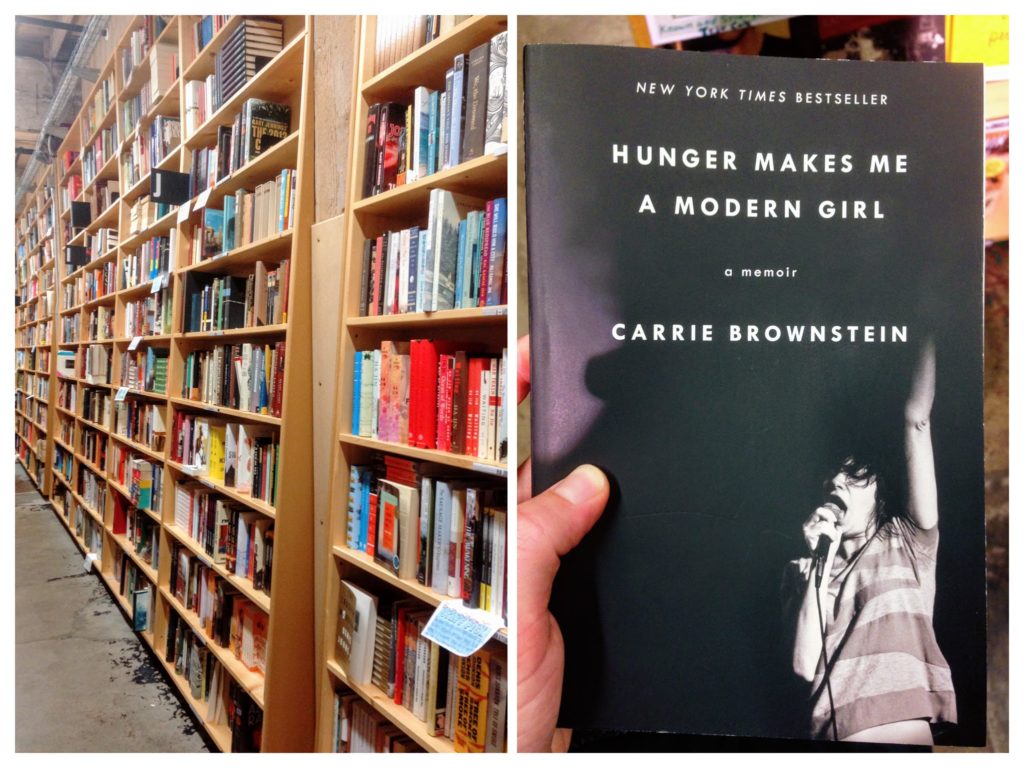 The multiple floors were crammed with high shelves and more books than I have ever seen in one place. Powell's is easily a book lover's dream, although I had trouble figuring out their categories and as someone with decision problems, it was anxiety-inducing.
If I were to go again and I wanted to buy a book, I would go in with a few titles in mind and look them up on their handy computers. It would be a much more relaxing experience than trying to see every title in their literature and memoir section.
Ground Kontrol Arcade
This was my first time to an arcade that wasn't attached to a pizza parlor. We went during the day before the bar was open so it was a nice mix of adults and kids. About half of the space is full of pinball machines and the rest is classic (and a couple new) arcade games. True to form, Tetris was my favorite.
Eat
A lot. Eating was our main activity. You should also definitely consider going to breweries if you visit. I've heard good things.
Transportation:
We took the light rail to and from the airport and walked everywhere else. It was great! Although I didn't love clomping around Portland in the boot. Maybe don't go until you are fully recovered from ankle surgery. It might make things easier.
Accommodations:
We originally looked into staying at an Airbnb, but there were so few listings left that we decided to go for a hotel in a great area for the same price.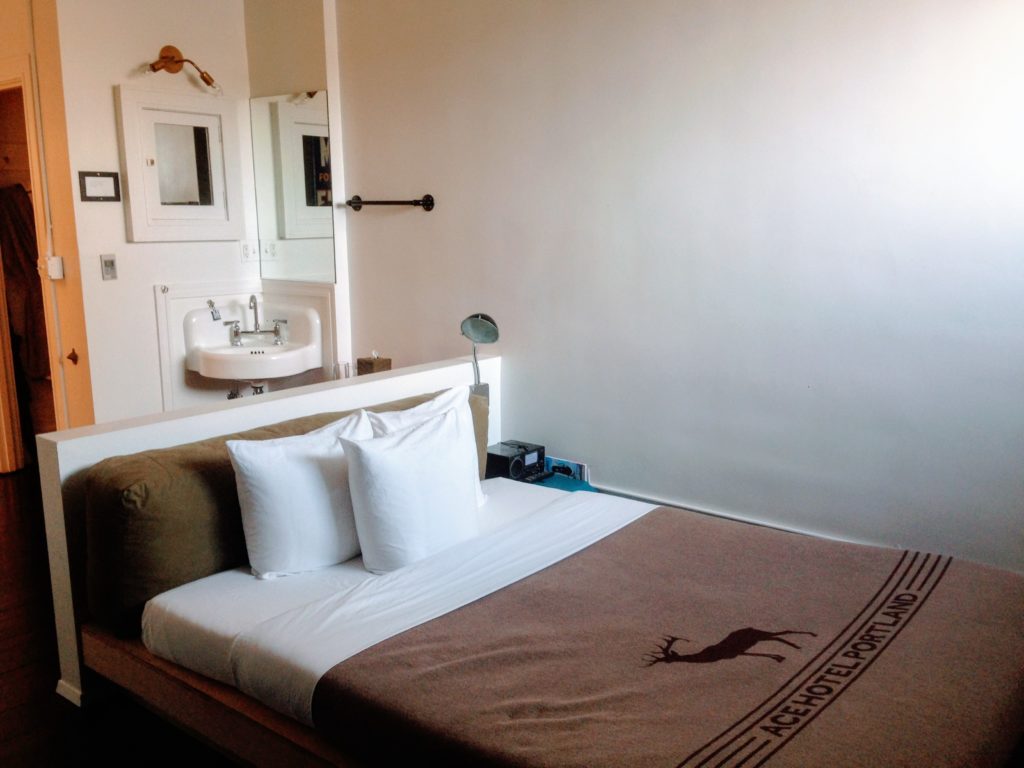 The Ace Hotel felt a bit like staying at your hipster friend's house. The decor is minimal but stylish. The design is somehow old school and modern. There are weird quirks (the glass shower enclosure was in the room proper. Highly entertaining.) and touches of home. Also, there may be scents of pot wafting through the halls and a live band in the lobby.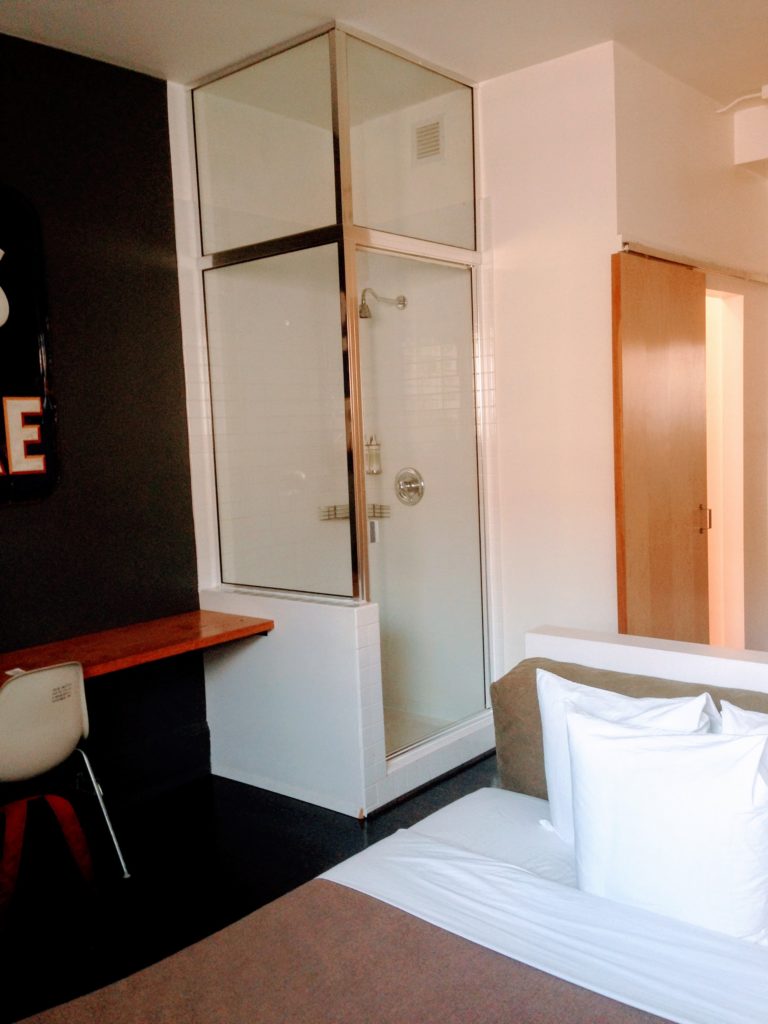 Overall we really enjoyed our stay. The Ace is in a great location, the staff was incredibly friendly, and the room made a good home base for an easily tired traveler. The bed and the pillows were not as comfortable as I had hoped and I wish the room had been darker, but I'm spoiled at home. The sleeping comfort is on par with most hotels I've stayed in.
Have you ever been to Portland? Where did you go?