The best thing about recovering from surgery is ample time to read. I skipped the doctor-recommended Netflix (seriously) and instead read so many incredible books this month. From the new(ish) Harry Potter screenplay to YA suitable for adults to hand drawn illustration, my October reads were a nice mix of things. Despite blowing through 10 books this month, my hunger for books is still insatiable – please send more immediately!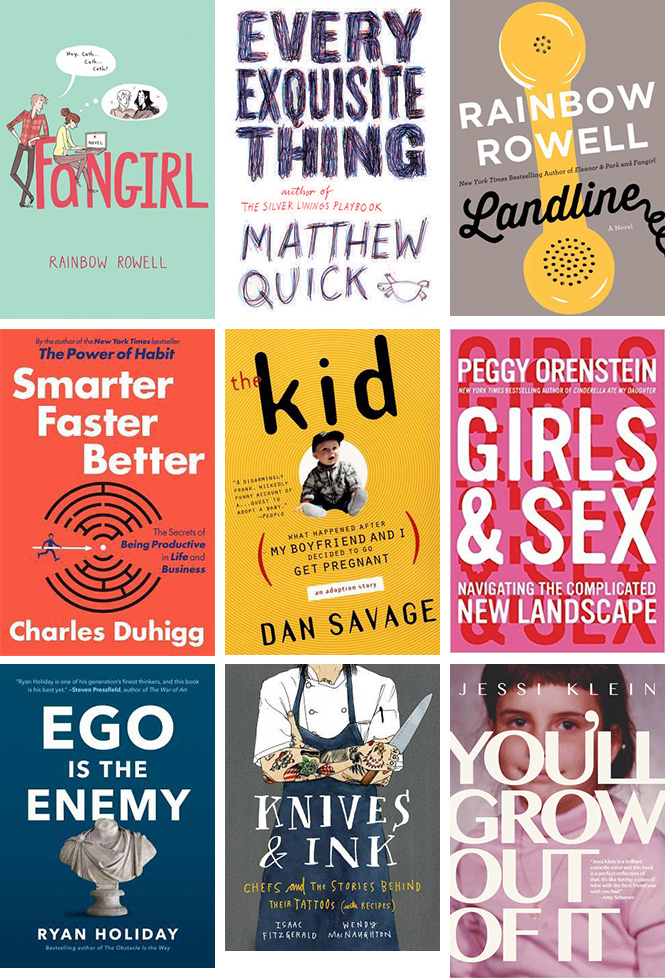 There were a few great points and a couple things that made me think and reach for my notebook, but overall this one fell flat for me. I didn't figure out what all of the hype is about.
I had trouble with this book from the very beginning. After reading Shrill I couldn't connect with Dan Savage as a narrator. The things he said to Lindy West tainted my view of him, and he certainly didn't try to make me like him. It also didn't help that so much has changed since the '90s.
Please read this book. Everyone. It made me rethink everything I had learned about relationships, sex, and self-confidence. It also made me so thankful that I was in high school 10 years ago when social media and texting were just becoming a thing. Just hearing girls talk about their online lives and the pressure they feel was stressful. I wish I had this book in high school.
From the author of Silver Linings Playbook, this YA fiction stood up to the hype. I enjoyed reading it and the story didn't feel dumbed down or overly simplistic and shallow (my biggest problems with many YA books).
Oh man am I a fan of Rainbow Rowell. Eleanor & Park and Attachments were so good that I picked up two more of her books this month. I read them both in a day or two each. I just couldn't help myself.
Not life-changing.
After reading Fangril where I was constantly reminded of my own time in college, Landline felt like a real glimpse into married life and the struggles of being a fully grown adult and not knowing what to do with yourself. I loved this book, quirky time-travel phone and all.
Sad: This is not a full J.K. Rowling Harry Potter book. Happy: More story. Eh: Reading a play was not nearly as satisfying.
Yes! Just yes. I really connected with Jessi Klein. We have so much in common… minus being Jewish, comedy writing, living in New York and LA, and our daily lives. But everything else was spot on. I laughed, spent a great deal of time nodding my head, and realized we don't spend enough time talking about women who don't look like they came from a cover shoot every day.
I will read anything Wendy MacNaughton publishes. Anything. Also, this one was good. I liked their first book on tattoos, and it was fun to hear about why various chefs got their ink.
I'm super late to the party on this one – it often seems like everyone I know has already read it or at least knows what it's about. While I struggled to get into it at first and connect with Paul, by the end I was crying. The kind of crying where snot drips down your face and your eyes are red for hours afterward.
I don't suddenly better understand life or what it's like to be diagnosed with lung cancer. I don't see the world radically differently. I wouldn't call it life-changing. But I enjoyed it.
Do you have any suggestions for what I should read next month?