This month was a rush of reading, but even so my September reads were nourishing in the best way possible. I've been laying low after surgery, and I have to say I don't mind the extra time for a good book (or six). These books are perfect for fall. They have the right mix of cozy, uplifting, and embracing change.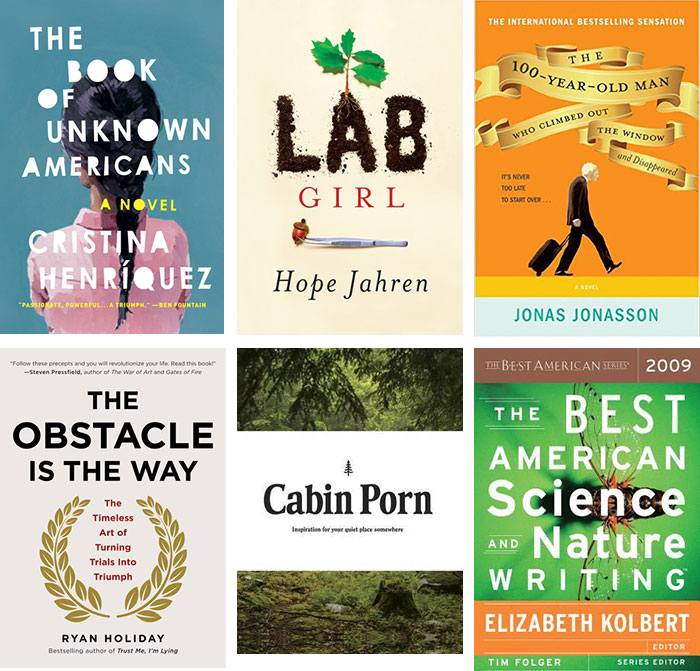 Confession: This book took me longer to read than any other book before it. People read the Bible faster. I started reading this in 2010. I finished it the first week of September. I'd like to blame college and generally business, but really I let shinier books distract me. I would also get bogged down in some of the dense articles, set it aside, and forget it was on my shelf.
But I persevered. Two vacations later, and it's finally finished. If science and nature writing is up your alley, I would suggest starting with the most recent collection. Please let me know how it is so I can read it in 2022.
I haven't been reading much fiction lately, but this book reminded me why I like it so much. The heart-breaking story was a powerful view into a life so different from mine. From what it means to start over to feeling at home, this book dives into the lives of two immigrant families and takes you along for the ride.
I picked up this book as a treat for after surgery… and I read most of it before then. I was slightly dissapointed when I first flipped through it to realize that there longer stories about specific cabins throughout the book, but once I started reading them I realized they added way more to the book than if it was just more beautiful photos. I wish it had showed the inside and outside of more cabins, but overall I still liked it. It totally fit in with my tiny house/vanlife obsession.
There is a reason this book got so much attention and praise. I loved it. The story is silly, but totally engrossing. I frequently laughed and I was upset every time I had to put it down. To be fair, there were so many times when I had quiet the voice inside of me that would say "that would never happen!", but if you treat it like the fiction it is the story will take a hold of you. My favorite fiction this month by far.
Lab Girl was my favorite book this month. I didn't know what to expect, and I wasn't convinced I was going to finish it after a couple of chapters. Suddenly, I was tearing through it and all I could think about was working faster so I could read it.
Hope Jahren gives a vulnerable look into what it's like to be a female scientist. She carved her own path, and bared her struggles. Her self-doubt and passion were a soothing tonic for my own life fumblings and confusion. I started to love her amazing facts about trees and plants, and they have really stuck with me. This book is a must read for science lovers and a highly-recommend for everyone else.
NFL teams swear by it. Tim Ferriss won't shut about it. I didn't get it.
At just over 200 pages, this wasn't a particularly long book or one that dragged on. And yet I didn't make through a single page without getting distracted and thinking about something else. I could not stay focused on this book. I don't know what to say, other than maybe it just wasn't for me.
I took a couple notes and overall it was a nice reminder, especially when I'm currently navigating an obstacle of my own, but it just didn't do it for me.
Want more recommendations?
Check out what I've read so far this year: