While it's been 11 months since I first injured my ankle, I'm only three weeks into my peroneal tendon surgery recovery.
After a solid two weeks of rest, I finally felt ready to do my first workout. It felt so so good to move around and get a little sweaty, although I was less excited to be sweating in my cast. I'm still trying to figure out creative things that I can do while sitting or lying down. I'm planning on including a list one of these days so you don't have to scour the entire internet like I did. For some really hardcore ideas, you can check out Lauren Fisher's Instagram.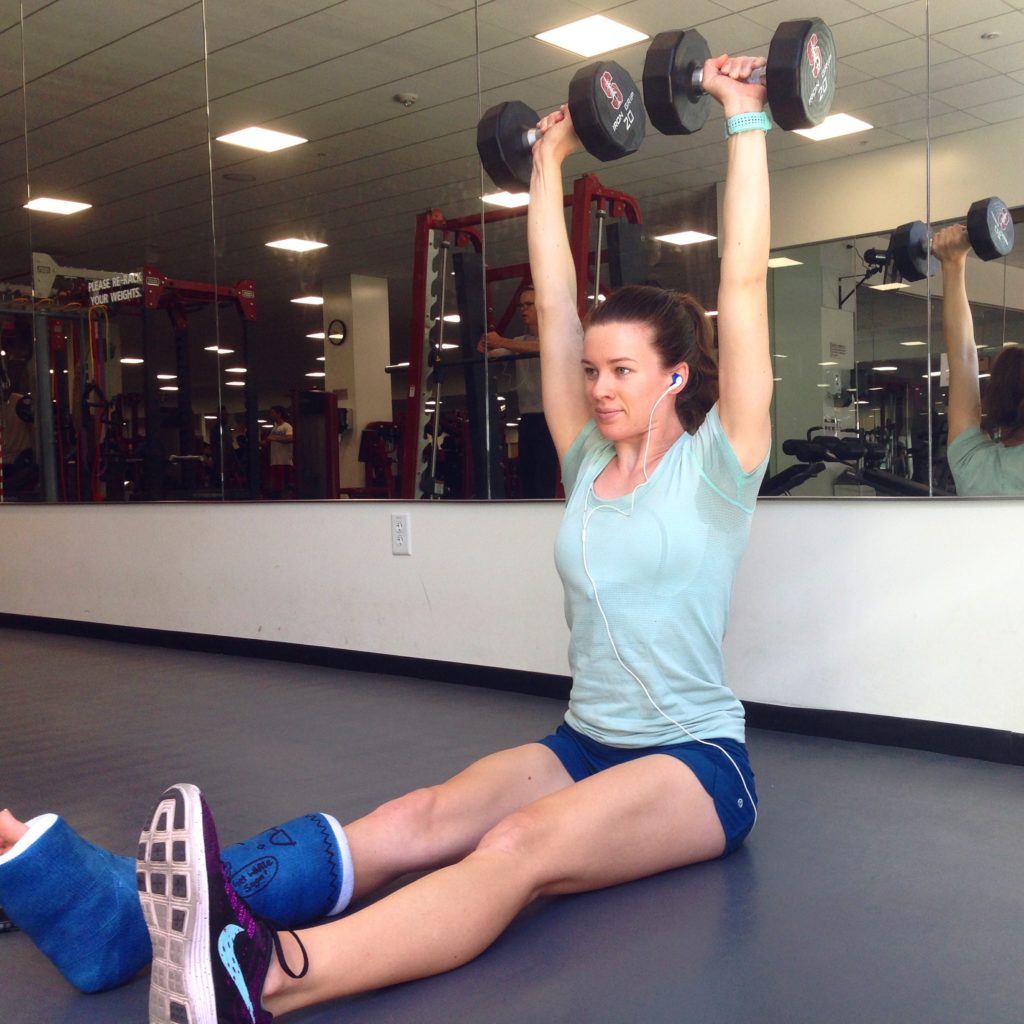 I got the cast hacked off me and breathed a huge sigh of relief when I finally got to wash my leg and trim my toe nails. (Casts are a worst nightmare for a germaphobe like me.) But I haven't exercised since I got the cast off on Monday. It took me a solid 24 hours to adjust to life in my boot. The first night was terrible, but we're starting to understand each other better.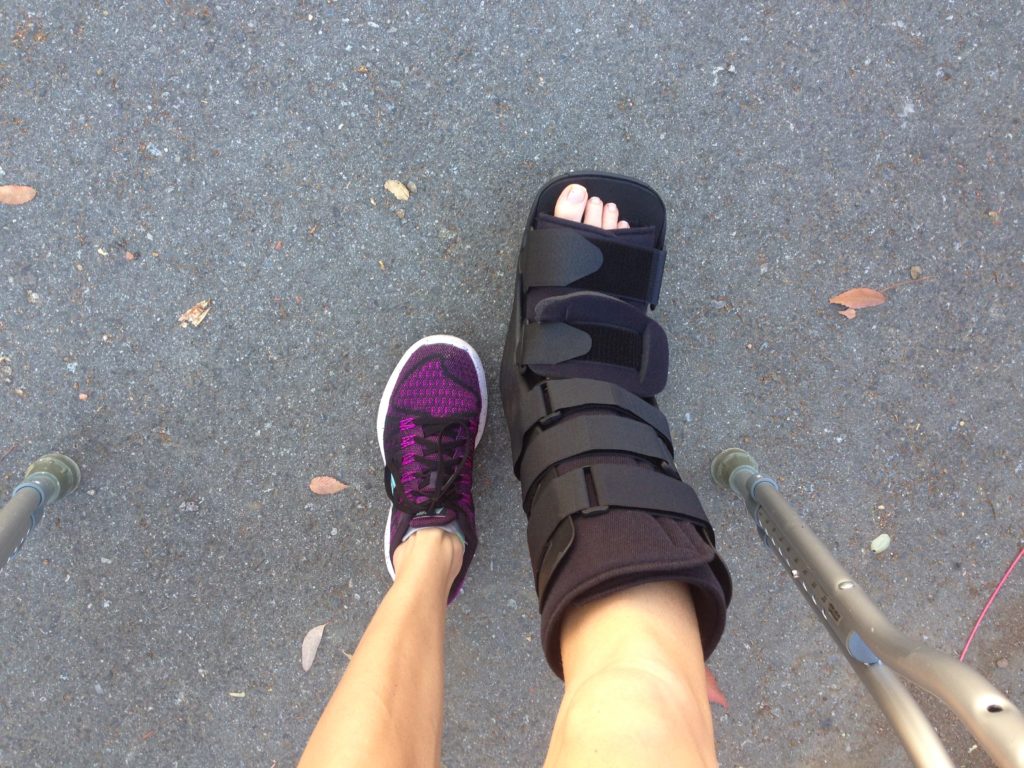 I may attempt to flop around on the floor a bit today in the name of stretching and exercise, but since I started partial weight-bearing today and my ankle wasn't a huge fan, I'm waiting to see how things progress into the afternoon.
Peroneal Tendon Surgery Recovery Lifesavers
1. Friends and family.
I have been blessed to have so much help. You don't really realize how limiting crutches are until you are trying to get yourself grapes out of the fridge and you have to sit on the floor and eat them right there because you can't crutch and carry them.
My lovely boyfriend has taken the brunt of it. He makes me a solid three meals a day, does the dishes, retrieves snacks, and doesn't say anything when I ask for the chocolate… again.
2. Extra pillows.
Fun fact, my whole foot turns purple when I don't elevate. While it is an interesting hue, I find it best not to experience it.
3. Knee-height stool
I scoot myself around the kitchen with a stool. It means I can ditch the crutches, actually have clean hands, and carry things. Amazing!
4. A great book… or four
Reading has kept me sane. It's one of my few hobbies that I can still do while recovering.
5. Tasty Tea
And the disgusting turmeric tea I drink to appease the gods of inflammation. But man do I look forward to my warm cup of green tea in the morning. Bonus points if you drink tea every time you ice too (unless it's a thousand degrees outside like yesterday, and then by all means put some of that ice in your cup).
6. No-poo trend
While I already had the precedent of stretching the time between washes, I feel no shame rocking full on greasy hair these days. Thanks, internet!
7. What laundry?
Not really a lifesaver, but this bonus should not go unnoticed. It turns out not going to the gym and spending most days at home means you produce 1/4 of the laundry you once did. Score! Especially since the aforementioned lovely man has to do it all by himself.
8. Creativity
While I was rarely left to fend for myself the first week and a half, the time came for me to be more self-sufficient. My biggest barrier (other than pain anytime my foot was below my hip for more than two minutes) was my inability to carry things.
I fixed that problem. A little creative problem solving goes a long when fending for yourself in less than optimal conditions.
Progress/Plan
I'm in the boot for six weeks, but my doctor has encouraged me to start testing my range of motion. Full discloser, that has been awful! My total range of motion is less than three degrees at most and it lets me know what it thinks of this plan loudly. Needless to say, I'm not rushing into that.
Ideally in the next week I will ween myself off the crutches (and become a more fully functional human being in the process). While my hands are ready to burn the crutches for what they've done to them, my ankle has made it clear that a very slow transition will be necessary.
I start PT (yay, again!) in three weeks. I have legitimate fear about it right now. But three weeks is a lot of time to heal (and toughen up).
In case you missed it:
I thought I could still play basketball
One Month Later
Two
Three
Four
Five
Six
Eight
Nine
10 months and surgery