I love to feel the burn as much as the next person, but sore muscles can quickly go from a nice pat on the back for a job well done to crippling. Instead of popping a pill, naturally ease sore muscles with these tips.
How to Naturally Ease Sore Muscles
1. Hydrate! Not just when you are done with your workout, but all day every day. How much water do you really need? You can try this calculator for figuring out how much you should drink during your workout.
2. Mobility and foam rolling. I know, the last thing you want to do at the end of a hard workout is roll around on the floor like a spastic seal, but it's important to get the blood moving into all of the tissue you just used. Foam rolling (and other forms of self-massage) help break up tissue adhesions and speed recovery. Try for 10 minutes a day (wether you worked out or not!) of foam rolling and targeted muscle release. For tips, check out how to properly roll out your legs and your back/chest.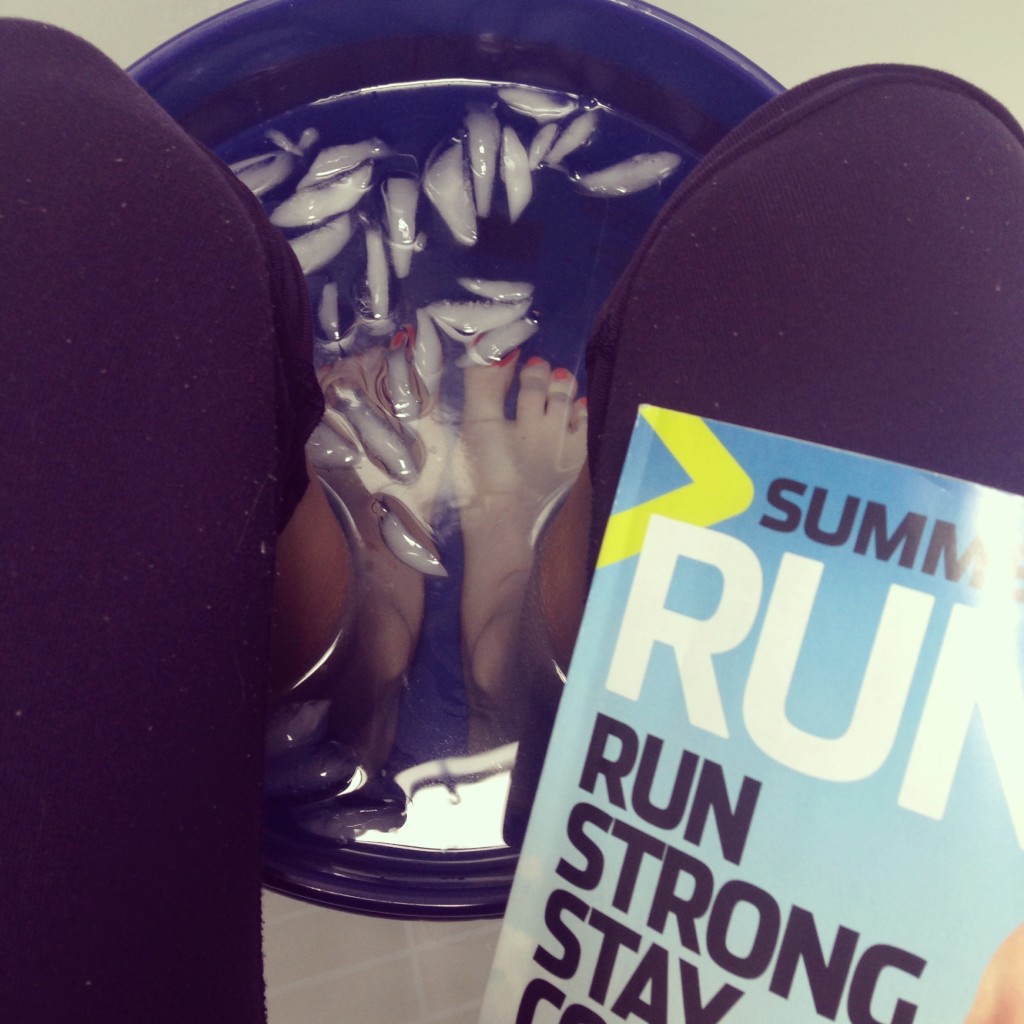 3. Contrast bath. Shock your system and scare the soreness right out of your muscles with a contrast bath. Not really, but a contrast bath will increase circulation and nourish your tired and torn up muscles. You can do full body plunges or stand in the shower, but I like to use two buckets and just do my knees down. Try for at least four cycles of 3 minutes in hot water and 1 minute in cold water. Always start and end on hot.
4. Sleep. My personal favorite. When you sleep your body repairs the tissue you have torn and broken down by exercising. The more sleep you get, the better you recover. Many professional athletes sleep up to 12 hours a day.
5. Arnica gel. This is your best friend for really sore muscles. Arnica helps reduce inflammation and pain. Personally, I like this gel.
6. Magnesium. I used to get horrible muscle spasms. My legs would wake me up in the night with twitches that seemed to last forever. I would jerk myself awake with a massive twitch that would send my arm or leg flying. I started drinking magnesium a couple of years ago to sleep better.
Turns out I was also giving myself a massive recovery boost. Calcium aids in muscle contraction while magnesium helps the muscle relax. An imbalance between calcium and magnesium leaves you with stiff, tight muscles.
I drink Natural Calm every night before bed, but you can also rub it straight on your sore muscles. I like the powder better than a pill because I can control the dose and make sure I get enough on the days I have a hard workout.
7. Gentle movement. An easy walk or short yoga session can go a long way toward loosening up muscles and relieving soreness. This isn't a sprint or an hour long swim. Get your blood flowing with a bit of slow, gentle movement.
8. Legs up the wall. I love coming home from a hard run or a heavy squat session and putting my legs up the wall. Ahhh, feels so good! I like to imagine the soreness draining out of my legs while I lie back and relax. But in reality, it's a nice boost for your circulation.
9. Compression. Jury is still out on compression for improved performance, but it does help you recover. Try socks or other compression clothing to get the blood flowing. I swear by the Voodoo band for serious compression and relief – it also really helps remove tissue adhesions and get everything gliding properly again.
10. Naturally anti-inflammatory foods. Ginger, turmeric, and fish all of have anti-inflammatory properties. Whole foods also help muscles get the amino acids, minerals, and vitamins that they need to repair and get stronger.
11. Cupping. A little intense for your run of the mill muscle soreness, but totally worth keeping in your back pocket for the days where breathing feels strenuous. You can read all about my experience with cupping here. (Spoiler, I like it.)