As much as I love browsing Pinterest for recipe ideas, it just can't beat flipping through a solid cookbook. These healthy cookbooks have me all jazzed up about getting creative in the kitchen this summer.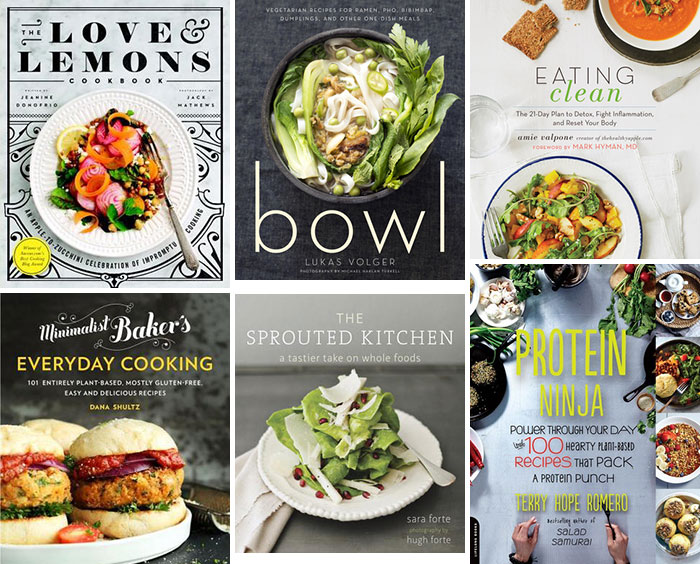 Love and Lemons Cookbook
You'll be hard-pressed to find another book as beautiful as this one. I love flipping through it. The book is full of gorgeous full page photos for every recipe, and the whole thing feels light and calming. Jeanine Donofrio's recipes include a healthy mix of foods. Notes about how to modify recipes to be vegetarian and/or gluten free are peppered throughout so you can make her dishes to suit your needs.
Bowl
Get ready to crave ramen like crazy. I couldn't stop myself from flagging nearly every recipe. Vegetarian pho? Yes please! This cookbook has everything from a vegetarian spin on popular Asian bowls to Buddha bowls stuffed with veggies.
Eating Clean
This is the only cookbook I have ever read from cover to cover. Amie Valpone's story is fascinating, and enjoyed getting some ideas for recipes without dairy or gluten. I won't follow her meal plan, but I would like to incorporate some of her principles (and snacks!) into my daily eating.
Minimalist Baker's Everyday Cooking
Confession, I still haven't actually seen this one. There's a long list of us waiting for it from the library. But given how create The Minimalist Baker's recipes are, I'm confident it's worth my wait and your time. Her vegan (and mostly gluten-free) recipes are flavorful and full of nutritious ingredients.
The Sprouted Kitchen
From yet another blogger I love, this cookbook is pretty and functional. She makes vegetarian food feel innovative and homey at the same time. Her gluten-free cornmeal pancakes are on my short list.
Protein Ninja
Looking to add more vegan protein into your diet? This book is for you. While I loved Veganomicon, I was a little disappointed in this book from Terry Romero. I didn't realize when I requested it from the library that nearly ever recipe would include protein powder. I also had a hard time finding gluten-free recipes in it.
What are your go-to healthy cookbooks?
In case you missed it: Healthy Cookbooks Part 1