Let's be real, I use a lot of mineral sunscreen. Anytime I'm outside or driving for more than 10-15 minutes I'm usually slathered in something or wearing sun protective clothing. After years in the sun, I take sun protection and sun damage very seriously.
Why Mineral Sunscreen
For years I have avoided non-mineral, or chemical, sunscreens. After reading the Environmental Working Group's Sunscreen Guide, I refuse to use anything that has oxybenzone, octinoxate, avobenzone, or nano particles. I want to know that my skin is safe and I'm actually being protected. With that in mind, I would much rather drench myself in mineral sunscreens that will protect me better and not seep toxic chemicals into my body.
The Best Mineral Sunscreens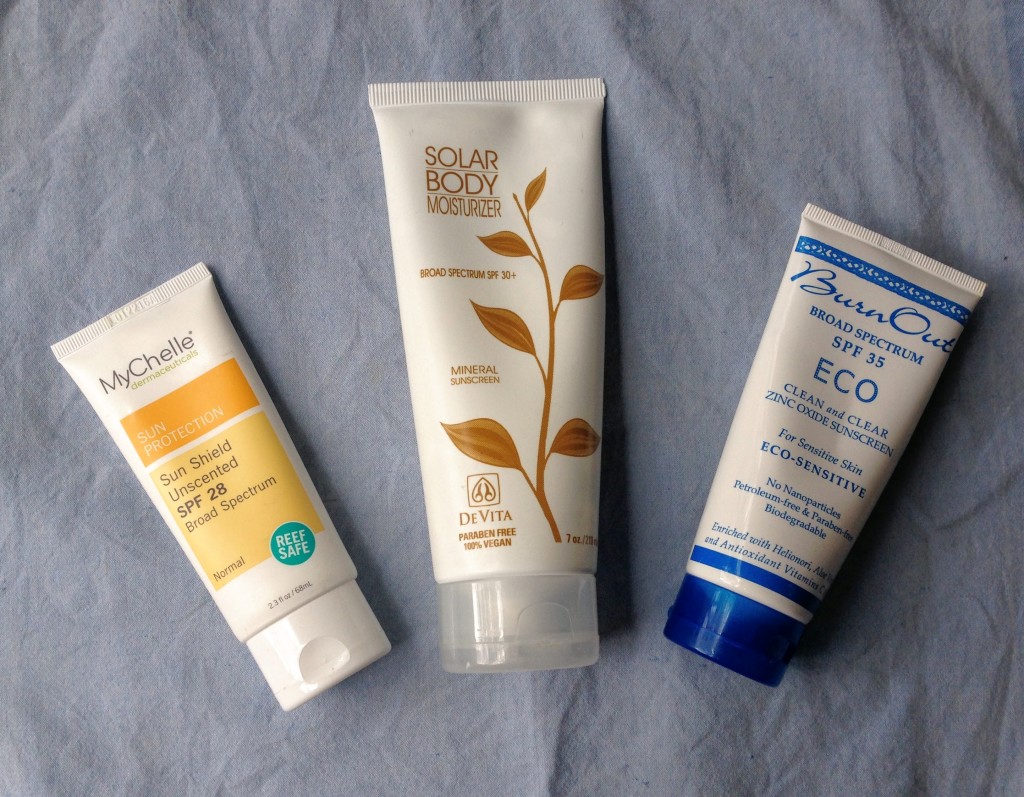 Face: MyChelle Sun Shield SPF 28
I had been unhappy with my face sunscreen for a while, so much so that I was neglecting to put it on at all. But after doing a ton of beauty research for this article, I was motivated to find a new one.
I picked this one up on a slight whim before my last camping trip, and it exceeded my expectations. It goes on SO easily for a mineral sunscreen. There's not endless rubbing and constantly having weird, white streaks down your face from where it didn't get rubbed in enough before it dried. It also doesn't leave you looking like an Edward Cullen wannabe. Finally, a face sunscreen that goes on clear!
While I'm usually wary of putting anything on my sensitive, temperamental face, I haven't had any problems with irritation or breakouts. After I do my morning skin routine, I apply it before I leave the house, including before I exercise. The only time I notice it is when I sweat a little bit. My face feels like I have something on it, but it's not bad and it feels pretty similar to other sunscreens. The rest of the time it's incredibly light and I forget I'm wearing it. Bonus points for being untinted – no more staining my clothes! You can find it at many natural food stores and Amazon.
Body: Solar Body Moisturizer SPF 30+
When I was commuting hours each day in the sun, this beauty was my best friend. It goes on like body lotion and makes my skin feel moisturized. There's no heavy, oily coat on your skin, and it works great. I took this all across Spain with me. It's so easy to apply it on the go. I frequently bring a little bit with me in a smaller tube if I'm unsure of the weather or I think I might end up taking off a layer (or two).
It's not water or sweat proof, so it's not great for extended exercise or a dip in the pool. I do, however, put it on my legs before I run and it stays on great. Whole foods and a few other markets carry it – although Amazon is usually cheaper.
Water/sport: BurnOut Eco-Sensitive SPF 35 Sunscreen
This little tube is by far my hardest working sunscreen. I wear it when I ride by bike, go for a run, swim, or do anything else where I'm going to sweat or otherwise get wet.
From the tops of my feet to the part in my hair, I use this sunscreen everywhere. I haven't had any trouble putting it on my face. It's a bit more work to rub in than the other two, but once you're done you can't really tell it's there. I've tried a few other sunscreens from BurnOut, and I think this one goes on the most clear. It stays on in water pretty well, and based on the burns I've gotten when I've missed little spots, it definitely works. This one is usually a bit more expensive in most natural food stores, but it's also on Amazon and it looks like it might be cheaper at other random online stores if you Google it.
In case you missed it:
All the sunscreens I've tried in the past
Sun Safely, my article in Yoga Journal