Hellooo, fiction. I've finally done it! In October I read a whole five fiction books. That might just be my most yet.
But fear not! I didn't go too crazy. There are 4 non-fiction offerings and a book of poetry thrown in too.
October Books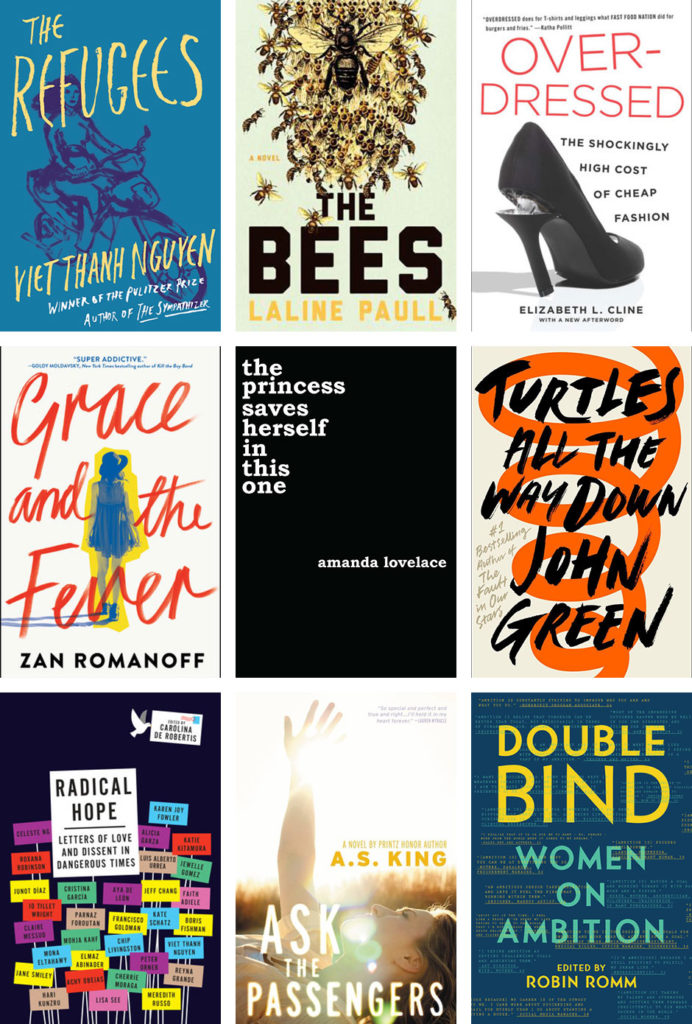 Double Bind: Women on Ambition
It was fascinating to hear women talk about their ambition and drive or try to skirt around the issue altogether. These essays were eye-opening and hopefully helped me better come to terms with my ambition. I haven't ever really been one to shy away from going after what I want and being upfront about it, and this book made me thankful for my upbringing and the work I have been able to do so far.
Ask the Passengers
Yet another blast from the past, Ask the Passengers was on my list for years and I finally got around to devouring it. A.S. King does a great job of pulling you into the story and keeping you hooked. Astrid's life feels relatable, and her small town filled with strife maybe a little too real. The book is a little odd or over the top here and there –which is a bit of her style – but overall it was a fun read.
The Refugees
What took me so long?!? Viet Thanh Nguyen's latest book is a collection of short stories about people who have left their country of birth behind in search of a new place to call home. The stories go from harrowing to humorous, but each one left me wanting more. I fell hard for Nguyen's writing thanks to this quick read. More please!
The Bees
Full disclosure: I chose this book because of its cover. It's gorgeous!
The inside cover compares The Bees to The Hunger Games and The Handmaid's Tale, and I'd say that's pretty spot on. It was such a weird, unexpectedly thrilling book. The main character is a bee that's born into the lowest class of her hive. The class warfare and struggles felt surprisingly real and tenable. I wasn't sure I would get past the first chapter, and instead I almost missed my train stop because I was way too engrossed in Flora 717's escapades.
Turtles All the Way Down
Oh, John, why am I such a sucker for your books? I just cannot resist diving deep into the fantasies John Green creates. Turtles All the Way Down is not nearly as good as some of his past (in my opinion), but it was also a relief not to sob until my eyes looked like watermelons.
Turtles was still engrossing and it stuck with me after I'd read it (as have some of the main character's biggest paranoias… so thanks for that.) It's worth the few hours it took to read. (PS. I'm not so secretly proud of how fast I got this one from the library. Love that place.)
The Best American Science and Nature Writing 2011
I love Mary Roach, which is why I read this anthology full of science and nature articles from six years ago. Overall, it left me depressed that some of the biggest concerns of 2011 are still running rampant today or completely swept under the rug where they're rapidly rotting the floor out from underneath our feet. Unless you're a huge science writing nerd, I'd wait for the 2017 version to come out soon.
Grace and the Fever
I first stumbled across Grace and the Fever on a bookstore date (which I highly recommend if you haven't gone on one yet). It seemed interesting, the cover was catchy, and the library had it, so I read it.
I'm not sure how I feel about it. At times I was extremely frustrated. It frequently stretched my suspended disbelief too far. I couldn't come to terms with the weird romance between a fangirl and a pop star. To be fair, this is also just not my area of expertise and interest. I would not be able to name the Jonas Brothers (are they still a thing?) or any other boy bands of the current times. I think I really was too old (and out of touch) to be interested in this one. I would recommend Rainbow Rowell's Fangirl (about books and fan fiction) instead.
The Princess Saves Herself in this One
Hooray for accessible poetry and young, female voices. That said, I had some trouble really jiving with The Princes Saves Herself in this One after reading Milk and Honey recently (which I loved!). The themes were similar and I found it impossible to not constantly compare them.
Over-Dressed: The Shockingly High Cost of Cheap Fashion
Yes! I knew when I put this book on my list years ago that it fit the way I felt about fast fashion exactly. Cheap clothes = poor wages, low quality products, and environmental ruin.
And I still loved reading Over-Dressed. Elizabeth Cline renewed my interested in finding true quality (mostly from vintage clothing made before fast fashion and shoddy clothes-making techniques hit the scene) used clothing, ethically produced items, and manufacturers that fit my strict standards. It's one of those books that is an absolute must read if you care about social justice, fair/living wages for all people, environmental protection, and living your values.
Expect to see (many more) posts about this in the future. It's something I'm really excited to go into more detail about and something I think we don't talk about enough.
Radical Hope: Letters of Love and Dissent in Dangerous Times
Some of these letters hit me hard, and others really fell flat. It was odd to read people's thoughts and feelings from the wake of the election nearly a year later. My vantage point from the future did not give me any comfort. It's worth picking up from the library to see if there is something in here for you, but overall, not electrifying.
Want more recommendations?
Check out what I've read so far this year:
September
August
July
June
May
April
March
February
January
You can see all of my book reviews here.