When I sat down to write this post I was pretty sure I hadn't read much in August. Between completing a massive 15,300 word project and trying to catch up on all of my other projects/work, August was sadly spent with tired eyes and working Saturdays.
And yet read I did. My two hour commute to Oakland twice a week has been keeping me on track. It's looking like I will actually finish my goal for 52 books sometime in October at this rate.
My August books kept on the same path as previous months. There are three books about the lives of daring women and the way the world treats them in return. And two easy reads intended to soothe the mind after all of its heavy lifting lately.
August Books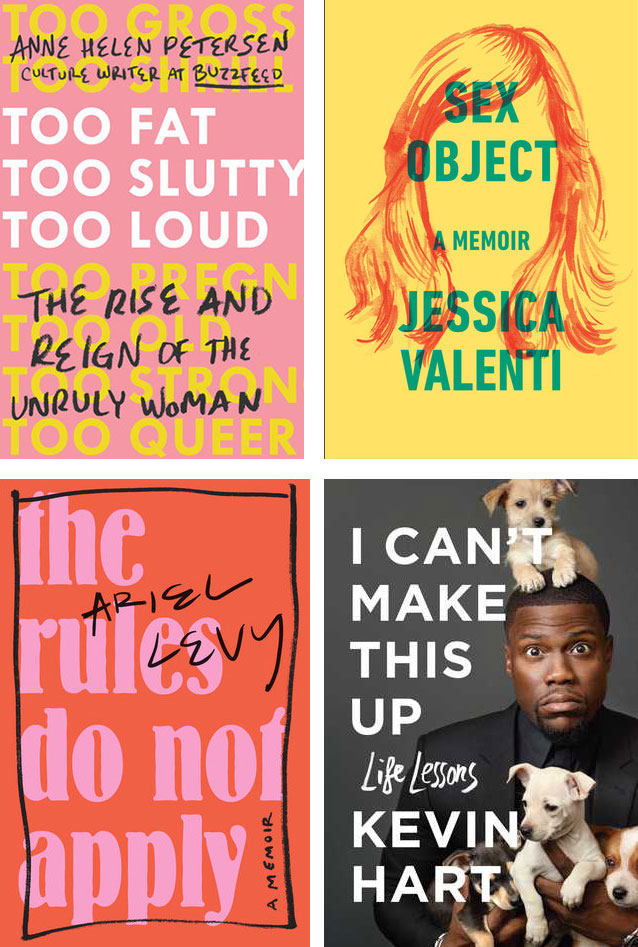 The Rules Do Not Apply
Prior to putting this book on my list I had heard Ariel Levy on the Longform Podcast, which is to say that I knew what I was getting into before I started in. But I still wasn't really prepared for the gut-wrenching twists that come one after another.
The Rules Do Not Apply highlights the indignity of life, the unfairness of the world, and the power and resilience we have to make our lives into something anyways.
Sex Object
Jessica Valenti's Full Frontal Feminism was my first taste of feminist text. I read it my freshman year of college and became even more incensed about the injustices in the world (which is saying something since I had already gone through my 'seethe in the dark listening to metal' phase).
I thought her latest book, Sex Object, would be similarly research-based. Instead it was a horrifying look into how (mostly) men had treated her throughout her life. It was eye-opening and just as incendiary as Full Frontal Feminism, but it also left me with a deep gratitude that I have for the most part been left alone and allowed to move around the world unbothered. (Note to self, never move to NYC.)
I Can't Make This Up
Apparently I am a sucker for books by comedians or memoirs that are billed as humorous (see Amy Schumer, Amy Poehler, Tina Fey, Jessi Klein, Jim Gaffigan, Tyler Oakley). And yet I never learn. Outside of Fey's Bossypants, I find the genre to be over-hyped and uninteresting.
I picked up Kevin Hart's I Can't Make This Up with optimism. He didn't write the book himself (which isn't unusual for a celebrity), but it felt like I was being held an arms distance away being told a version of his life that he wanted to share. Between the book and his most recent comedy special, I am a lot less interested in his comedy and his work in general. He comes across as selfish, and his relationship to his children an the women in his life are problematic to say the least.
Bottom line. I didn't laugh, and it's not worth reading.
Once and For All
Every summer in high school and much of college I would read a Sarah Dessen book (The Truth About Forever and Just Listen were heavy favorites). I brought the tradition back this summer with Once and For All. It was cheesy, mostly predictable, and not as good as some of her other books. But that didn't stop me from putting off work for most of a day to finish it.
And to be fair, that's what I love most about her books – they suck you in and make it easy to forget about everything else for a few hours.
Too Fat, Too Slutty, Too Loud: The Rise and Reign of the Unruly Woman
This book really riled me up. It made me want to be louder, more demanding. It was just the fuel I needed to remind me why it's important to put my words behind what I believe, stand up for other people, and be the nasty, unruly woman I know I am.
While it featured women I already look up to like Serena Williams, it also gave me a better appreciation for so many others that I've never really given any thought or attention to (sorry Nicki Minaj).
Too Fat, Too Slutty, Too Loud is way better than any cup of coffee.
Want more recommendations?
Check out what I've read so far this year:
July
June
May
April
March
February
January
You can see all of my book reviews here.