Summer reading is in full swing! While I certainly don't stop reading at any point during the year, there's something special about settling in with a good book on a warm night or indulging in a little more fiction or fun than normal.
My July books are more heavily fiction and soul books than normal. They're the kind that take you somewhere else, invite you to look out of a strangers eyes, or leave you so wrapped up that you can't seem to fully come back to your own life when you shut the cover. My books this month left me feeling wonderfully full and yet somehow hungry for more.
July Books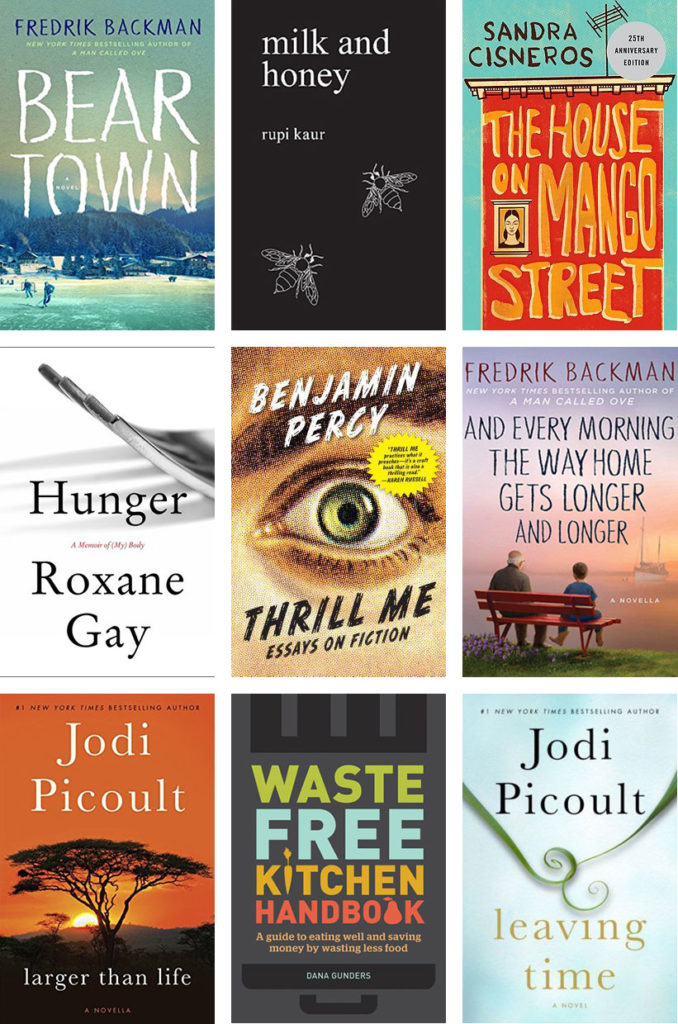 And Every Morning the Way Home Gets Longer and Longer
This short novela made me cry. Fredrik Backman, the author of A Man Called Ove, Britt-Marie Was Here, and Beartown (below), never meant to publish it. He wrote And Every Morning the Way Home Gets Longer and Longer as a way to work through his own thoughts and feelings, which is probably why it's such a powerful piece.
The story is about a grandfather and his grandson as they both try to understand what's happening to the grandfather's memory. The boy and his grandfather sit in a square that is slowly shrinking and taking familiar objects and views along with it. As someone who has had multiple family members struggle with memory loss and dementia, I couldn't get enough of the compassion and love that came along with the inevitable frustration and fear. I for one am glad Backman decided to let this one out into the world.
Leaving Time
Years ago I gave up on Jodi Picoult. Her books always followed the same formula: dramatic happening, hunt for the truth, court case, followed by a final twist at the end. I was bored.
She has been slowly moving away from that basic outline, but even so her last few books didn't really grab me. Leaving Time had been on my to-read list for years, and I decided to finally give it a go. Either it was going in my read pile or it was coming off – no more languishing.
Leaving Time surprised me. I loved that the elephants played such a big role, and I was thoroughly pleased that I never saw the twist coming. The book follows Jenna, a young teen, as she searches for her missing mom. The characters are all deeply flawed, and it only makes you more attached. This book reminded me of why I fell so hard for My Sister's Keeper and Lone Wolf.
Larger Than Life
This novela was hidden at the end Leaving Time, and it gave a bit more background to Jenna's mom's life studying elephants in Africa. It was good, but it wouldn't be as interesting if you haven't just read the full novel.
Beartown
I tore Beartown to shreds. The opening pages foretell of two teenagers in the forest with a gun, and I could not help but sprint to the end to find out who is out there and if anyone would come out of the trees alive.
Set in a 'hockey town,' Beartown made my heart ache for a place unlike I'd ever lived in or really visited. This book made my palms sweat and my heart race. It felt more like watching a thriller than reading a book. I hate to say it, but Fredrik Backman is becoming an even better writer (and I already loved his work). I'm ready for the next one to hit the shelves.
Hunger: A Memoir of (My) Body
Roxane Gay pulls you into her body and lets you feel the weight of her skin, the stares that follow her everywhere, and the physical exhaustion of carrying around her armor and her experiences. This book left me feeling blessed and privileged that I have never fought my body or struggled with it. I have always been able to look it in the eye and be at relative peace.
Hunger was a look into a life completely different from my own in so many ways. Her honest discussion of her weight and the baggage that comes with it was intense and exhausting. I would like to think that this book gave me a greater capacity for compassion for people whose lives and bodies are so different than my own, and to some extent that's true. But it also gave me a great sadness that so many people struggle with their self-image and have not found joy in some of the things that bring me the most happiness.
Milk and Honey
milk and honey was my first poetry book of the year… and probably my first since it was required reading in school. I can't believe it took me so long to pick up Rupi Kaur's collection. Each poem hit me right at the core and left me feeling comforted and hungry for more. I can't wait for her new collection to come out. I'm seriously considering buying my own copy so I can read it over and over again. It has by far been my highest rated book of the year.
Thrill Me
When I was growing up Penn & Teller had a TV show that took you behind the scenes and showed you how some of the most mind-boggling magic tricks were done. Thrill Me was the big unveiling for some of my favorite books. Benjamin Percy breaks down the tenets of a great story and pulls scenes and tidbits from famous books and movies to make his points.
Thrill Me is meant to be a book about craft. It's intended to inspire you to improve your writing, but more than anything it made me appreciate the books I read and see the true effort that goes into the magic on the page. This book is great for anyone who loves behind the scenes peaks or 'how it's done' pieces. And Percy's writing and essay structure pull you in just as much as the books he demystifies. Book nerds like myself will love it.
The House on Mango Street
Would you judge me if I told you that this book had been on my to-read list since high school? I don't know how it got on there, but I'm glad I finally picked it up. Although to be honest, I enjoyed Sandra Cisneros' description of her first apartment and what it meant to her to have the physical and mental space to write even more than the story itself. The novel is made up of quick stories, and the pacing kept me completely hooked. I ended up reading the entire book over the course of my commute to and from Oakland.
Waste-Free Kitchen Handbook
I had high hopes for this one, but it turns out my boyfriend and I don't really waste that much food. Waste-Free Kitchen Handbook covers the basics like meal planning, smart shopping, and freezing before something has time to go bad. It  also offers tools to help you figure out where your food waste is coming from and help you avoid it.
Overall I enjoyed the facts about food waste and the impact it has on food security, the environment, and spending. I wish it had talked more about creative ways to use things like kale stems and used coffee grounds. To be fair, we already compost what little we can't use and we very rarely throw out food that went bad in our fridge. I'd recommend this book if you feel like you are struggling with food going bad or you want a few tips on how to make your kitchen more food-efficient. Otherwise it's not really anything new.
Want more recommendations?
Check out what I've read so far this year:
June
May
April
March
February
January
You can see all of my book reviews here.