We spent 8 days in Iceland in the middle of May, including 5 days traveling the Ring Road (Highway One). While you can certainly do the Ring Road more slowly, I wouldn't try to do it in fewer days. The road isn't that long, but slow speed limits and unpredictable weather mean you may not get to explore very much if you try to do it faster. At 5 days we had plenty of time to explore, but we also did have two days with six hours in the car.
I've included our 5-day Iceland Ring Road Itinerary for those who are curious as well as what we did during the rest of stay. This post is packed with information, but hang in there – there are also pictures!
Day 1: San Francisco to Reykjavík to Vik
Since it's hard to decide when day and night happen while traveling, this is going to be my full day. We got up early and went to the gym before our flight. I swam to relax and try to make friends with my body before being shoved on a plane seat for nine hours.
We flew from San Francisco to Seattle with a short layover to stretch our legs. From there we took a 4:30 p.m. PDT flight to Reykjavík. I had the best intentions for this flight. I bought an embarrassing sleep mask and I was prepared to do everything I could to sleep on the plane. But most of our plane wanted to hang out and make friends.
People didn't seem to realize (or care) that we were landing at 6:45 a.m. Iceland time and staying up for at least 14 hours after. Some even had other flights to catch into Europe. The older gentleman next to us watched movies for seven hours while the ladies behind us made friends with just about everyone on the plane. Needless to say little to no sleep happened. It didn't help that we landed when I would normally be heading off to bed at home.
Breakfast in Reykjavík
After picking up our rental car (which was the saddest rental I've ever seen, but it was cheap), we headed to the city for breakfast which is about 40 minutes from the airport. We cleaned our plates and caffeine-filled cups at Grai Kotturinn (Gray Cat). The food was expensive, but the prices were completely in line with the rest of the city. Bookcases line the walls and soft lighting made it feel especially cozy. The restaurant only has seven tables, but we were able to walk right in and sit down (although it was early on a Tuesday morning). Definitely get the pancakes and the stewed tomatoes (not meant to be eaten together). Our guidebook claimed the restaurant is frequented by Björk, but alas… we had no idea what she looks like.
Drive to Vik
We grabbed groceries from a small store before we set off on the first leg of the Ring Road. We were definitely tired by this point and feeling the jet lag coming on, but my boyfriend felt fine driving. (Ironically this is the only day I wouldn't fall asleep in the car.)
The ride from Reykjavík to Vik kept us completely awake. My boyfriend had been to Iceland before in the winter, so it was fun to hear about how different the landscape looked. The further we got from the city the more waterfalls we saw and the greener it got. We frequently stopped along the way to stretch our legs and see the sites. And each time we did the cold breeze woke us right up.
DIY Waterfall Tour: Seljalandsfoss and Skógafoss
We pulled over at Seljalandsfoss, one of the most popular waterfalls on the island. The view was gorgeous. It wasn't very crowded when we got there so we were able to walk and explore pretty much on our own. There were a couple of people walking behind the waterfall, but when we saw how soaked they came out we declined to follow. The wind was already strong and it was only in the 40's when we were there. If you want to explore behind the waterfall (which sounds amazing) you really need head to toe rain gear and a warm car to retreat to.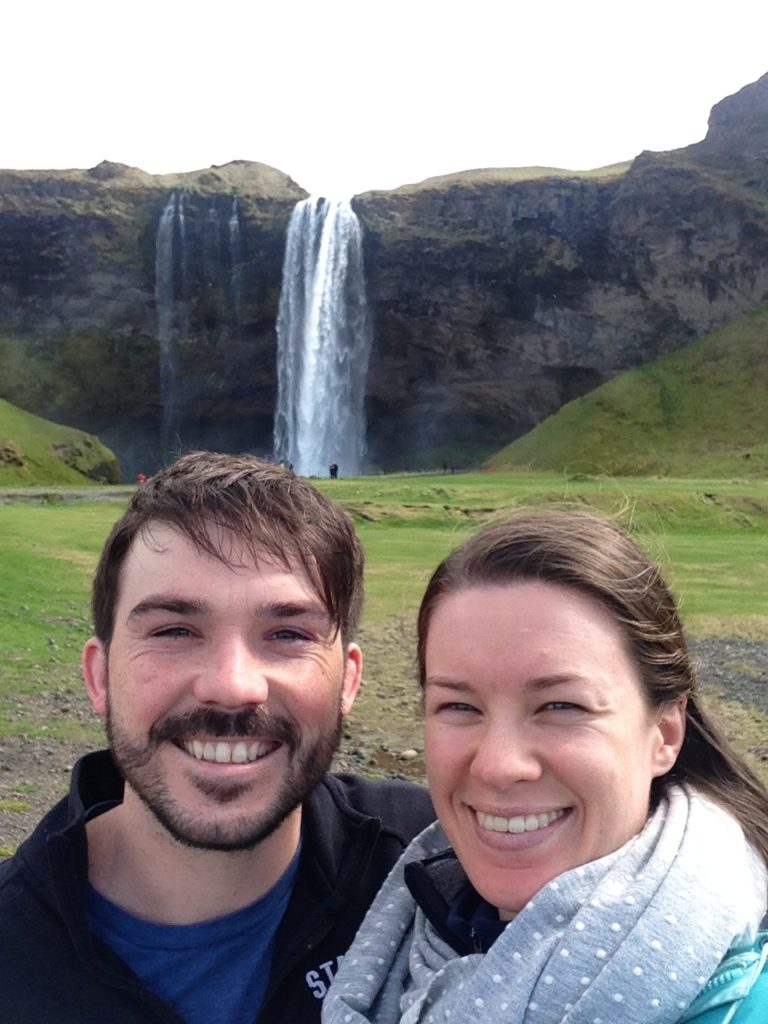 From there we drove a little while longer before a large waterfall appeared up ahead to our left. We impulsively decided to pull over, and I'm really glad we did. Despite the tour buses in the parking lot, Skógafoss wasn't overrun with people. We took the stairs up the side of the water fall, which is an absolute must. There is a viewing platform at the top that overlooks the waterfall and the grasslands that spread all the way to the ocean.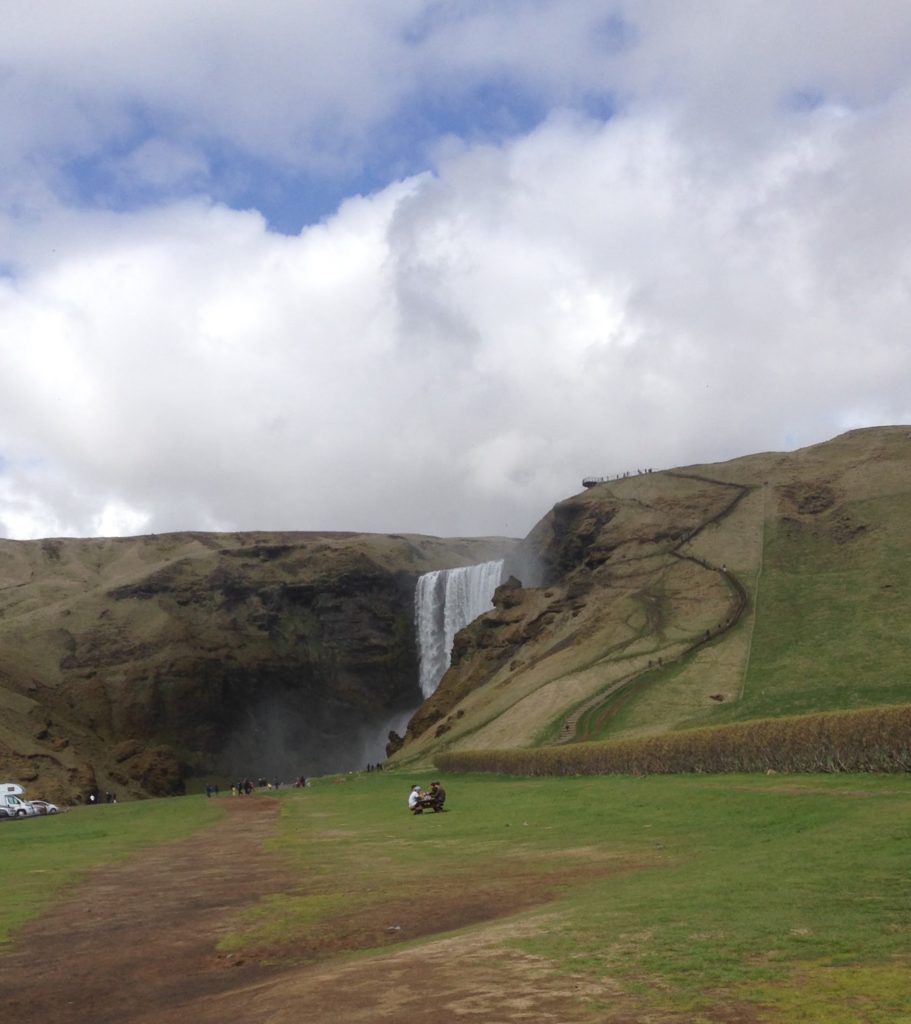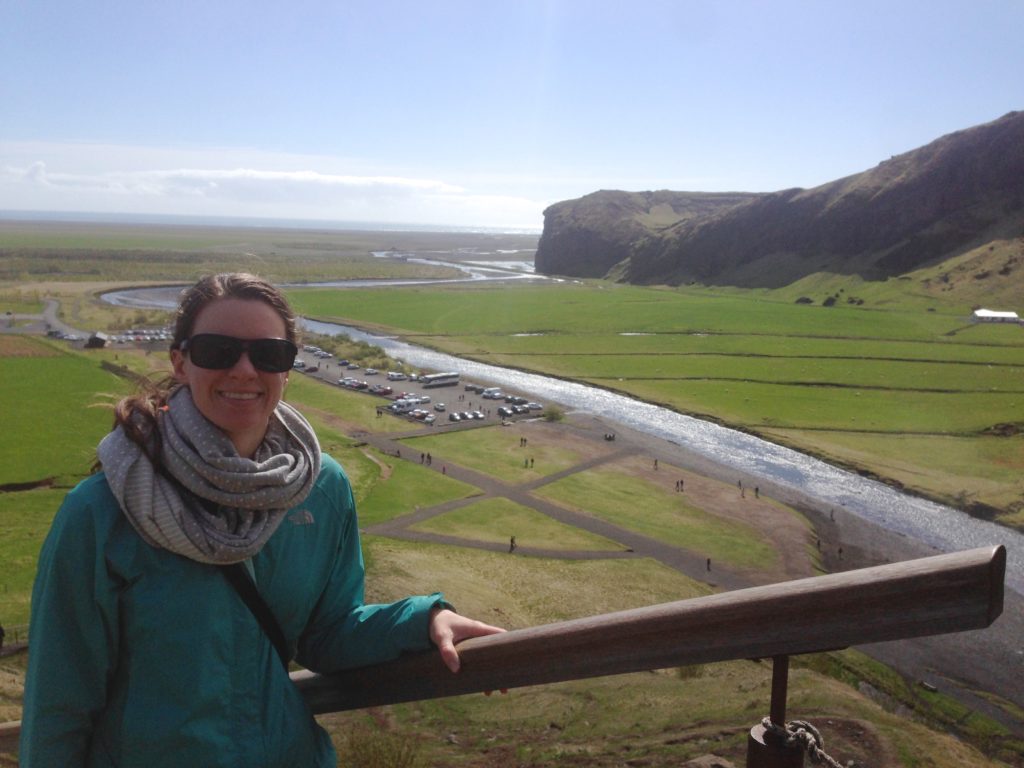 Since being outside in the sun and moving made us feel normal and not at all like we'd been awake for more than 24 hours, we decided to keep going and see where the trail along the river went. It wasn't the most exciting hike ever, but it's worth hiking at least a little further to see the river cut through the hillside.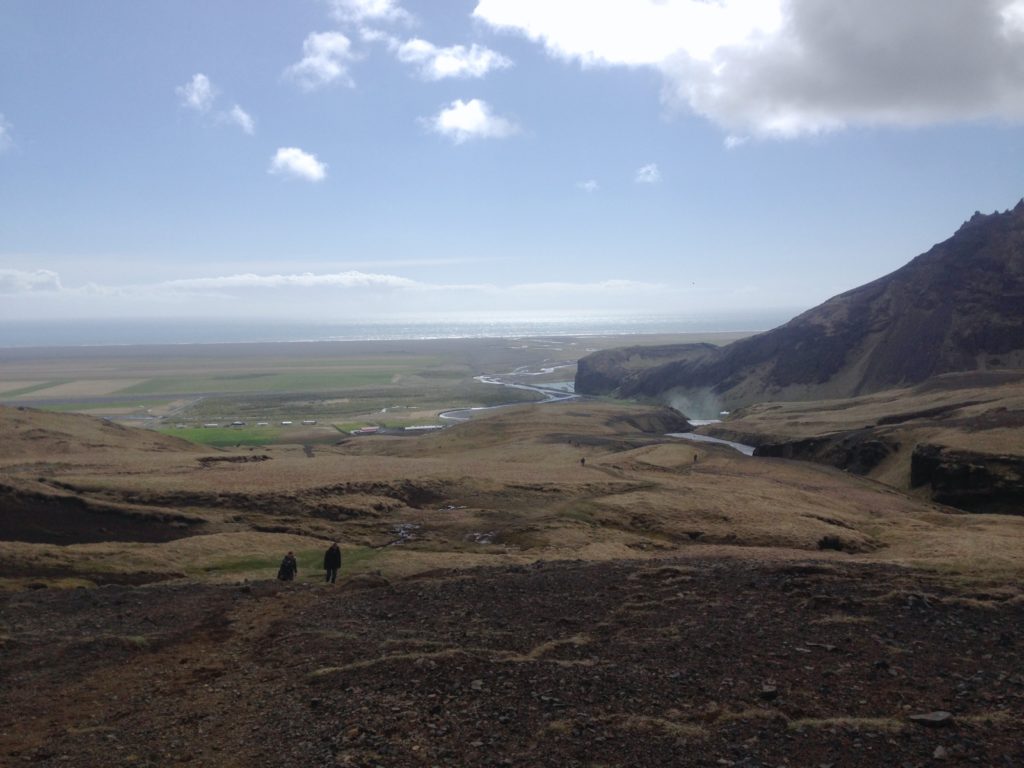 Finally Sleep
I cannot put into words how excited I was to finally sleep. When we got to our guesthouse, Vik Hostel, all I wanted to do was go to bed. Instead we made dinner and marveled at the sunlight that was still pouring in. At 9:30 p.m. I couldn't take it anymore. I put on my sweet eye mask and went to bed completely oblivious to the sunlight outside.
Day 2: Vik to Höfn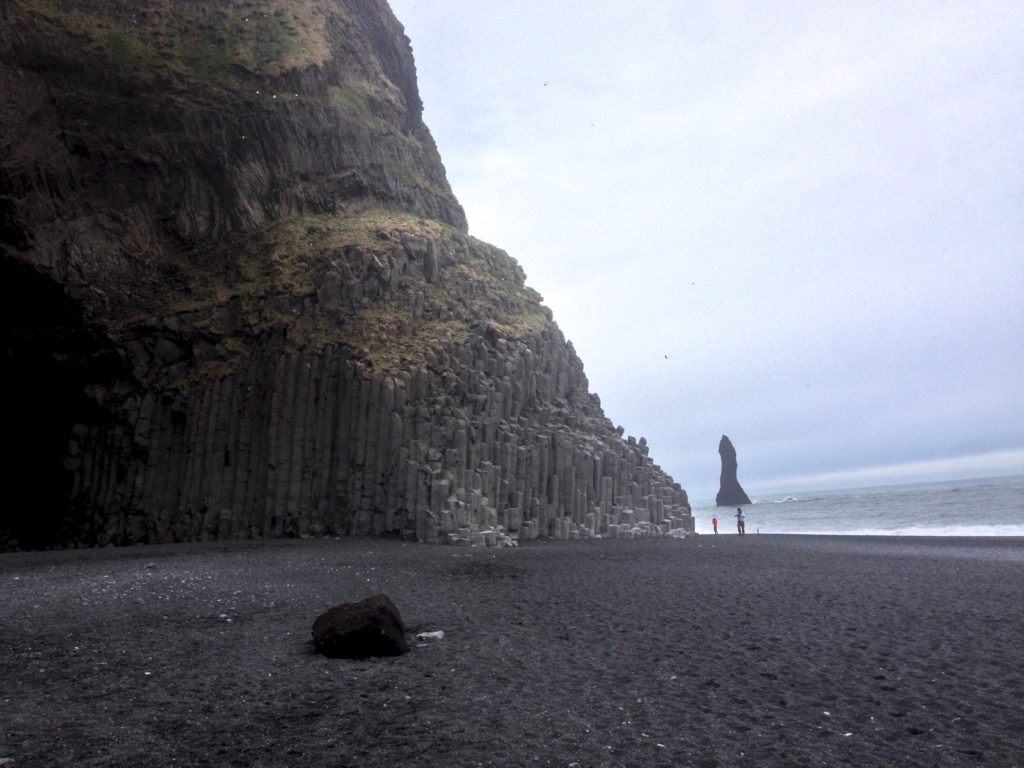 Reynisfjara (Black Sand Beach)
After our included breakfast we hit the ground running with a trip to Reynisfjara (Black Sand Beach). There was only one other couple at the beach so it felt like we'd somehow traveled to another planet. The basalt column cliffs are mind-boggling, both up close and from further down the beach. We were incredibly lucky that it was low-tide so we were able to see the cliffs and even explore inside a small alcove/cave. Even so, we didn't stay long. The wind had really picked up and it was starting to rain so we only walked around for 15-20 minutes before heading back to the guesthouse to checkout.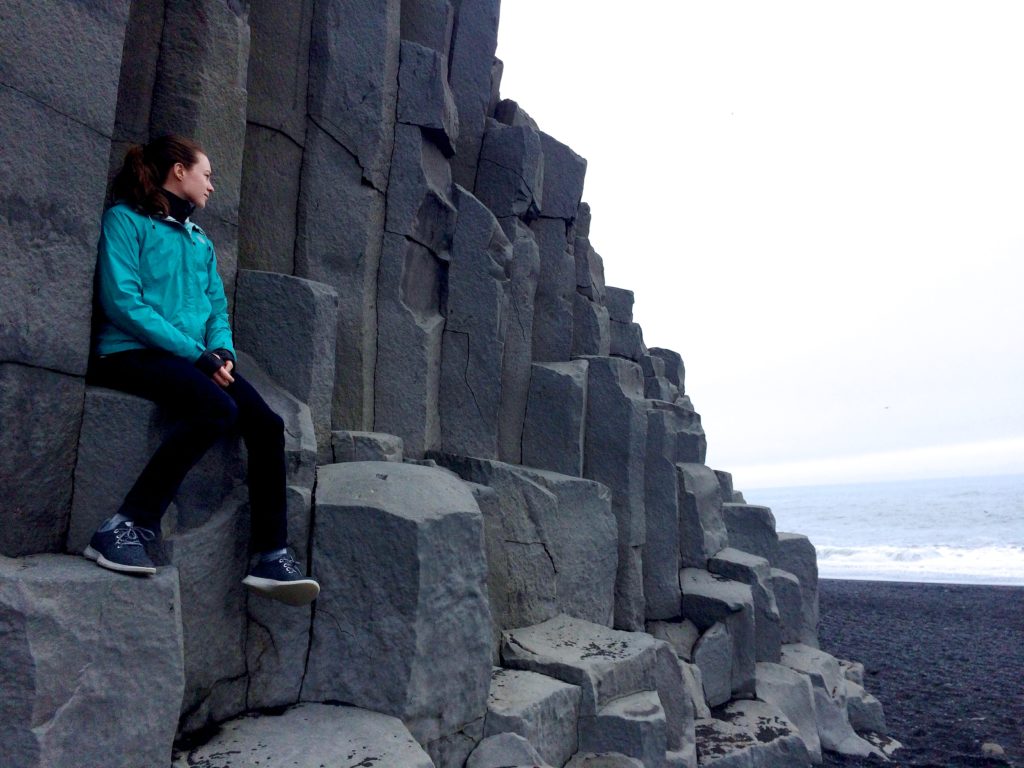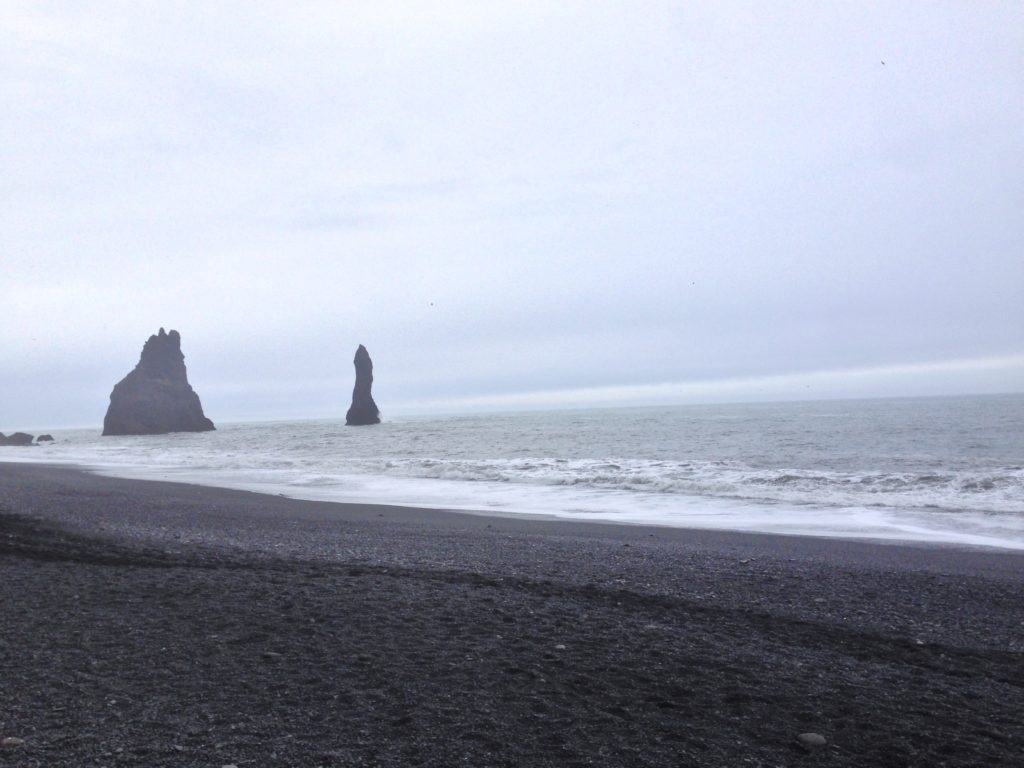 Along the Ring Road / Highway One
This drive was one of my favorite parts of the entire trip. The scenery is unbelievable. We stopped at multiple pullouts along the way, but I wish I had taken more photos of the landscape. You drive past active volcanoes, massive glaciers, and sweeping landscapes of moss-covered lava rocks. It's unlike anything I've seen before.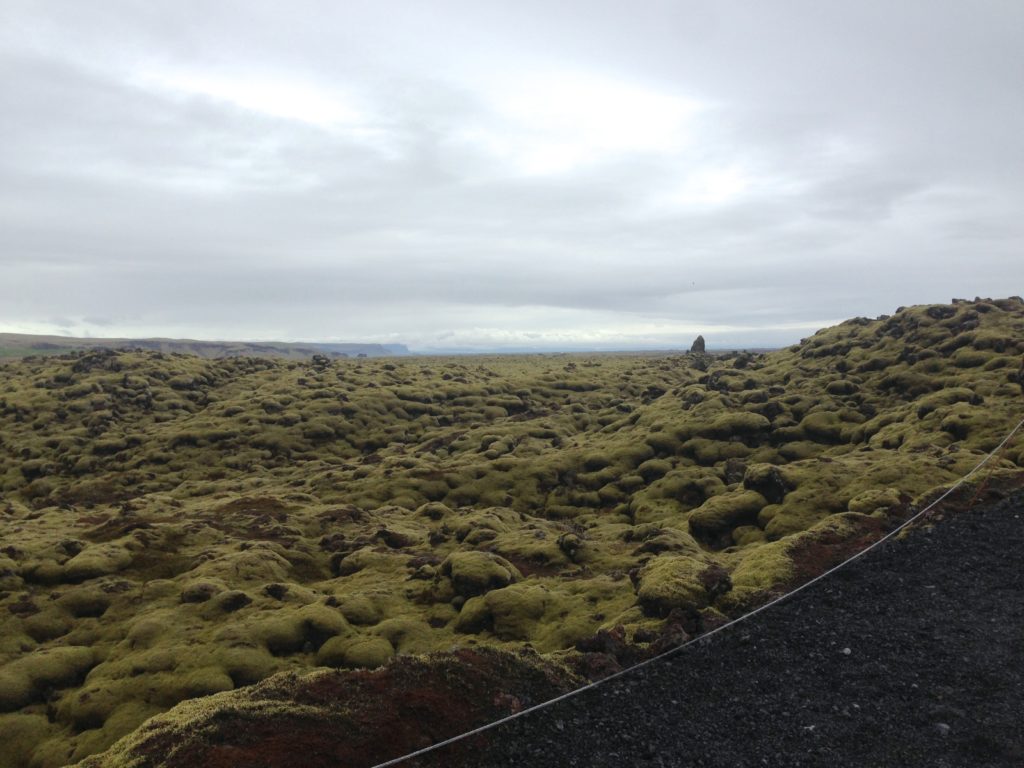 While we were in Iceland there were baby sheep everywhere. They made the ride even more enjoyable, and I couldn't stop talking about how cute they were, especially when they tried to run.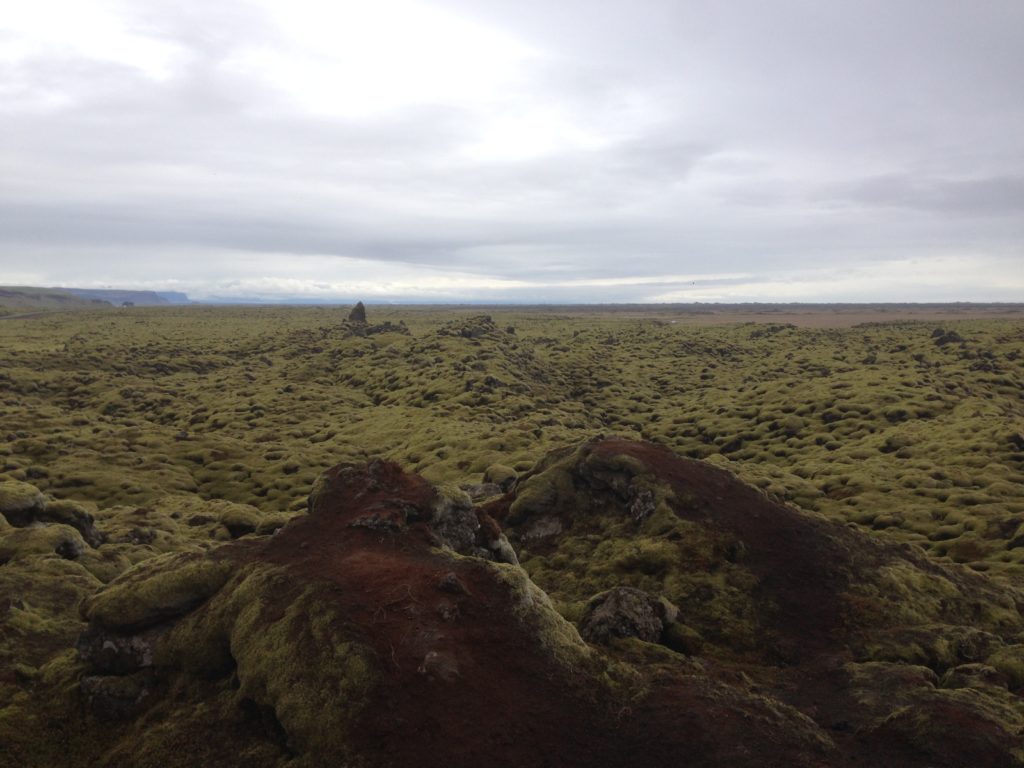 Jökulsárlón
Our first major stop for the day was Jökulsárlón (Glacier Lagoon). You could easily spend the whole day here – and a whole month's salary. Tours aren't cheap, but you can take an amphibious tour straight into the lagoon alongside building-sized pieces of ice. There are also ice walking/ glacier tours and even glacier cave tours in the winter. We stuck to exploring on our own and didn't leave disappointed.
Definitely follow the ice down to the beach. While the glacier itself and the massive chunks of it in the surreal milky blue water is impressive, you don't want to miss the bright blue ice bouncing around in the waves and resting on the black sand beach. It was a bit crowded, but overall we were still able to explore without feeling like we were in one massive tourist trap. If you go to the water, go to the beach that's on the same side as the little tourist center at the lagoon. There were substantially more glacier pieces on that side and much more space to spread out. Just follow the path along the edge of the river under the bridge to the beach.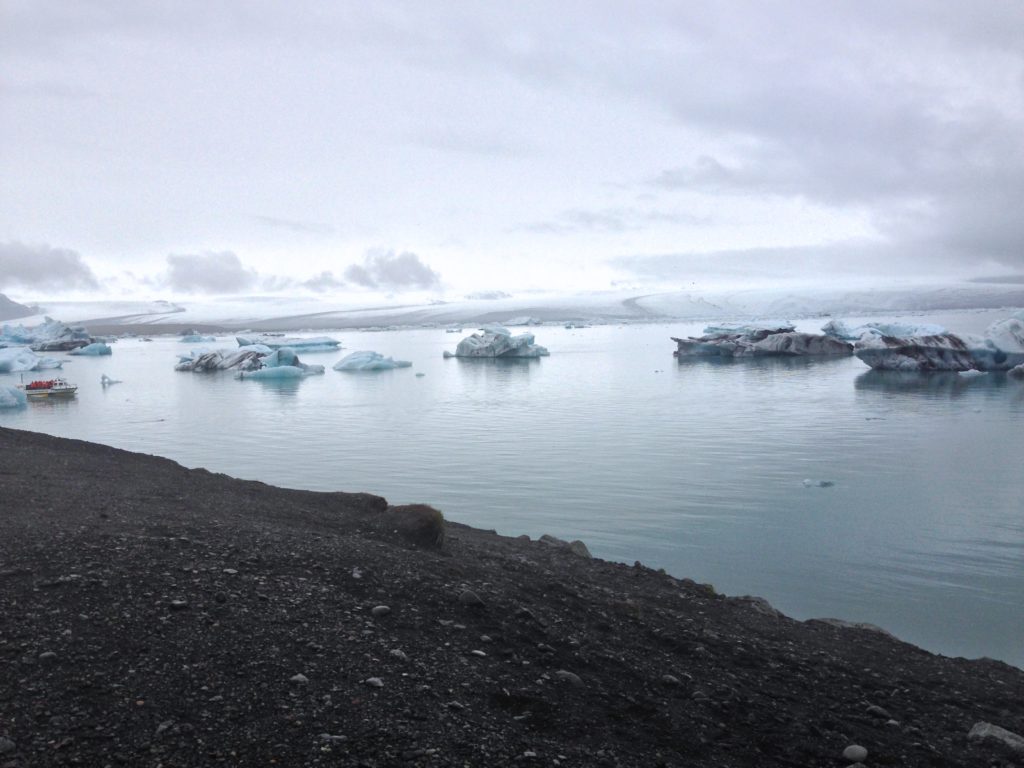 And this probably goes without saying, but dress warm. It's definitely cold here. Even colder than some of the nearby surrounding areas.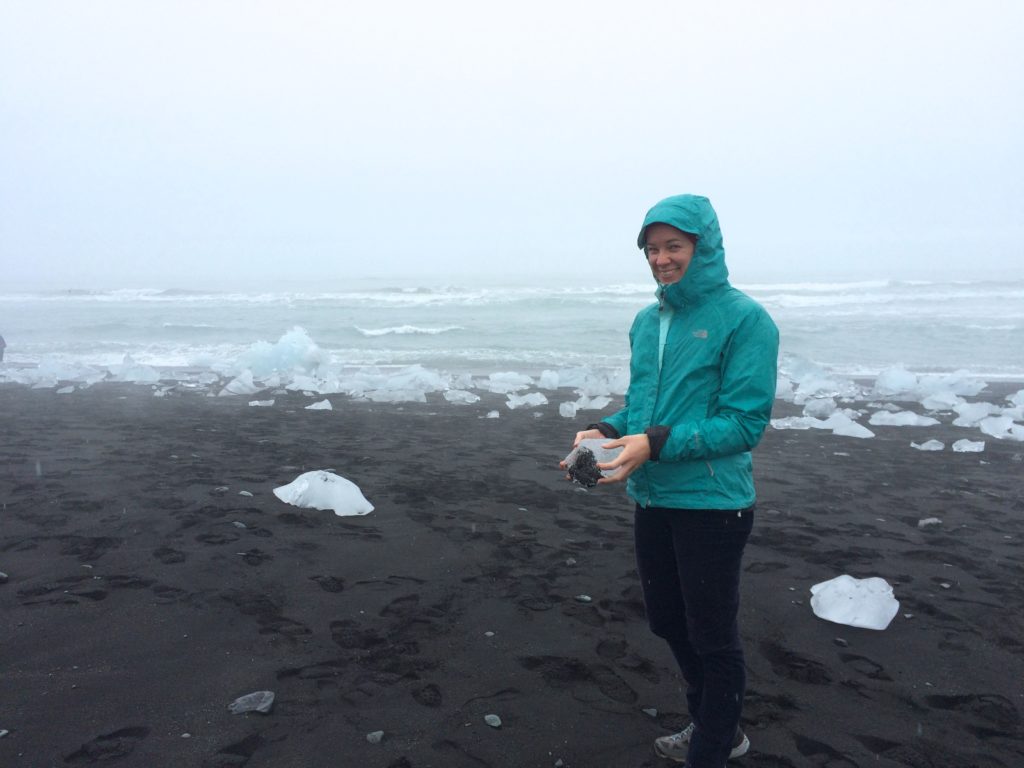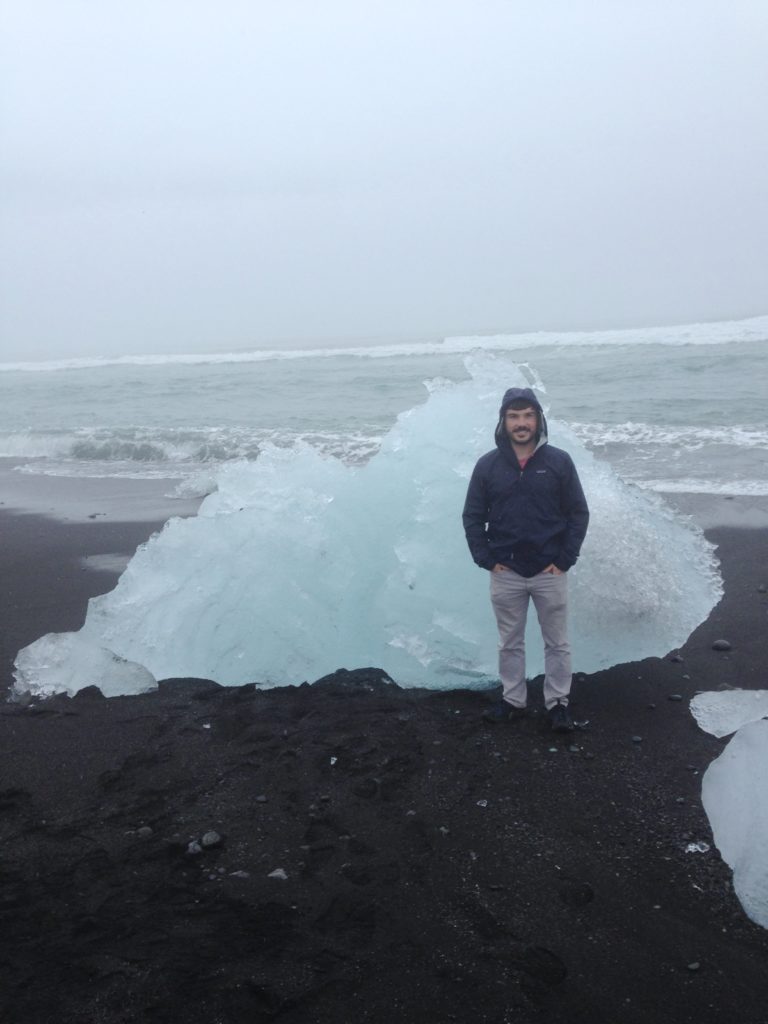 Finish the Drive to Höfn
We got to Höfn and settled into our room at Guesthouse Dyngja, my favorite guesthouse of the trip. As the first group to arrive for the day, I'm convinced we got the best room. We had harbor views and a completely remodeled room. The place was cozy and the owner was really friendly and easy going.
Hoffell Hot Pots
Once we were settled we snuck off to a nearby hot spring, the Hoffell Hot Pots. I had been browsing online for things to do in the area while we waited to check in and happened to stumble on the hot pots. It ended up being one my absolute favorite parts of the trip.
The hot pots are located at the end of a gravel road. They're surrounded by Icelandic horse pastures and have views of the mountains. There are five pots in total, each a different temperature. There's also a little building with a toilet and changing areas for men and women. (Note, the building is not heated, and the outdoor shower that you should 100 percent use before getting in to keep the pools clean was barely warm when we were there.)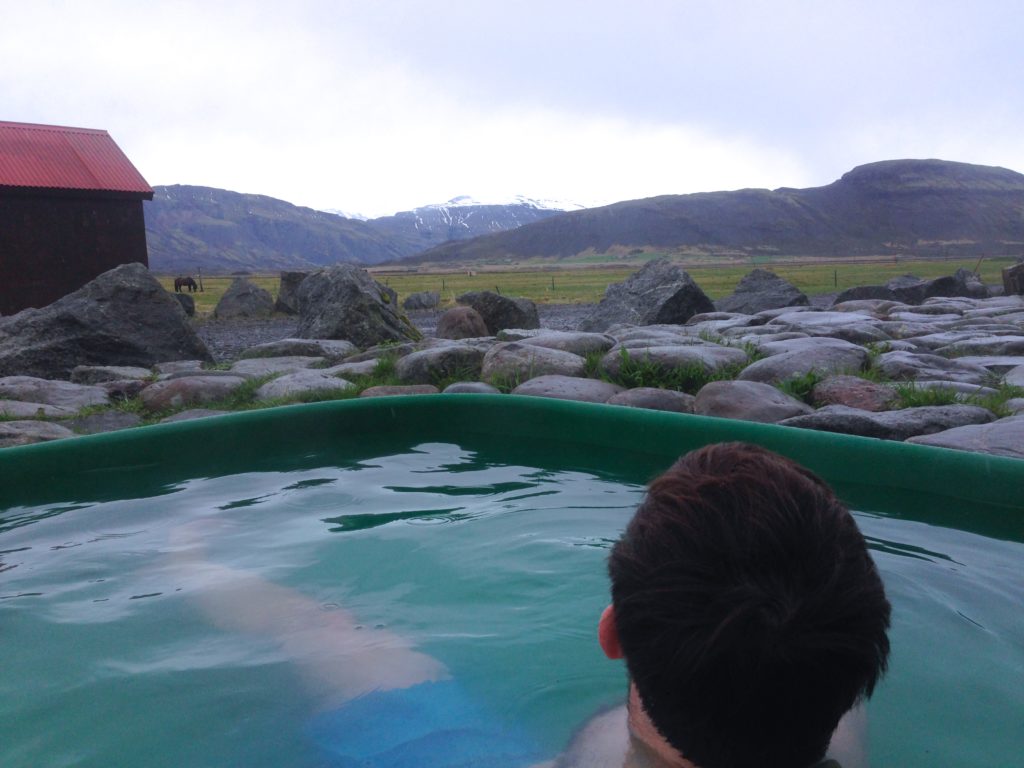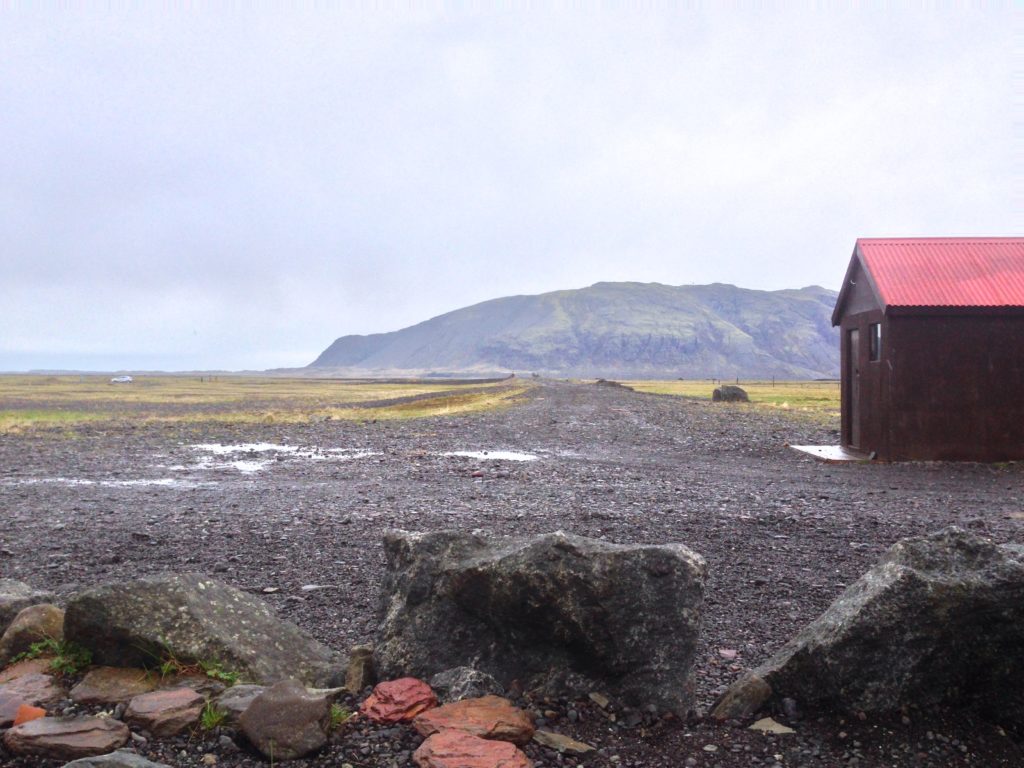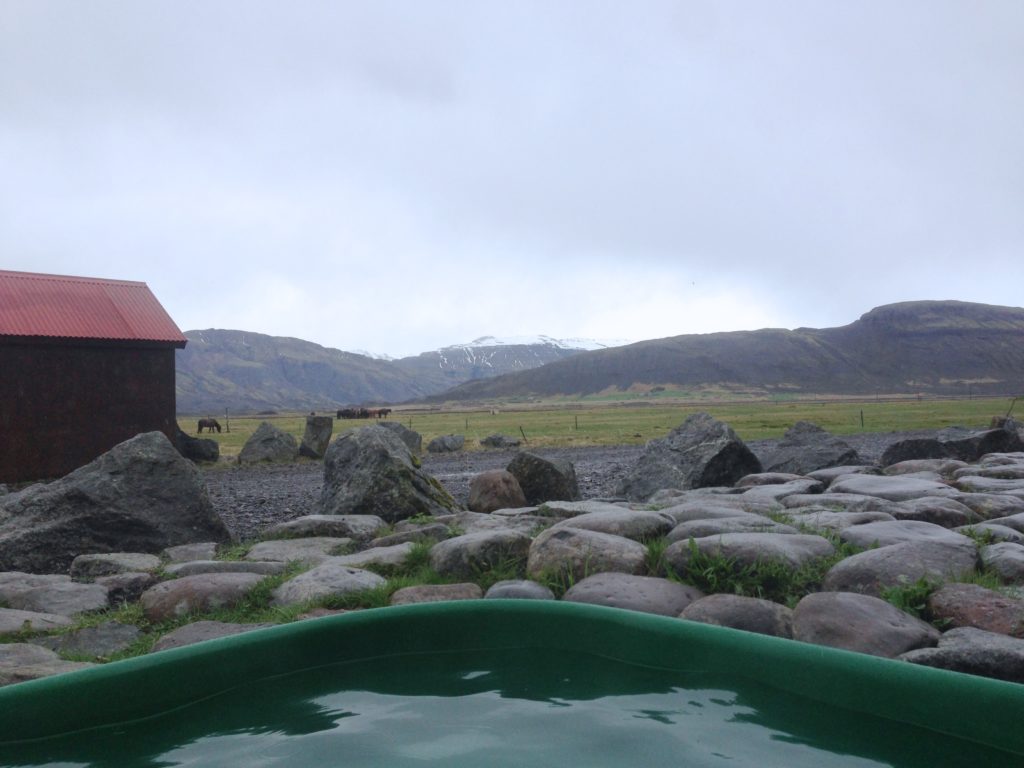 I could have spent all day soaking here. There are no attendants (it's donation based) and it was relatively empty. For the most part there were less than four other people in the area while we soaked. We were able to find a pool that was the right temperature for both of us, and a light rain kept us cool while we relaxed.
We went to three hot springs on our trip (more on the others below) and this was my favorite by far. It was so relaxing to sit outside in the quiet and watch the horses graze.
Day 3: Höfn to Mývatn
This was a loooong drive. It took us around six hours to get from Höfn to the Mývatn area. The beginning of the drive is some of the best scenery in Iceland with drop off cliffs and rolling green hills. Things start to get a little less picturesque as the drive continues. Part of the drive is on maintained gravel roads, which slowed us down quite a bit in our little compact Skoda. The end of the drive took us up through snow-covered (though melting) mountains with clear roads. Once we popped out of the snow fields it felt like we had been dropped off on Mars. The wind was intense and the smell of sulfur was everywhere.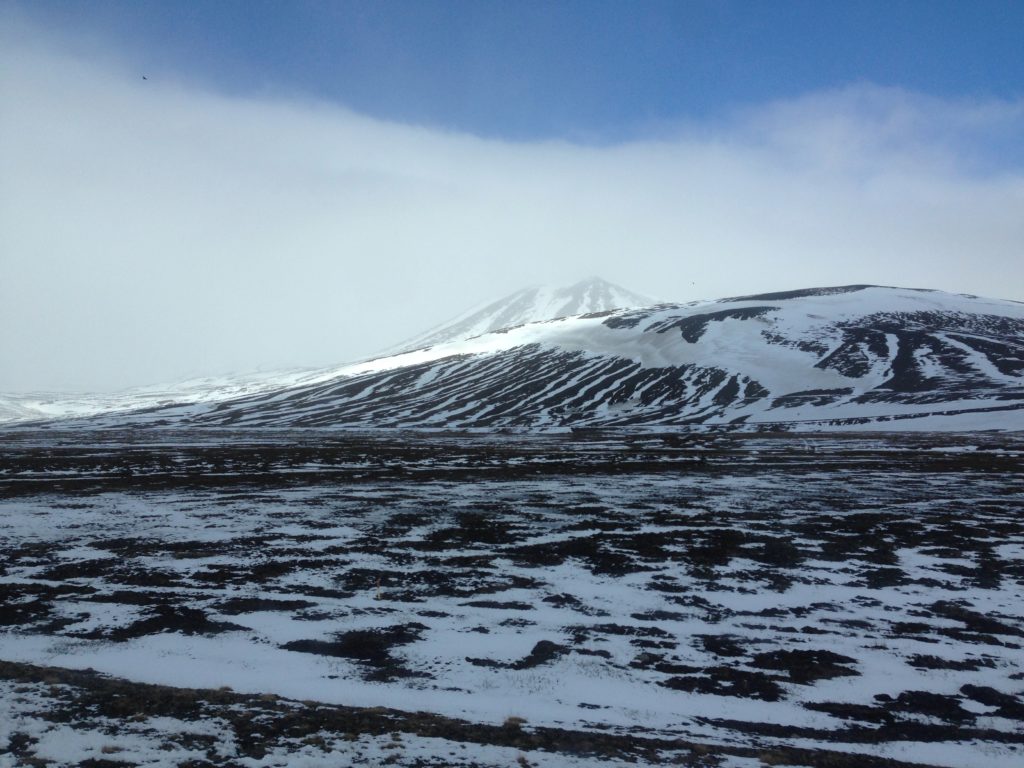 Hverir
We pulled off along the road and froze at the Hverarond Geothermal Area. The bubbling mud pits looked like something out of a science fiction movie. The mud around the mud pits was also impressive. We declined to lose a shoe in it and instead covered our noses and peered out from solid ground.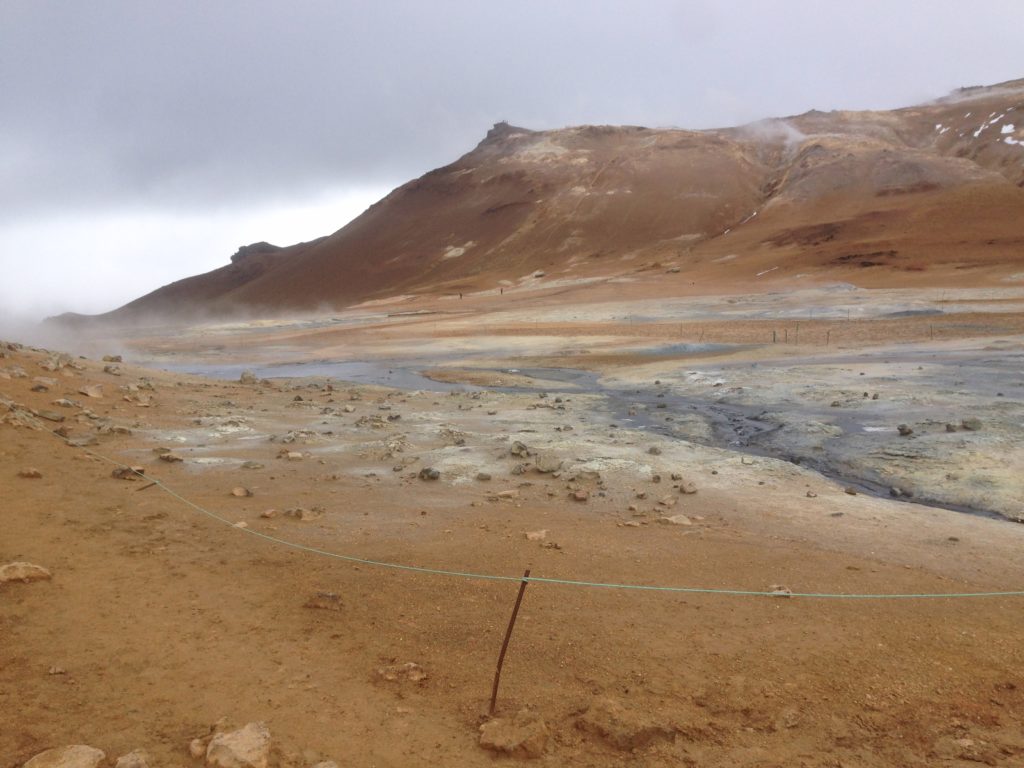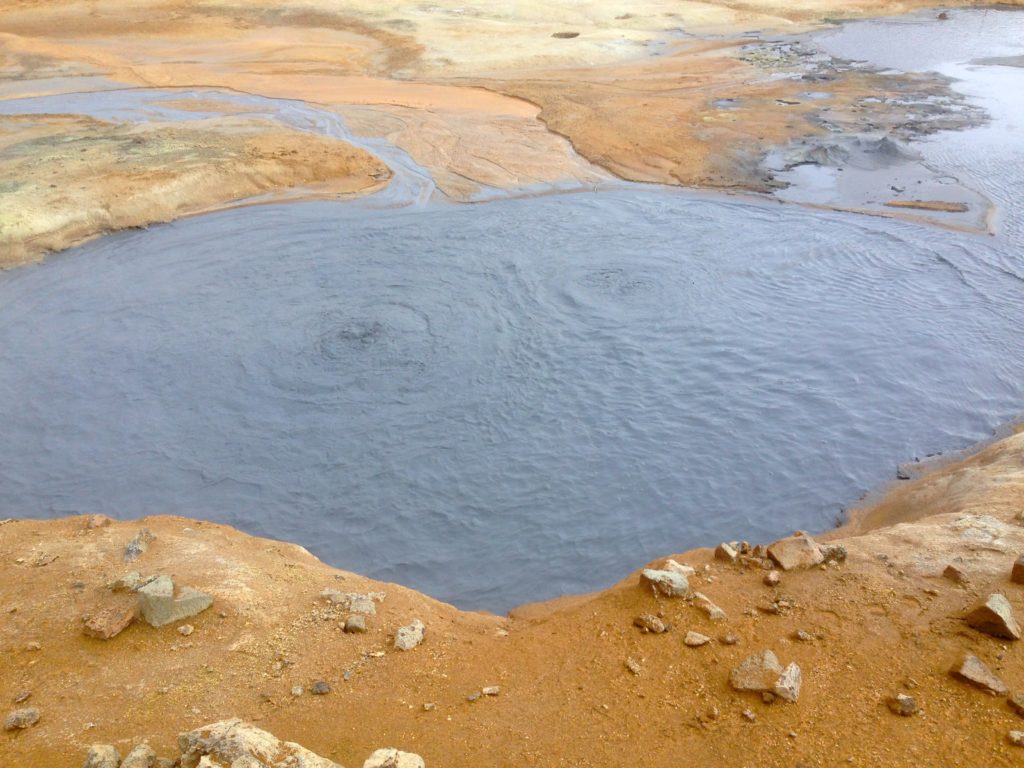 The smell here was absolutely overwhelming. We kept thinking we got out of the wind and then it would rapidly change and blow it straight back into our faces. It smells intensely of rotting eggs and some other smell that both of our bodies instantly reacted to as a bad sign. Couple that with the biting wind and sub 40 degree temperatures and we didn't last long here.
Myvatn Nature Baths
There's always that one place that you see in a photo and think 'I absolutely have to go there.' This was it for me.
We knew we wanted to skip the Blue Lagoon (too crowded for our liking), but we still wanted to soak in some milky blue waters. Myvatn Nature Baths is essentially the Blue Lagoon of the north. It's also man-made and it uses natural spring water that has been pumped through their geothermal power plant. I promise, it doesn't feel anything like sitting in power plant runoff, although I guess that's technically what it is.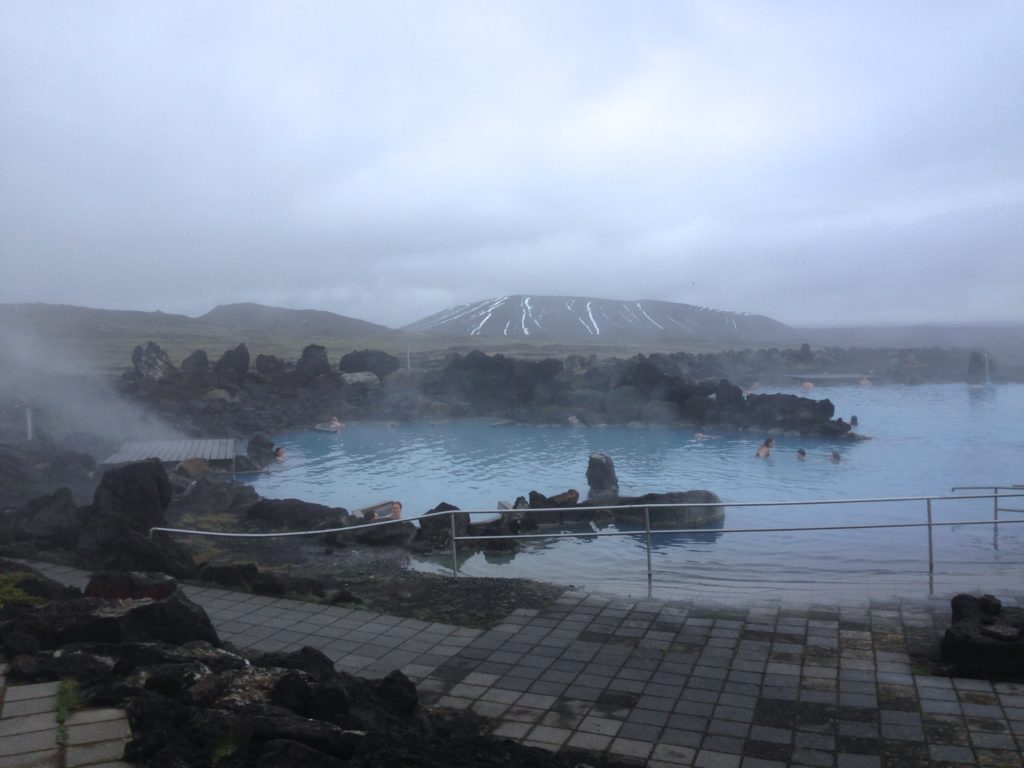 Like all of the hot springs in Iceland, you have to completely shower sans-swimsuit before entering the pools. In this case you had to shower in not-quite-hot-enough water and then walk a good 50 feet dripping wet to get into the pool. Did I mention it was in the mid 30s? It took everything I had to get myself into the pool without freaking out. I cannot imagine how people do this in the dead of winter. No thank you.
The baths have two main pools and one concrete hot pot. We spent most of our time in the hotter of the two large pools, although I was crowded around the pump where the hot water comes in because it wasn't quite warm enough for my liking. I also wore a thermal headband to keep my ears warm, and I strongly recommend keeping your head dry to help you stay warm. Especially because you have to walk all the way back to the showers outside. We also brought a water bottle, which nearly no one else did. I was really glad we had it, although they did serve beer and other beverages. (Buy a beer or beverage ticket when you pay for admission and then they will serve you from the warmth of the hot springs when you're ready. You do often have to get out to find the attendant and to order and grab your drink, however.)
We cooked ourselves the best we could in the very popular hot pot on the deck of the baths before braving the walk back to the showers. In all we probably spent 1.5-2 hours relaxing in baths. It was worth the money, but the more secluded hot springs had kind of ruined the experience for me.
Dimmuborgir Guesthouse
Our room for the night was a small cabin right by Lake Myvatn. The view was gorgeous, but I was more excited to have a private bathroom and some serious black-out curtains (technically metal 'curtains' that roll down and completely block the light). We slept great here and overall enjoyed our stay. The kitchen wasn't as well stocked as we had hoped. I was also dissapointed because we never got to meet the two dogs who live at the guesthouse year round. That said it was a clean, relaxing place.
Day 4: Mývatn to Akureyri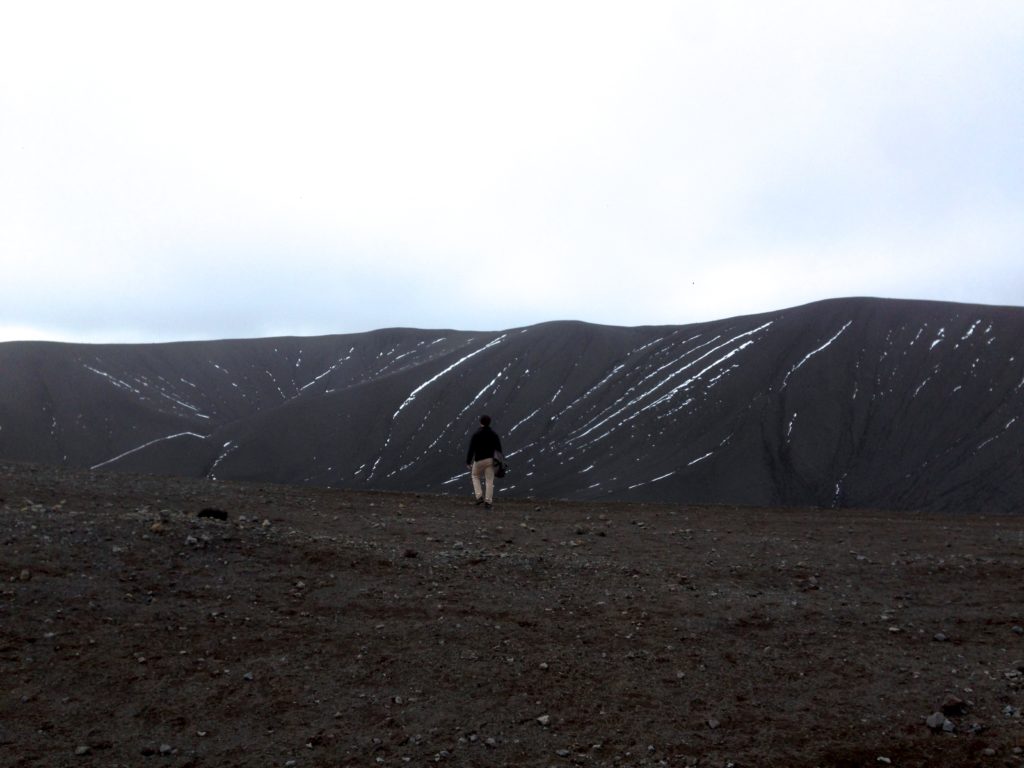 Hverfjall
Before heading out to Húsavík, the whale watching capital of Iceland, we hiked up Hverfjall, a massive exploded volcano that lurked over the area we stayed in. We had no plans to visit it (and really didn't know it was there at all) until we were driving to our guesthouse. After reading a bit more about it there was no way we were going to just drive by it again.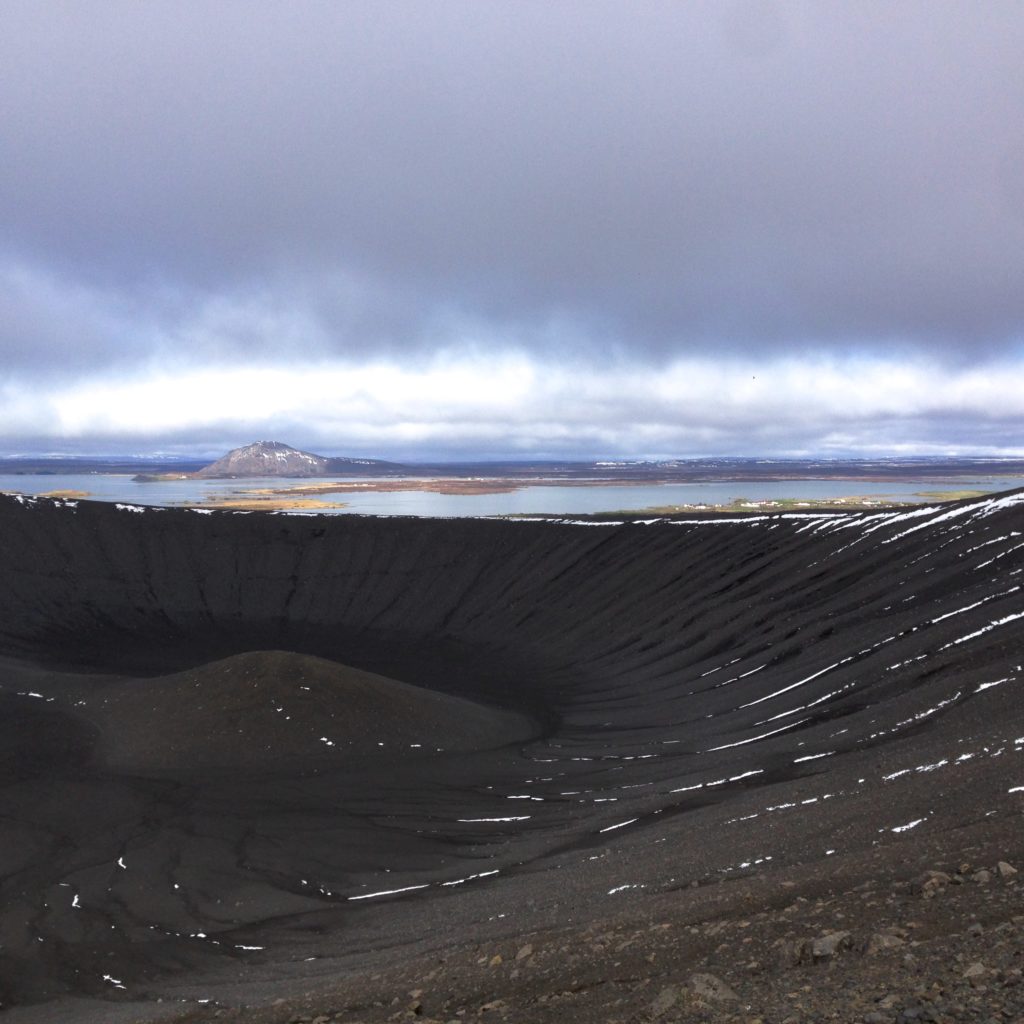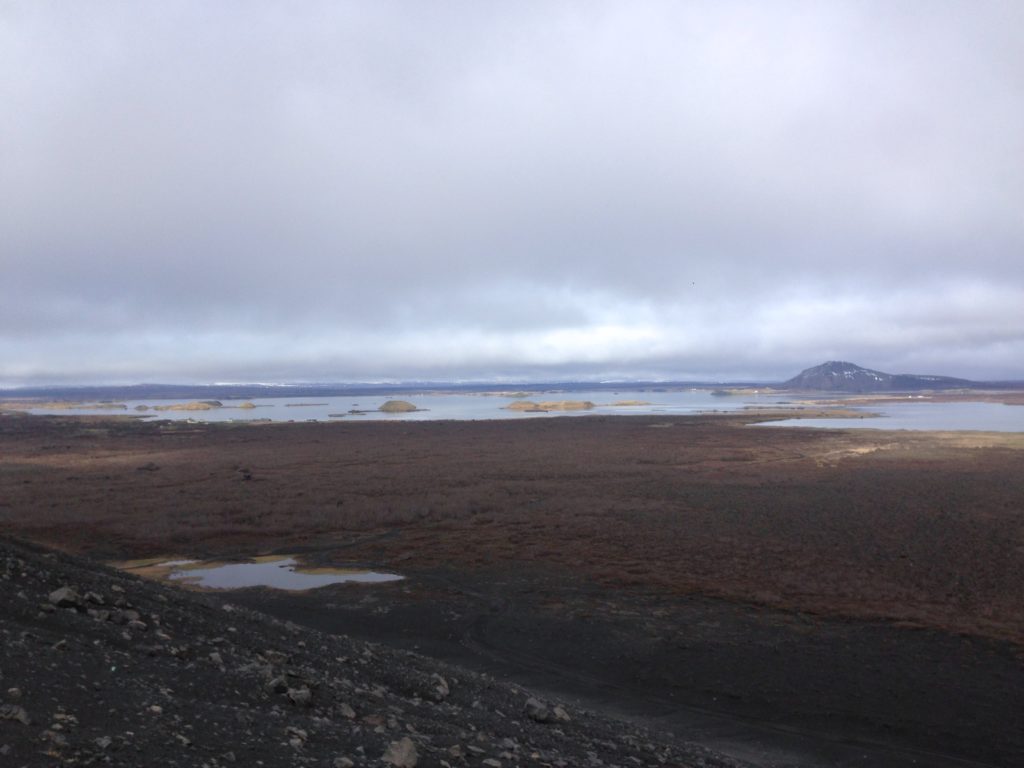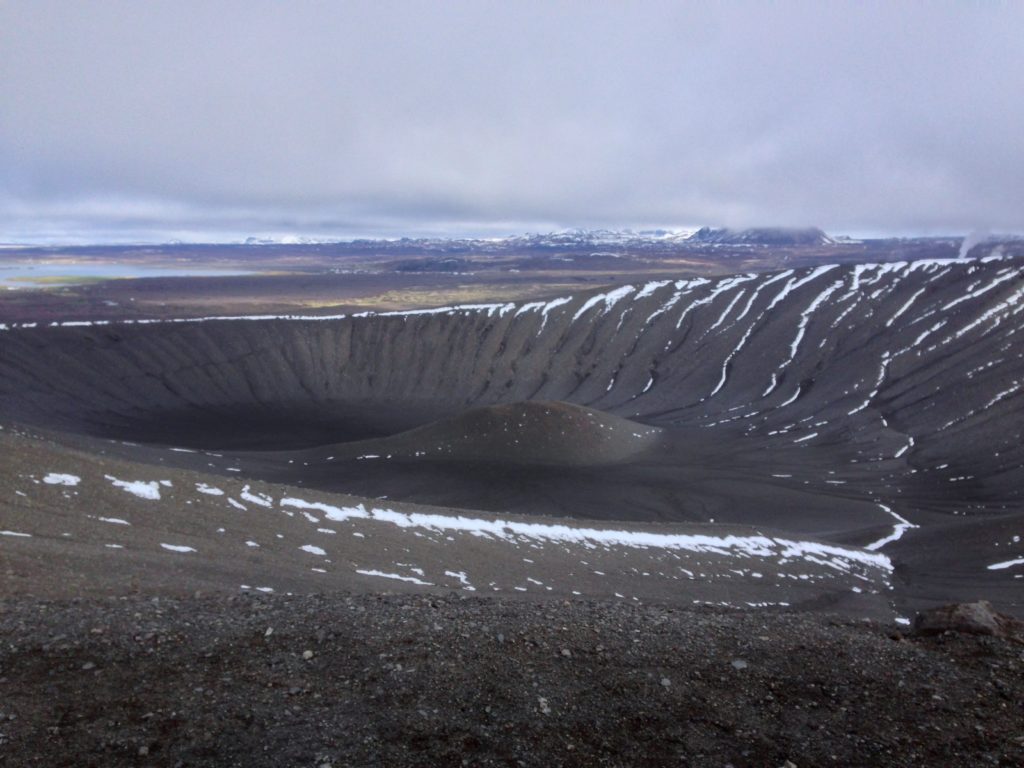 The hike to the top of the crater is about 1km. It's a bit of a butt workout, but the entire hike isn't overly challenging. The rocks are on the looser side so I would recommend hiking boots. Once we got to the top we had some extra time so we decided to hike around the lip of the crater. In all it was about a 2.75 mile hike, and we had a blast (too soon?).
Whale Watching in Húsavík
When we first started planning our trip to Iceland we knew we wanted to go whale watching. Húsavík's reputation for whale watching is actually what made us decide to drive the Ring Road. It was well worth it.
We started our day in Húsavík at Gamli Baukur, a delicious restaurant right on the harbor. This was one of the few places I was able to get a vegetarian, gluten-free lunch on the entire island, and it was also one of the best meals we had.
Once fueled up we hopped on our boat for our tour with North Sailing. We had originally booked their carbon neutral sail boat tour, but unfortunately the boat was out for maintenance and we were on one of their regular (noisy) diesel engine boats.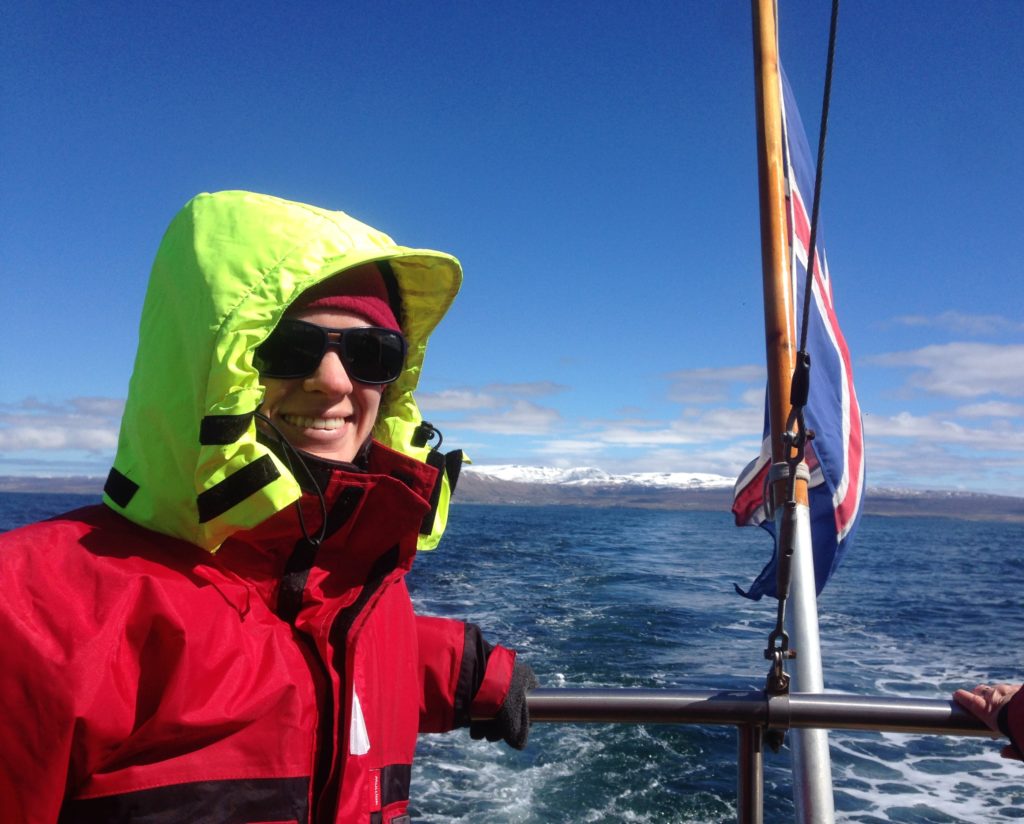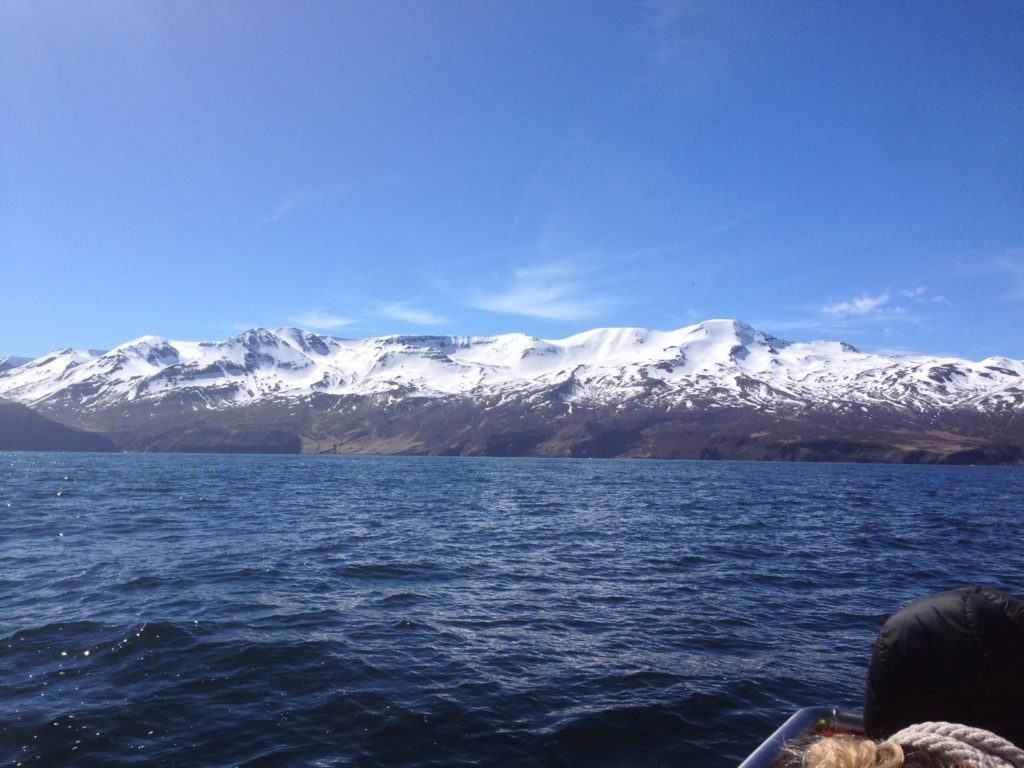 We saw a large pod of dolphins and multiple humpback whales on our three hour tour. The views from the boat were incredible, and our ride was pretty smooth (although that didn't stop one woman from feeding the fish). My phone told me I was out of space minutes after we left the harbor, so I don't have any pictures of the dolphins or whales.
But my boyfriend has a couple.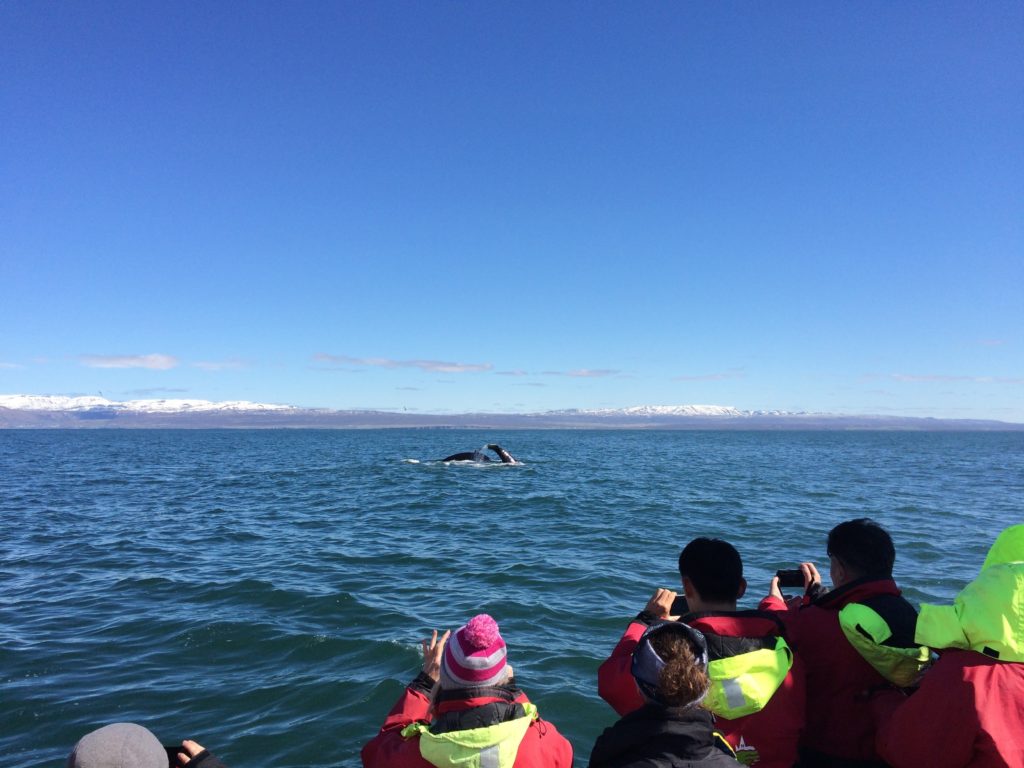 If I were to do it again I would keep my phone in my pocket just the same. We saw so much more than the people who were desperately trying to take pictures. I highly recommend putting your camera away for at least part of it and taking it all in.
Akureyri Backpackers hostel
Post-whale watching we headed off to the largest city in the north, Akureyri. We spent the night at Akureyri Backpacks hostel and really enjoyed it. The room was clean and the bathrooms were nice. The eating area downstairs was a great place to hang out and grab a meal or drink. We spent most of our (short) time there in the shared kitchen.
Day 5: Akureyri to Reykjavík
This was a long drive. We drove six hours or so along a not too glamorous stretch of land that looks a lot like you would see in California's Central Valley to make it from one 'big city' to the next.
About an hour outside of Reykjavík we stopped for lunch at The Settlement Center. I originally had misgivings about the place, but oh man was it tasty. They had delicious gluten-free bread. And gluten-filled bread. After days of stale gluten-free snacks and sad oatmeal for breakfast, I thought I might melt to the floor when the server brought me whipped butter sprinkled with lava salt to spread on my loot. If I could have fit that in my pocket, I would have. I most definitely pocketed my leftover gluten-free bread and did a little happy dance every time I nibbled off some.
Once in Reykjavík proper we explored the neighborhood around our Airbnb and picked up some food at the famous Bonus grocery store.
Day 6: Reykjavík
Our morning started at Reykjavík Coffee Roasters. We heard about all of the great coffee in the city, but we honestly only went here. It was too good to risk going somewhere else. We spent the day walking around the city and eating every bit we could. We went back to the Gray Cat for lunch after looking at countless menus and finding ourselves a bit stranded with the lack vegetarian friendly brunch options that were being served instead of lunch (it was a Sunday).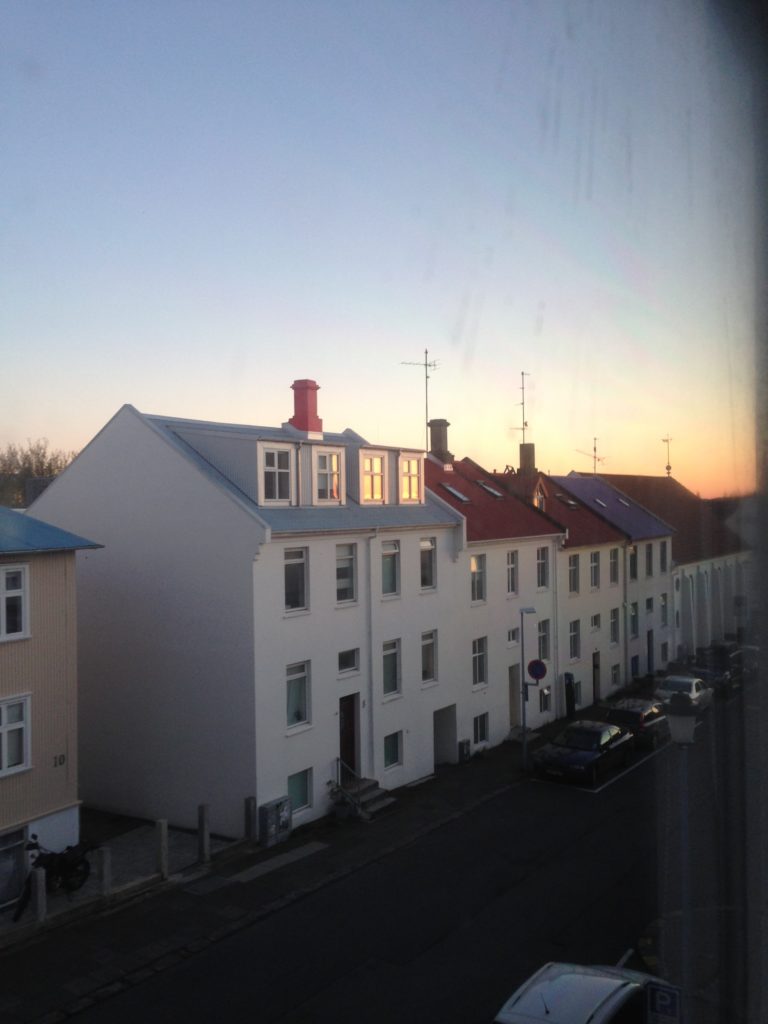 [This is the sunset at 11:15 at night. It never really got fully dark while we were there, but the sun did dip below the horizon for a couple of hours at night.]
Later that night after a home cooked meal we headed out to Joylato for dessert. They do made-to-order ice cream that they make in mixers with liquid nitrogen. From your ice cream base (I went with coconut milk) down to your toppings, you get to create your perfect treat. Yum.
Day 7: Reykjavík / Golden Circle
It breaks my heart a bit that this is the most many people will see of Iceland. While the golden circle is worth seeing, it's not even close to the most interesting or stunning sites in the country. If you are doing the Ring Road and don't have time to visit the Golden Circle, don't sweat it.
The entire Golden Circle is crowded. Even with a relatively early start we were parking along roads outside of the main parking areas and waiting for large tour groups to move so we could see. This is not an alone in nature experience.
Pingvellir Tectonic Plates
Our guidebooks made this seem absolutely majestic, and the science behind what is tearing Iceland in two is fascinating. However, when we got to the tectonic plates we didn't know it. It was less visually impressive than I anticipated.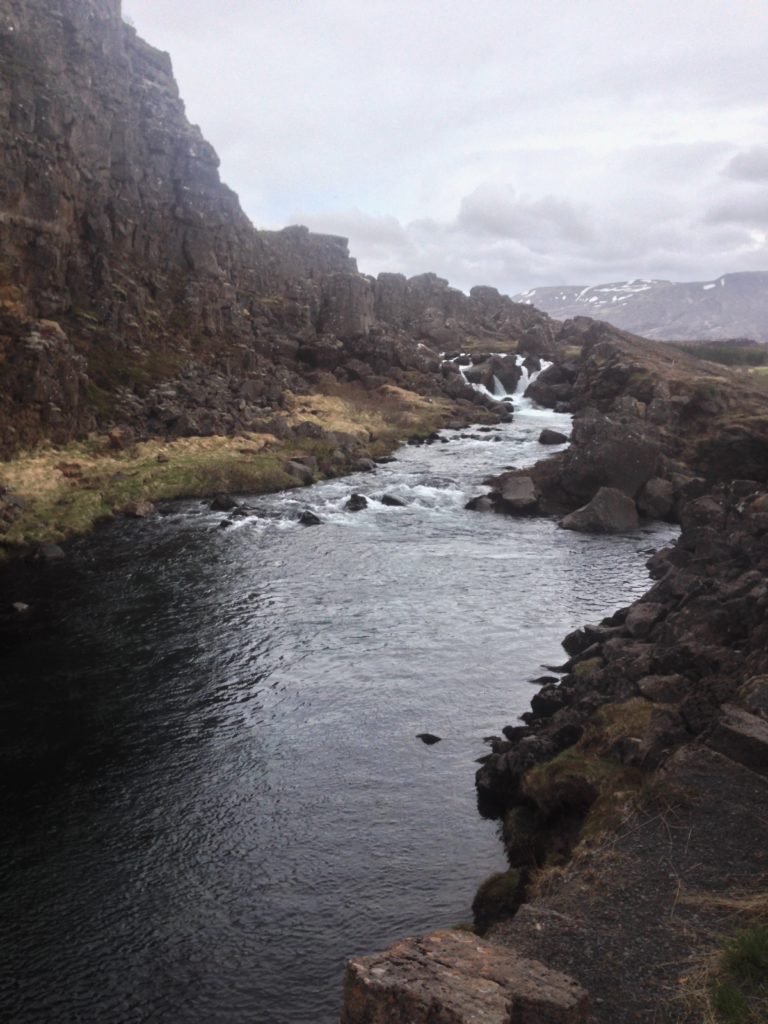 This path goes right over the rift created by plates… I wasn't a huge fan of that. We didn't explore the area much, but if you have time it seems worth hiking around a bit.
Geysir
This is no Yellowstone – you don't have to elbow your way through hoards of people only to stand around for over an hour… waiting. At Geysir there are multiple geysers (actually the origin of the name). The catch is that only one of the errupts with regularity. The others only erupt after volcanic eruptions or earthquakes. Thankfully only the one went off while were there.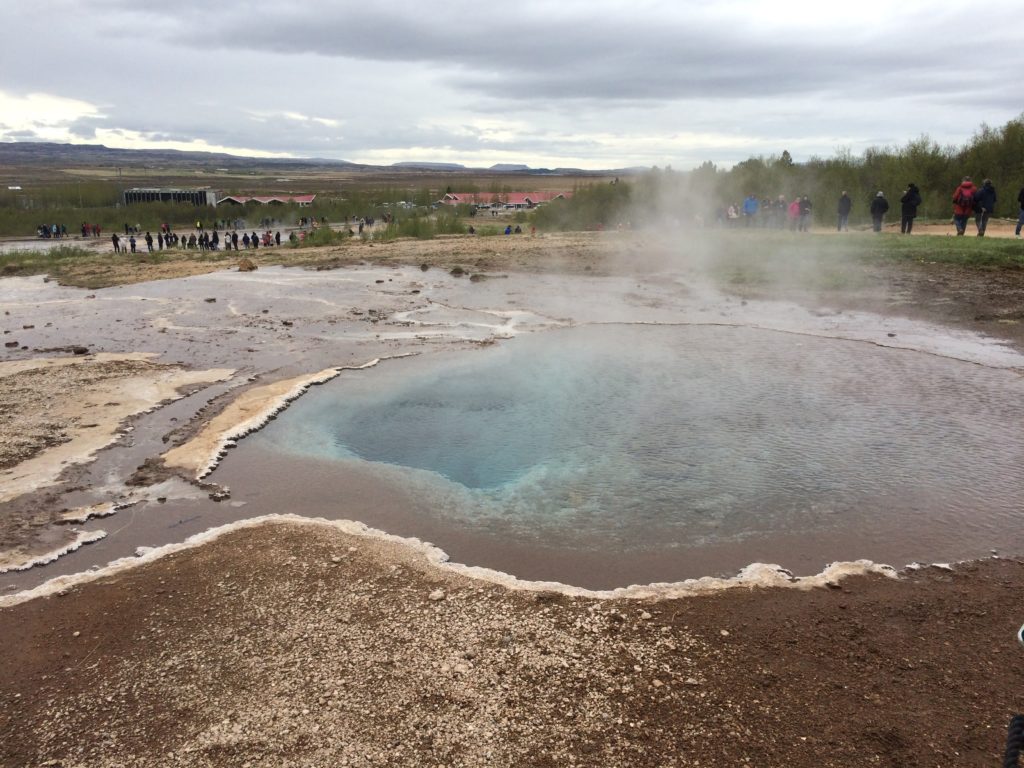 The main geyser, Stokkur, goes off frequently, sometimes as close together as five minutes. We saw at least three eruptions while we were in the area, one a little too close for comfort for me. I'm pretty sure you can hear me in many tourist's videos of the eruption panicking that we were about to get drenched and potentially scalded. Needless to say we did not. However, do take note to stay upwind or you will get an unfortunate shower.
There are loads of restaurants and a legitimate shopping mall inside of the Geysir Center, but we brought food from Gló in our own containers and picnicked in the car instead.
Gullfoss
Iceland's most famous waterfall does not disappoint. Definitely hike down and check out the falls from the top of the canyon.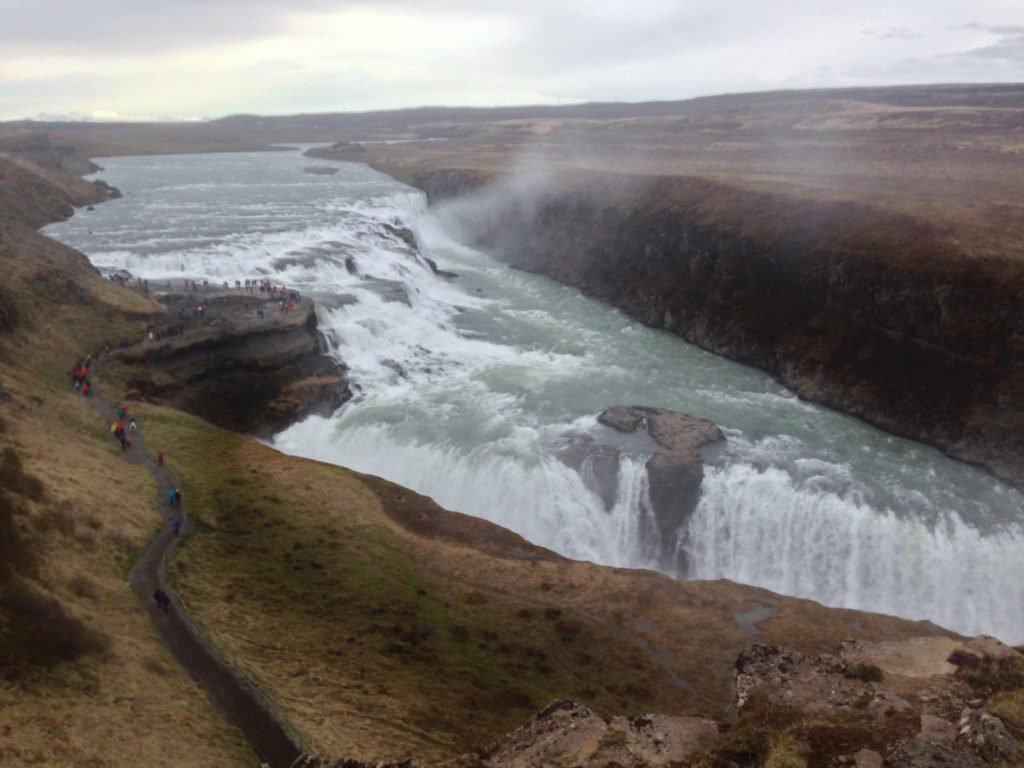 Reykjavík
After our long day we headed to The Laundromat Café for dinner. The diner is cute and the food was surprisingly good. Stick to water or beer here – mixed drinks were not worth it. We sat at the bar and watched multiple bartenders fail to make the drinks on their menu (ours included). And yes, there are actual washing machines/dryers downstairs so feel free to bring your dirty clothes. There's also a kids play area in the laundromat area.
Day 8: Reykjavík to San Francisco
Laugardalslaug
Since swimming before our flight had worked so well the first time, we decided to do it again. We headed to Laugardalslaug, the massive indoor/outdoor pool complex in Reykjavík. The water is all spring fed and geothermically heated, and you have to shower off completely before getting in because they do not chemically treat the water. Attendants in the bathroom ensure that you wash thoroughly without your suit before you get in (and they take this job very seriously).
I swam for about 30 minutes before soaking in their numerous hot pots along the pool deck. (A note to other swimmers. You need goggles here since the untreated water will burn your eyes. Also, when I was there swimming in the 'fast lane' I was the only one doing flip turns and the only one actually moving quickly.) Once we were thoroughly warm we headed to their 4-5 story high water slide. I think my boyfriend would have been happy playing on the slide all day.
Take note: This is the most popular pool in Iceland, and Icelanders love their pools. Try to go at an off time if you can.
Reykjavík Coffee Roasters
We stopped by the coffee shop one last time to fuel up for our long day ahead of us. We also had time to sit back and read for a little while which was lovely.
Laundromat
Yes, we went back to The Laundromat Café for lunch, although to be fair I technically ate breakfast foods.
On our way to the airport we picked up more takeout from Gló for me to eat on the plane since it's often difficult for me to find vegetarian/gluten-free food in airports.
Airport
The airport can get crowded, and flights back to the U.S. from Icelandair have passport control on the way to the gates. We made the mistake of relaxing in the main part of the airport until 20 minutes or so before our flight was set to board. If the line had been much longer at passport control we would have been late for our flight.
General Things to Know
Grocery stores close early, really early. We had a very sad cobbled together dinner one night because the grocery store closed at 6 p.m. On a Wednesday.
There are speed cameras inside the tunnels and along the roads near some of the cities/towns. Our rental car company also warned us about unmarked police cars that will ticket you for speeding. In general, there's too much to see anyway so you might as well go slow. We didn't have any trouble with people simply going around us.
If you have a special diet (like vegetarian or gluten-free for instance) bring snacks from home and be prepared to make most of your meals.
Cooking will save you money. A lot of money, but food is expensive. Everywhere. No exceptions. Even a trip to the grocery store is substantially more expensive than you might expect, and nearly everything is packaged or frozen.
Iceland is a popular destination, but we didn't have much trouble with crowds. Nothing was really crowded like Yosemite or other popular places in the U.S. The Golden Circle and the shopping district of Reykjavík were the most crowded places we went, but they fluctuated greatly. Stay off long-haul tour buses if you want to skip the crowds.
Much of the Ring Road is inaccessible in the winter and a 4-wheel drive car is necessary for other parts of the year. We were completely fine in our tiny non-4-wheel drive car in the middle of May since there was no snow on the roads while we were visiting.