There's a (good) reason things have been quiet around here. I spent the last few weeks working like crazy so I could take a full eight days off in stunning Iceland. While I have plenty more to say about our trip (and enough pictures to break the internet), I'm excited to share what I packed.
Why?
Because this was my best packing job yet! All of my stuff fit in my 45L backpack, including my bulky hiking boots and my plane snacks. My big down jacket? Oh yeah, that was in there too. Nailed it!
What to Pack for Iceland in Spring
I put weeks of thought into what I would bring to Iceland, mostly because the weather was constantly changing leading up to the trip. That didn't change once we were there either – Iceland's weather is unpredictable and extremely variable. I highly recommend being prepared for cooler or wetter weather than weeklong forecasts predict for a spring trip.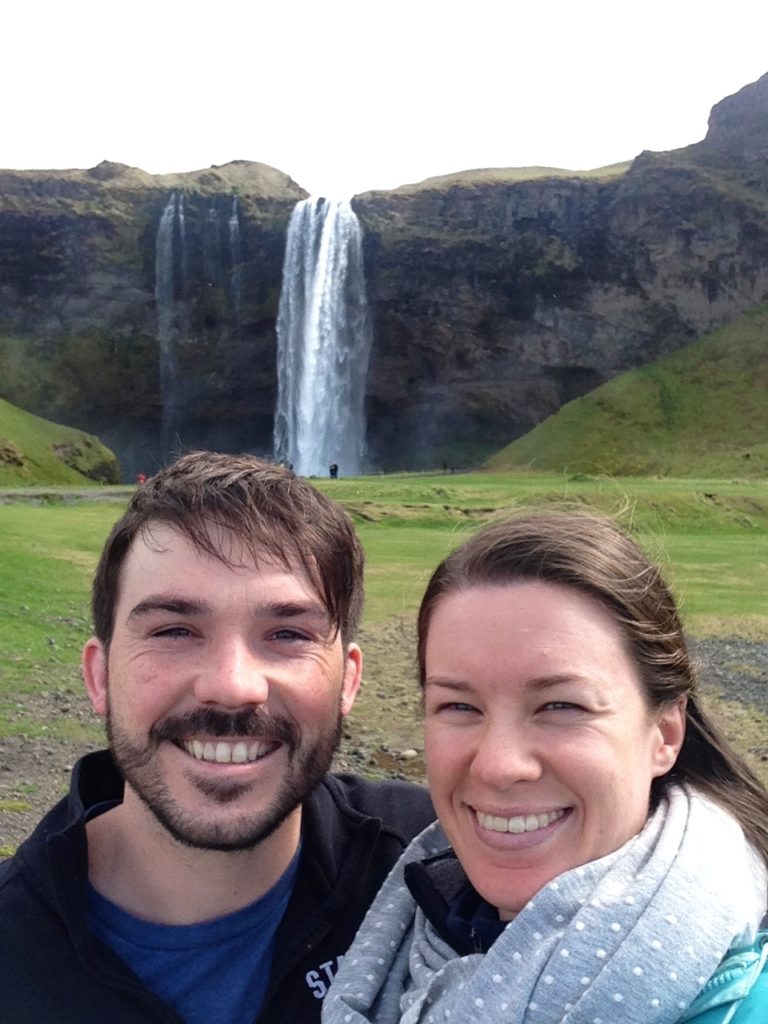 I wore every item I brought, except for emergency underwear, a couple pairs of thin socks, a sports bra, and a short-sleeve athletic shirt that would have been used had we hiked another day or two.
Staying for more than eight days? Simply wash every 5-7 days. Most of the guest houses, hostels, and Airbnbs we looked at or stayed in had washers. No need to pack more.
Clothes
Tops
2 long sleeve cotton t-shirts
2 long sleeve technical t-shirts (if you aren't planning on hiking, sub for any warm base layers)
1 short sleeve shirt
1 technical short sleeve shirt
Fleece sweatshirt
Swim suit
1 bra
2 sports bras
1 knit sweater
Pajamas
Rain coat/ wind breaker
Down coat
Bottoms
Corduroy pants
2 pairs of hiking socks
5 pairs of regular socks (I wore 1 pair…)
8 pairs of underwear
Fleece sweats (for hiking and lounging)
Thick leggings/tights (winter running tights, long underwear, or ski tights)
Shoes/ Accessories
Hiking boots
Athletic shoes/ warm, comfortable walking shoes
Flip flops (especially if you are staying in a hostel or visiting hot springs)
Scarf
Gloves
Beanie/thermal headband
Small backpack for hiking or a crossbody bag
My boyfriend and I shared his small backpack while hiking and my crossbody bag everywhere else. I used my medium-sized crossbody bag on the plane for reading material, my journal, passport, snacks, and my water bottle.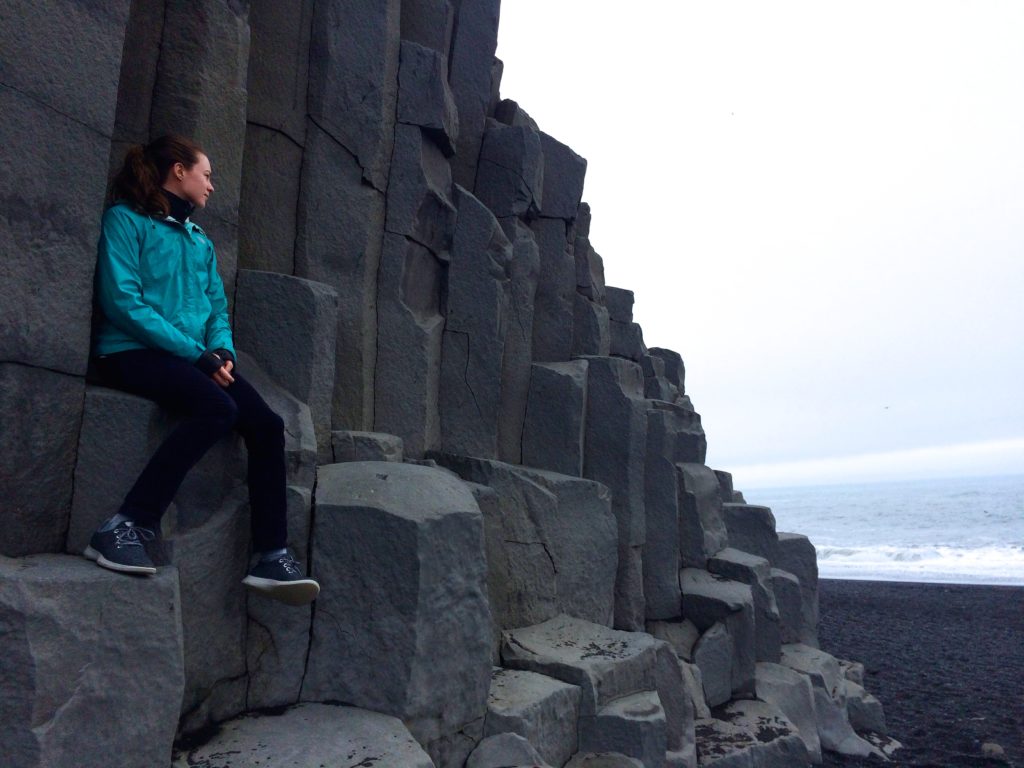 On the Plane
I broke every single rule and packed my hiking boots. I HATE wearing shoes on a plane, and there was no way in hell I was going to spend 20 some odd hours shoved into my hiking boots. Or take them off and put them back on through security. No thanks.
Comfortable athletic shoes
Cords
Fleece
Short sleeve shirt
Compression socks (for my ankle)
Bra
What my daily wear looked like:
long sleeve base layer + fleece + thick socks + warm pants + down jacket (+/- rain coat) = warm, dry, happy traveler
Daily temperatures were anywhere between 14C (around 60 F) and 3-4C (mid to upper 30s) as we traveled along the Ring Road. Reykjavík was quite a bit warmer than the mountains in the north, but wind chill could still drop the temperature quite steeply in the city. Layers made it easy for me to stay comfortable throughout the 30 degree swing.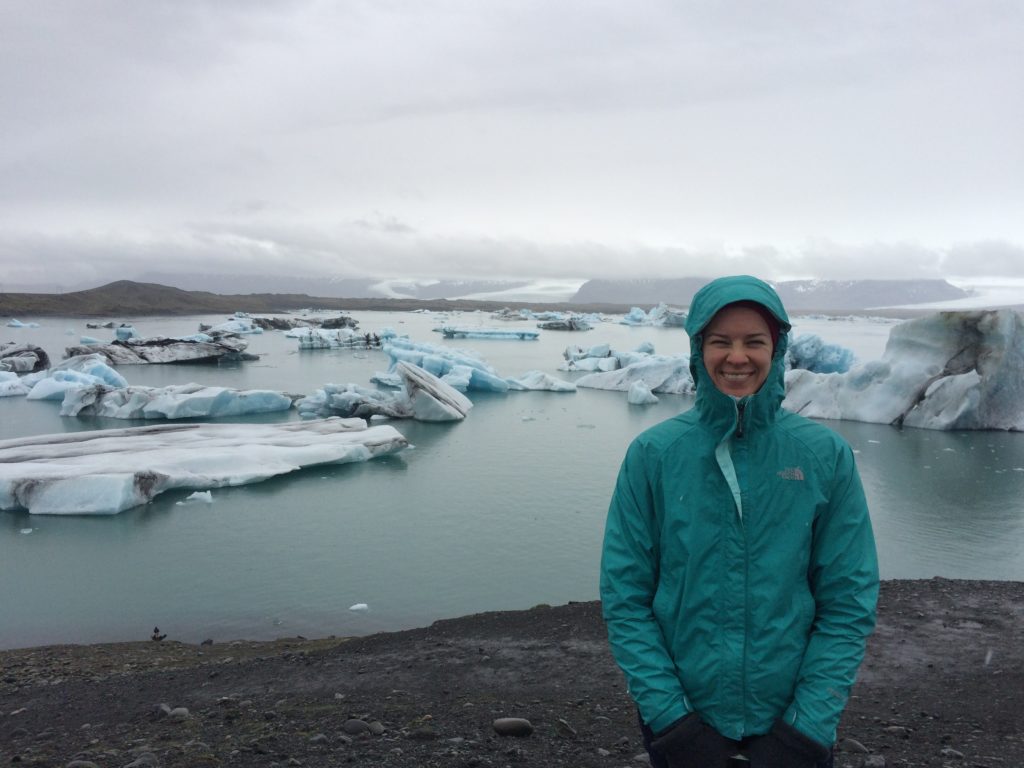 I lived in my cords and fleece sweatshirt, but we rarely stayed in one place for more than a day and no one could see my sweatshirt under all of my jackets anyway. You could easily bring another pair of pants if wearing the same pair frequently bothers you. I personally didn't mind, especially since I was mixing it up on the days that we were outside exploring. I hiked in my thick tights (technically winter running tights) with my fleece sweats on top. Wind-resistant hiking pants would also work great.
Yes, I wore two pairs of hiking socks for our entire 8-day trip. It was too cold for my feet to get nasty, so I wore each pair twice before washing and hanging them over the radiator. It worked great.
Zero Waste Gear/ On the Go Eating
It was important to me to make as little waste as possible on our trip, especially because Iceland is a fragile environment that is suddenly experiencing a massive surge in tourism. All of these things also made bringing my own food on the plane a breeze. These were by far our most used items, and I am really glad I brought them.
Bamboo cutlery set
Cloth napkin
Foldable grocery/tote bag
Metal water bottle
Insulated metal water bottle
3 metal food containers (packed with food in both directions : ) )
I filled both of my bottles for our flights, and still had to ask for a bit of water on the plane (which they gladly poured straight into my water bottle). The extra bag was perfect for buying groceries, wrangling stuff for a short trip, and hitting the hot springs.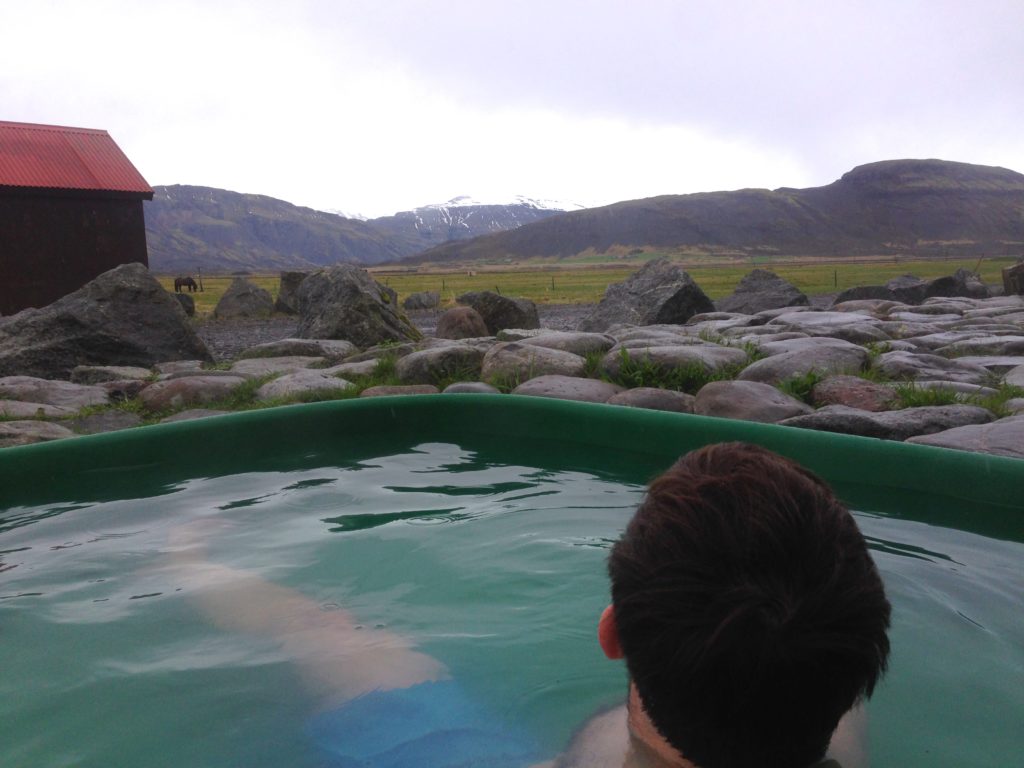 Toiletries
Sleep mask (hello constant daylight)
Ear plugs
Bar soap
Mini hair brush
Floss
Small container of laundry soap
Medications as needed
Tooth brush
Hand towel
Nail clippers/file
Hair clip and hair tie
(Optional: full-sized towel)
Liquids
Hand sanitizer
Shampoo
Conditioner
Toothpaste
Eye drops
Face sunscreen
I ended up deciding to not bring a full-sized towel to use at hot springs or where we were staying. Most of our guest houses/ hostels had towels already included in the price, and the rest were relatively inexpensive. We went to one hot spring that didn't have towel rentals (or an attendant), and we just brought one of our towels from that night's guest house with us. It would have been difficult for us to get our towels to dry while we were driving the Ring Road, and I really didn't want to have to worry about them. We paid a bit extra overall, but we always had a warm towel and it really wasn't that expensive in comparison to Iceland's prices in general. My small hand towel (below) was used for drying our hands and dishes as needed.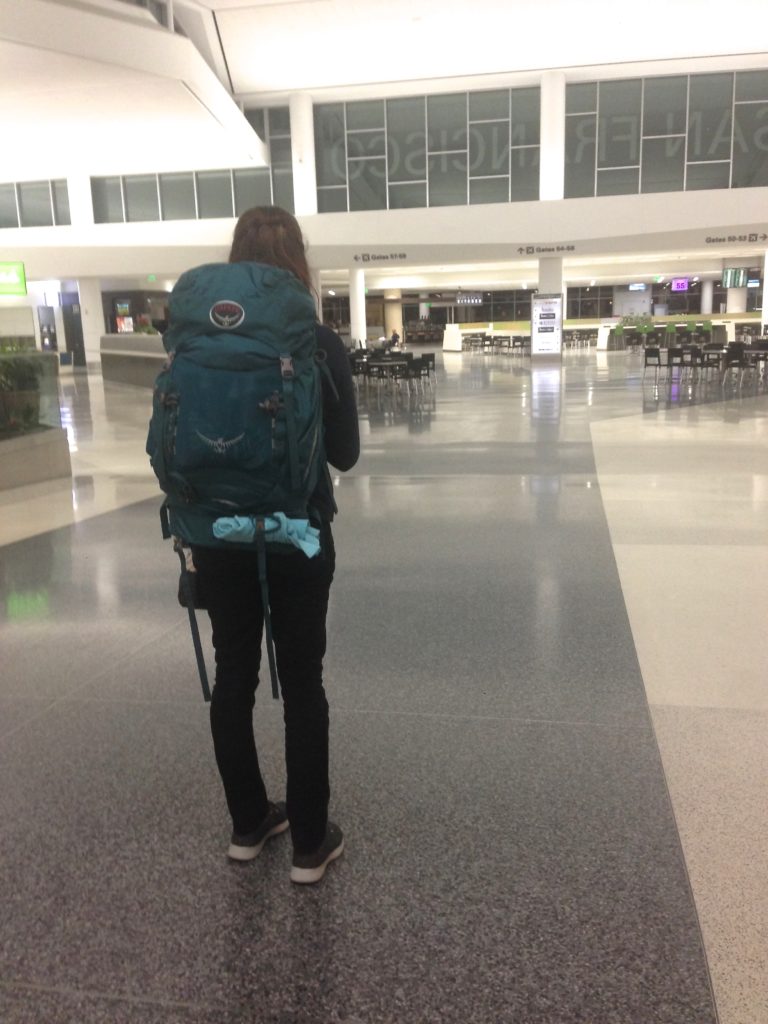 [This is what happens when you have been up for 24 hours and you realize you haven't taken a picture of your pack – you take a blurry photo in the airport at midnight on your way home.]
Bottom Line
Iceland's weather changes rapidly year-round. It's especially important to pack lots of layers in spring. If you plan on hiking or doing the Ring Road, definitely bring clothes that would keep you warm in snow just in case. You may not need them, but they will be priceless if you do (speaking of price, EVERYTHING in Iceland is expensive. This is not the place you want to be buying an emergency jacket). We also particularly enjoyed our extra-warm clothes on our whale watching tour.
Packing cubes are clutch, and highly consider bringing a backpacking backpack if you plan to go outside of Reykjavík. We carried our packs up muddy hillsides, down long gravel roads, and up many flights of stairs to get to our bed for the night.