I'm a little late on this one, but nonetheless I did actually read in April. Maybe not as much as I wanted or as consistently, but there are still April books worth mentioning. Spoiler alert, there's actually fiction in here.
My April Books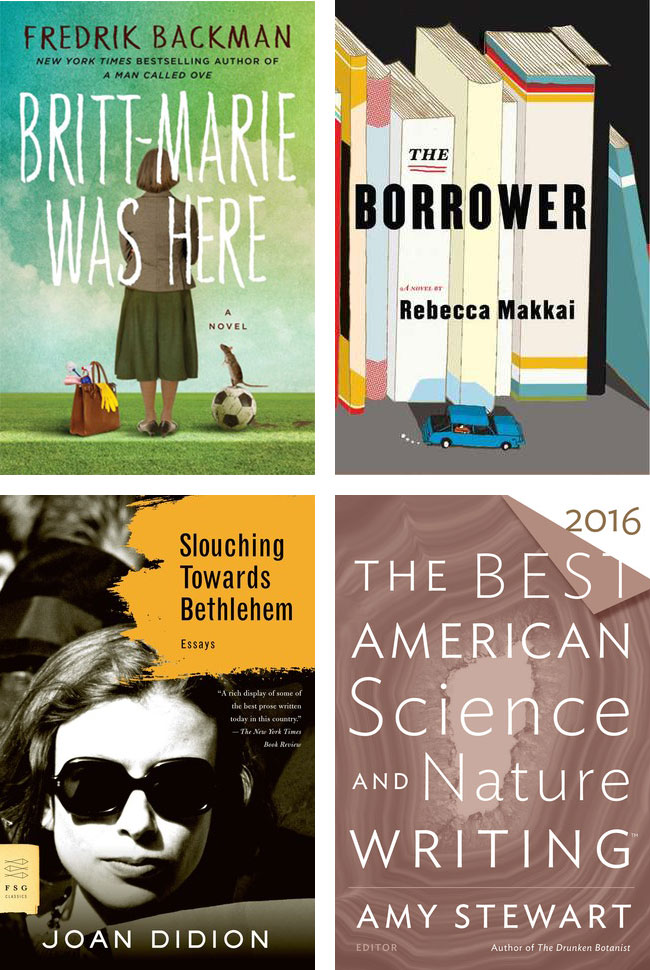 The Borrower
As someone who practically grew up in the library or with a book in hand, The Borrower spoke straight to my heart. The story is about a young librarian and her star reader, Ian. The boy's obsession with books and his mother's oppressive censorship hit home for me. While my mom never limited what I could read, my elementary and middle school certainly made its opinion clear about the books 'good Christians' should read and those that are straight from the devil.
My heart went out to this little kid, but the author does a great job of showing all of his sides. His drama. His manipulation. His self-centeredness. His fear. His desire to escape.
I had to suspend my disbelief a bit more than I would like with this one, but overall I still enjoyed it.
Britt-Marie Was Here
I'm still talking about A Man Called Ove, so I was more than excited when another one of Fredrik Backman's books arrived for me at the library. Britt-Marie didn't disappoint either. I loved the humor of the story and the quirks of the characters. It's an easy book to tear through, and I dare say a good one for a long flight if you happen to find yourself in that type of situation.
Slouching Towards Bethlehem
While Joan Didion's piece, Some Dreamers of the Golden Dream, was part of the required reading for my college magazine journalism class, Slouching Towards Bethlehem was my first real dip into her writing. I was left mostly confused and feeling like I was standing just outside the main group at a party. I could pick up things here and there, but in general I was too far out of touch with the culture and time to know what was going on.
The Best American Science and Nature Writing 2016
The first Best American collection I read took me more than six years to finish. Not so this time. If you like stories about the impending catastrophic earthquake predicted to hit the Pacific Northwest or why sports bras are typically so shitty, this one is for you.
Want more recommendations?
Check out what I've read so far this year:
March
February
January
Best Fiction and Nonfiction Books of 2016
You can see all of my book reviews here.