I'm a stickler about laundry. I have been air drying my laundry for years – most of my clothes have never been through the dryer.
I have always been particular when it comes to laundry. I carefully wash my clothes to ensure that they last as long as possible and have the smallest environmental impact too. I refuse to dry clean anything and instead either don't buy things that can't be washed at home or wash 'dry clean only' pieces anyways (I've never had a problem). My laundry soap is gentle on my clothes. I carefully separate regular loads from more delicate pieces and wash them separately. I'm the queen of stain hunting, a practice my boyfriend takes great care to keep me on my toes.
All of this is to say, I take laundry seriously, and not being able to air dry laundry is a deal breaker.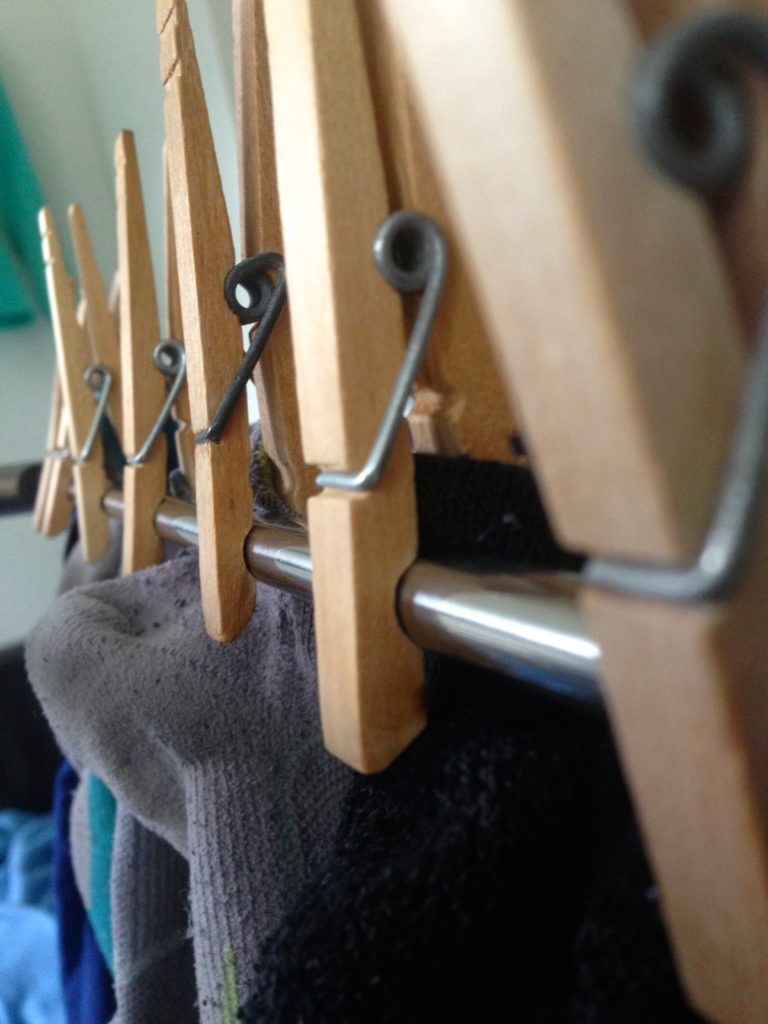 Our apartment is rather small, and we fit a lot in our downstairs area. The roughly 10 by 12 foot room is home to our office, living room, yoga/foam rolling space, entryway and kitchen. It's a hardworking space that can quickly feel cluttered or claustrophobic, especially with two of us trying to get something done in the kitchen together.
I don't say this to complain, we really love our tiny house, but rather to point out that even in our already filled space, we intentionally make room to air dry our clothes. The clothes drying rack takes up an enormous percentage of the space when it's up. I feel like I am constantly adjusting it or dragging it around to try to get a little bit more space, but being able to gently dry our clothes no matter the weather is so worth it.
Why You Should Air Dry Your Laundry
1. Your clothes last longer.
Way longer. The dryer not only stresses the fibers with heat, but it also breaks them down with friction and stretching tumbling with the other clothes.
2. Clothes look better.
Air drying can help preserve color, prevent pills, and protect a piece's shape.
3. Smaller footprint.
Despite intense farming practices, synthetic material production, and the thousands of gallons of water used to create your clothes, the majority of their impact comes from you washing and drying them over their lifetime.
While washing in cold water does help save energy, skipping the dryer all together will save significantly more. Air drying is one way to help reduce their lifetime carbon footprint and energy consumption. A typical dryer can create half a ton of carbon emissions in a year (less if you have an electric dryer and solar/renewable energy). Skipping the dryer can save you as much carbon emissions as not driving one day per week all year long.
4. Save money.
Running a dryer can cost you up to $0.70 a load. That's not a ton of money, but it adds up. And if you use a laundromat, skipping the dryer can save you $1-3 a load (at least in our neighborhood).
How to Air Dry Laundry in a Small Space
It is fairly easy to air dry clothes with very little space. A little creativity goes a long way.
1. Rack it up.
Clothes racks come in all shapes and sizes that will fit into even the smallest corners. My rack takes up quite a bit of space, but it also uses both its horizontal and vertical space well, so it's worth it.
2. Make space.
Hanging clothes on hangers in doorways or off any other surface is another way to increase the amount of clothes you can dry at once. If you have a sturdy shower curtain rod and you won't be using it in the next day or so, you can also expand onto that.
3. Spread out.
Clothes that are too tightly packed won't dry effectively. Be sure that each piece can breathe. I generally try to make sure I can see between each hanging item. For smaller things like socks and undies, I don't worry as much about them touching as long as they aren't overlapping.
4. Stagger loads.
I can fit a full week's worth of laundry on my drying rack. It easily fits everything (minus bed sheets) for one person, and about half of our total laundry for two people. 95 percent of my clothes air dry, while only 20 percent of my boyfriend's do. We could easily air dry all of our clothes by spreading our two loads out over the week and drying them one at a time.
5. Take advantage of your space.
During the winter the heater in our apartment blows directly on our clothes. Not only do they dry faster, but the damp clothes also help add some much needed moisture back into the air. In the summer I open the windows, and on really hot days the ceiling fan makes quick work of drying.
6. Fold it up.
This guideline is twofold (see what I did there?). As soon as your clothes are dry, put them away! The faster you can get them out of your small space the better. It's easy to feel overwhelmed and cluttered. I can't help but breathe a sigh of relief every time I put all of our clothes away. Our space feels huge afterwards.
Once you've put away your clothes, hide the rack away. I keep ours under the couch in the living room. It's completely out of sight that way, and it's quick to set up when I'm ready again.
Quick Tips: What Should Air Dry
My rule of thumb: Towels and sheets go in the dryer, everything else hangs up. I'm slowly transitioning my boyfriend to hanging up more of his clothes, but he generally prefers his shirts, socks, and underwear to go through the dryer. We hang up all of his technical-fabric workout clothes and his jeans/shorts.
Related:
Laundry Tips to Save Money and Energy