Last year four books in a month would have been a great feat. But after my run, I was a little disappointed this month. Work and a vacation at the end of the month left my August reads a little shorter than normal.
But just because I didn't bring home the entire library doesn't mean I didn't snag some great reads! I really enjoyed every book this month.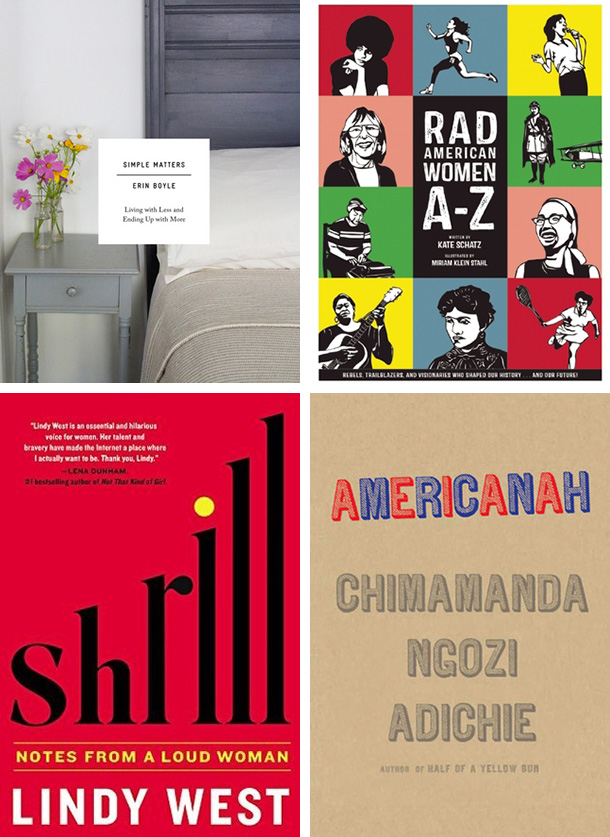 As a long time reader of Erin's blog, I wasn't sure if this book would feel like an overplayed song on repeat. After tearing through it, it's safe to say this wasn't the case.
I could not have picked a better time to read it. I would snuggle up with this book during my recent move when I was feeling overwhelmed by stuff or like we were missing the perfect solution. I highly recommend it to everyone – whether you want a little more simplicity or you are just curious about how Erin and her family of three (soon to be four) live.
Just because this book was written for children doesn't mean it's not great for adults too. I loved it! I had never heard of most of these women, let alone their impact on America. It's also a great gift for your next baby shower.
Confession: I didn't really know who Lindy West was before I requested this book from the library. I heard her on one of my favorite podcasts, Call Your Girlfriend, and added it to my list on impulse.
I'm so glad I did. I laughed out loud and had some of my flash judgements tested. I'm a sucker for any book that puts me into the mind of a successful writer, but even more than that I enjoyed seeing the world from her eyes. This book got the elusive five stars from me on Goodreads.
I don't know why it took me so long to pick up Americanah. I'm so far behind the times on this one, it's embarrassing.
This book dragged me in and wouldn't let me go. I was so far into it that when the main character was down I was in a mood for days. I just couldn't shake the story and I couldn't stop myself from behaving like I knew her in real life. Brace yourself now and be prepared to need to take some breaks to digest.
Bottom line: Drop what you are doing and read this if you haven't already.