I cannot get enough minimalist wardrobe inspiration. I could spend all day looking at people's capsule wardrobes or tiny closets.
In the process of creating my own minimalist wardrobe, I sought out inspiration from all different sources. Whether you love fashion and want to mix up your wardrobe every three months or you just want to not have to think about what to wear anymore, there's inspiration in here for everyone.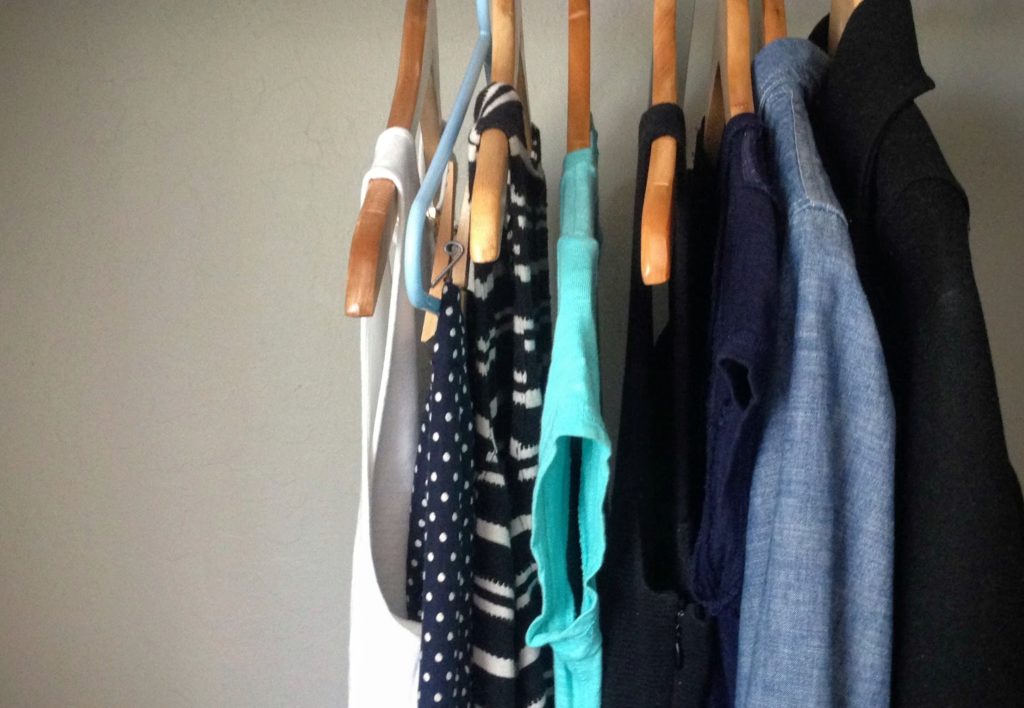 Minimalist Wardrobe Inspiration
Blogs:
Project 333
One of the first "capsule wardrobe" bloggers, Courtney from Be More With Less started a movement around wearing 33 items for 3 months. Her 33 items include clothing, accessories, jewelry, outerwear and shoes. Her blog has helpful tips for trying out Project 333 yourself as well as outfit posts and encouragement. Need a little more help getting started? Check out her course with worksheets.
Unfancy
Caroline's blog was my first real introduction to capsule wardrobes. Her photos are stunning, and I love her outfits. While she isn't doing a strict capsule anymore, she is still posting guides on defining your style as well as her uniforms. Her photos are full of light and mostly classic pieces. Added bonus – she is beginning her foray into ethical fashion! Follow along for brands to keep an eye out for and how to curate an ethical wardrobe. Don't miss her free wardrobe planner.
Private Life of a Girl
Transparency, quality, and key pieces are all a focus for Sophie from Birmingham, UK. Her posts feature the key pieces of her minimalist wardrobe as well as tips on how to create your own. She digs into slow fashion and how to keep a minimal wardrobe exciting.
Reading My Tea Leaves
Erin is very thoughtful about what she adds to her wardrobe (and puts on her blog). Her simple approach to her closet is refreshing. Want to be really impressed? Check out her wedding dress that she still wears.
Into Mind
This blog is perfect for the Type A, Just Tell Me What To Do people. There are so many guides and worksheets to help you wrangle your closet into the minimalist wardrobe you dream of.
Articles:
These articles will get you ready to clean out your closet and start your minimalist wardrobe. While I highlight the one post from each of these bloggers, I highly recommend a dip into the rest of their site for more inspiration.
A Practical Guide to Owning Fewer Clothes
Ten steps to get you to your goal plus a dose of motivation to keep you going.
Cait Flanders' Teeny Tiny Wardrobe
If you are looking to create a micro-wardrobe, or just want to see one in action, Cait's where it's at. She inspires me to make my items do quadruple duty and donate the ones that just don't need to be there.
Vivianna Does Makeup's Spring Capsule
While I may think the best part of this video is her accent, I love seeing what she puts in her capsules. I also really appreciate that she shows clothes I can't buy since she's in London. No temptation, all inspiration.
5 Reasons Why You Should Have a Minimal Wardrobe – Joo Joo Azad
Sometimes you just need a little nudge to finally leap.
Pack Like a Minimalist
And make your next trip of any length a breeze. (Am I the only one obsessed with seeing what other people pack?)
More:
See my 53 piece minimalist wardrobe.
My workout clothes.