Without time-consuming training for the past 8 months, I have been devouring books. This month was no exception.
I read nine books this month, although to be fair, three of them were short, read-in-one-sitting, books. I don't want to overly brag about my selections, but this month's book are so good! I just couldn't get enough of them.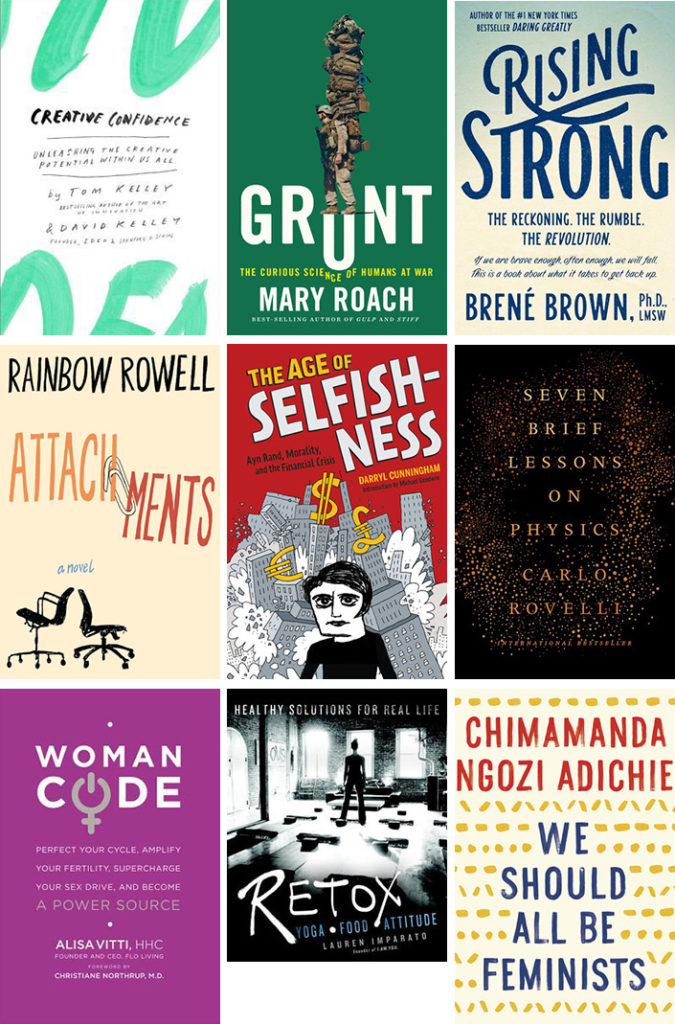 June Reads
Rising Strong
I am new to Brené Brown. I had heard her name quite a few times, and she is even in Big Magic. I put the book on my list after hearing her on Elizabeth Gilbert's podcast.
The book was a little hard for me to get into, mostly because I was missing the helpful background from all of her books that came before it. Still, this book taught me to recognize the stories I tell myself and realize that they are not The Truth. I have stopped myself quite a few times this month from a negative story where everyone is clearly out to get me and changed it to a positive. It hasn't rocked my world, but Brown has definitely given me more awareness of my tendencies and encouragement to take control of my experiences.
WomanCode
I had such high hopes for this book. Maybe too high. On the first page I thought I was going to tell all of my friends to read it, but by the last it didn't seem worth their time, or mine. It did not draw on science enough in my opinion, and there was a bit too much emphasis on changing behavior like exercise and deep, emotional conversations around the monthly menstrual cycle. Not for me.
Creative Confidence
This book left me fired up about creating and writing. Written by the founder of IDEO and Stanford's famous design school, this was a rich, rewarding book. I have notes on notes on notes. A must read! Especially if you are creative or you think you aren't. Loved it.
The Age of Selfishness
I never pick up graphic novels, or really anything about the economy, but this one reminded me of a friend when I was browsing the library and it ended up making its way home with me. It was a bit of an odd book for me, but I appreciated the clear breakdown of Ayn Rand's beliefs and ideas as well as the explanation of the economic collapse. Overall, it left me with great new knowledge and fairly depressed.
Retox
I spoke with Lauren Imparato for a story on the best habits of yoga teachers, and I ended up checking out her book after the piece came out. I thought I might flip through it a bit and look at the pictures. Instead I surprised myself and read it cover to cover.
I have't used any of her solutions for things like headaches or "rage against the female machine" yet, but I have my notes at the ready. This one is great if you are vaguely familiar with yoga or interested in how you can influence what's going on in your body.
We Should All Be Feminists
This little nugget warms my heart. It is an essay adapted from Chimamanda Ngozi Adichie's (just as incredible) TEDx talk. If you have recently watched the talk most of it will feel familiar to you, but I still loved reading it. I mean, the woman was sampled by Beyoncé! She's amazing. I moved Americanah to the top of my list after realizing she wrote it.
Grunt
I love Mary Roach. She's one of my writer heroes, and this book is a great example of why. It's funny, personal, and downright odd. She gives you a look at some of the weirder things all while making science interesting and easy to understand. I loved this book so much I went and heard her speak on her book tour. #HardCoreFan
Seven Brief Lessons on Physics
I understood 30-40 percent of this book. It's not Carlo Rovelli's fault. Physics theory is not my strong point. But I do feel smarter just for reading it. The book started as columns in an Italian newspaper before they were compiled into this short (less than 100 pages) read. Whether you are a nuclear physicist or you cringe when you hear 'chemistry', I recommend this one.
Attachments
This is my only fiction for the month, and it was well worth the read. I really enjoyed the story, up until the end when I got mad because I didn't feel like it was real enough. I think all of this non-fiction might be ruining my sense of fantasy. Even with my "That would never happen!" outburst at the end, I still really enjoyed it.