I cannot keep myself out of the library this month. Ever since I started checking out stacks of cookbooks, I keep coming home with more and more books. It looks like I'm running a library out of my room, and I'm starting to get concerned the librarians are getting suspicious (they aren't).
It's impossible to keep up with the books I'm bringing in. Each time I pick up a book from the shelf I tell myself that I'm only here for the ones that I requested, and I still manage to bring them all home anyways.
In other words, expect quite a few books in the next couple of months. I enjoyed my May reads, even if they were a random mix.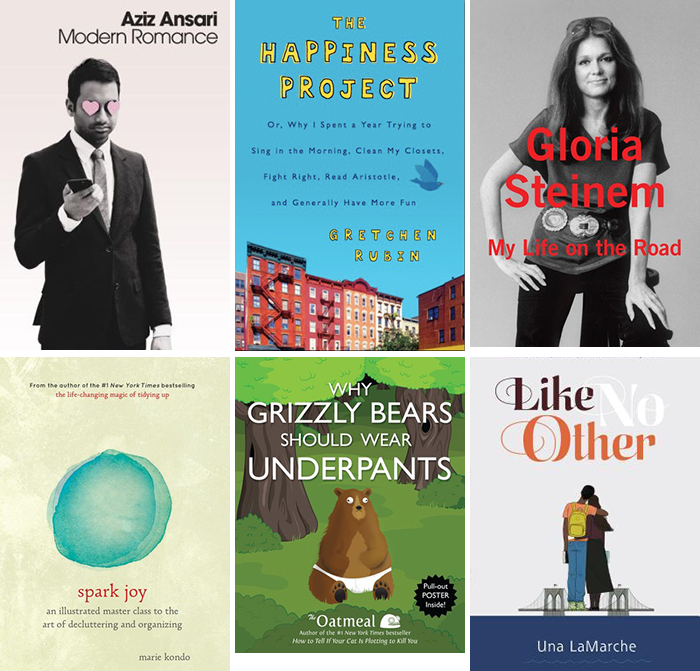 What I Read This Month
My Life on the Road
Like most young women, I am very familiar with her name, but I have not read much of Gloria Steinem's work. I picked up this book based on the suggestion of Emma Watson's book club, Our Shared Shelf. Her stories are incredible. From nearly constant travel for decades to being around present to some of the most monumental moments in recent history, Steinem's book was eye-opening in a way I didn't expect. I loved reading about one extraordinary woman's life, and I especially took comfort in the fact that she didn't really know what she wanted or what she was doing for years either. She just kept going and figuring it out on the road. Fascinating book.
Spark Joy: An Illustrated Master Class on the Art of Organizing and Tidying Up
I read The Life-Changing Magic of Tidying Up while in Spain last year, and I couldn't help myself from checking out the follow-up. I thought it was a heavily illustrated guide, and to be honest I really only wanted to check it out for her clothes-folding techniques. Overall it was alright, but nothing amazing. While this one does give more detailed instructions, if you haven't read Life-Changing Magic it's going to be much less helpful and will often leave you wondering. The first book is likely all you need.
The Happiness Project
This one is not really a new book, but it didn't change its impact on me. I loved reading about Gretchen Rubin's self-experiments and the things she thought would make her happier. It definitely helped that our personalities and temperaments are quite similar, but there is definitely something for everyone in this book. If you only read one book out of this list, this might be it.
Why Grizzly Bears Should Wear Underpants
My brother brought this home from a trip to Portland, and it went through our roommates and friends like wildfire. While I didn't think it was as good as The Oatmeal's The Terrible and Wonderful Reasons Why I Run Long Distances, the males in my life loved it. I could tell when they were reading it by the giggling or full out laughter that would bounce through the house.
Modern Romance
This one far exceeded my expectations. I have complicated feelings toward Aziz Ansari. I loved him in Parks and Recreation and thought he was sexist in a standup I saw. He earned some points back with this one. Get ready for real data and some hilarious quips. I particularly enjoyed some of the blurbs they included from their focus groups/subreddit. It also made me incredibly thankful to not have delved into the complexity of online dating. I got stressed out just reading about it. We have an overwhelming amount of choices. Good luck, my friends. Good luck.
Like No Other
In case you can't tell from all of the books above, I'm in a bit of a nonfiction groove right now. This was my only fiction this month, and it just didn't do it for me. To be fair, it's a young adult book, but for some reason I was holding it to higher standards. It just wasn't for me.
What should I read next? Any fiction or nonfiction books you love?
More Books: You can see all of my recommendations here.