These healthy cookbooks were a breath of fresh air and a fun way to try new recipes. I am on a major crusade to add more vegetables and nutritious foods of all kinds to my daily diet. To get inspiration, I have been checking out loads of cookbooks from the library after reading Skin Cleanse  – I had 10 at home at one point. From a couple of my old standbys to new goodies, I highly recommend them all.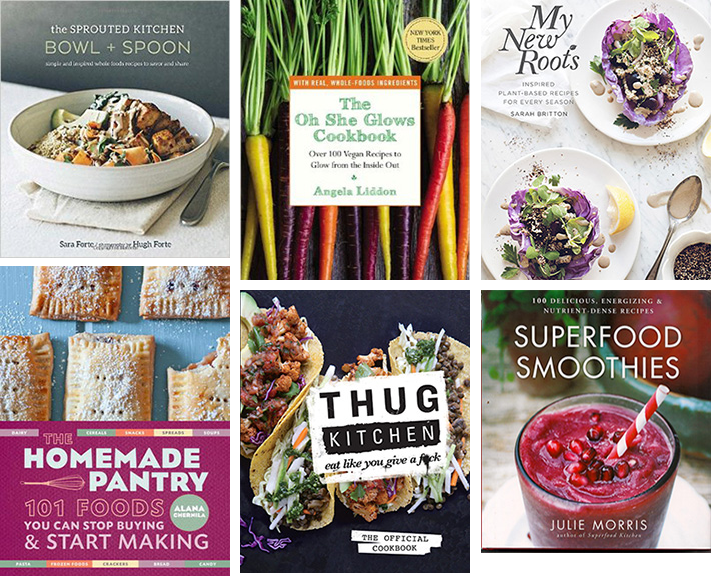 6 Healthy Cookbooks
1. The Oh She Glows Cookbook
I loved this book. Every recipe is stuffed with vegetables and whole foods. I made the miso orange bowl that was ah-maz-ing. More please!
2. Thug Kitchen
I can't get enough of this cookbook. It makes me laugh every time I flip through it or make a recipe out of it. Thug's blasé approach to cooking is refreshing and makes my time in the kitchen so much less stressful. No other cookbook has ever encouraged me to take a break and check my Tumblr while I waited for something to cook. My mom gave this to me a couple Christmases ago (you heard me), and I'm still discovering new recipes out of it. I can't recommend it enough.
3. My New Roots
The pictures in this book are stunning. It felt full of light and the seasonal recipes were a fun way to remember that nature takes care of variety for us. Some of the recipes had a few more ingredients than I usually use, but for the most part they are straight forward. I saved quite a few recipes to whip up sometime soon.
4. Superfood Smoothies
I wanted to love this book. I really did. But I just couldn't. It was a great introduction to a lot of new ingredients and it definitely encouraged me to open my mind at least a tiny bit about what I can put in my smoothies. But a lot of the recipes just didn't suit my taste. Totally worth a perusal regardless of how you feel about vegetables in a smoothie.
5. The Sprouted Kitchen Bowl and Spoon
I do wish these recipes had fewer ingredients and overall less sugar, but I do love me some bowls. I really enjoyed seeing so many different takes on one of my staples. Bonus, the photos are gorgeous.
6. The Homemade Pantry
Sometimes you just need to step up your snack game and kick the packaged stuff to the curb. I've written about this one before, but I think it's worth mentioning again. If you want to get a little more in tune with what you are eating and you love snacks, this one is for you. It's also great if you are hoping to be zero waste (or just have fewer chip bags in your trash).
Is anyone else hungry now?
More Books: You can see all of my recommendations here.