SeaWheeze was at the top of bucket list this year. I spent more than six months dreaming of running along The Seawall. After not being able to train until 11 weeks before the race, I was panicked I couldn't do it. I wouldn't make it. I wouldn't be able to walk the next day. I wouldn't even get to the start line.
It felt amazing to line up and know there was a damn good chance I was actually going to finish it.
When I first got to the corrals 30 minutes before the race I was a little worried everyone else knew something I didn't. It was incredibly empty. I lined up in the 2:15-2:30 corral hoping to not go out too fast and make it back. I spent about 15 minutes before the start watching the 1:45 pacer get everyone around him excited. One day I will be there, but this wasn't the day.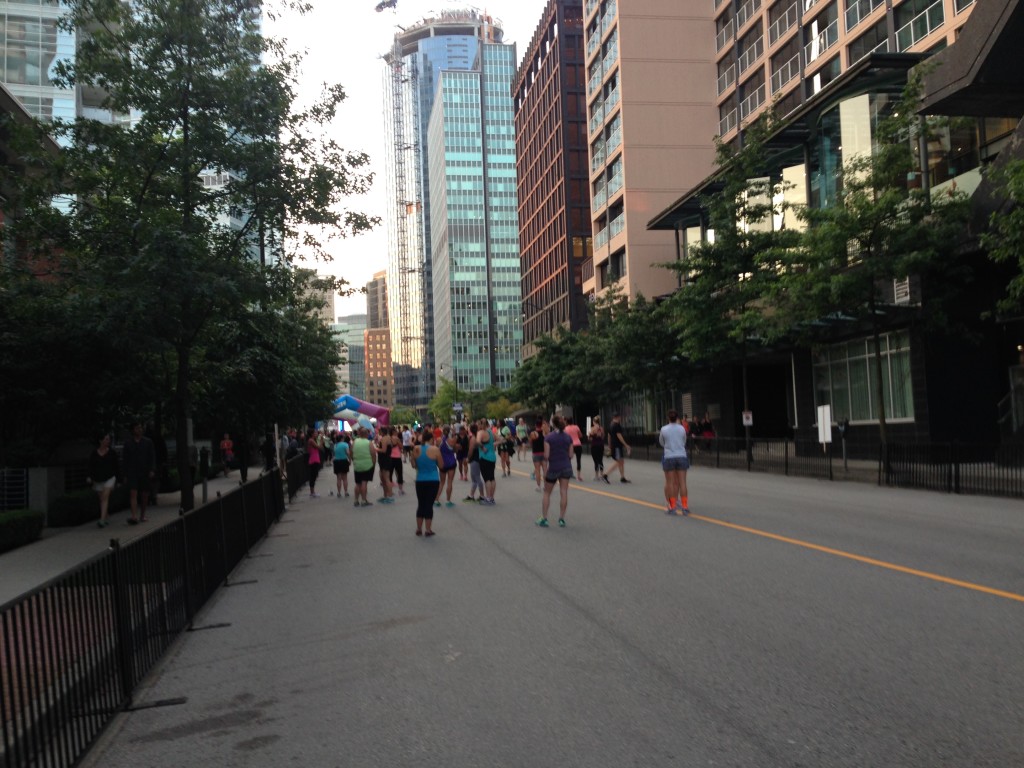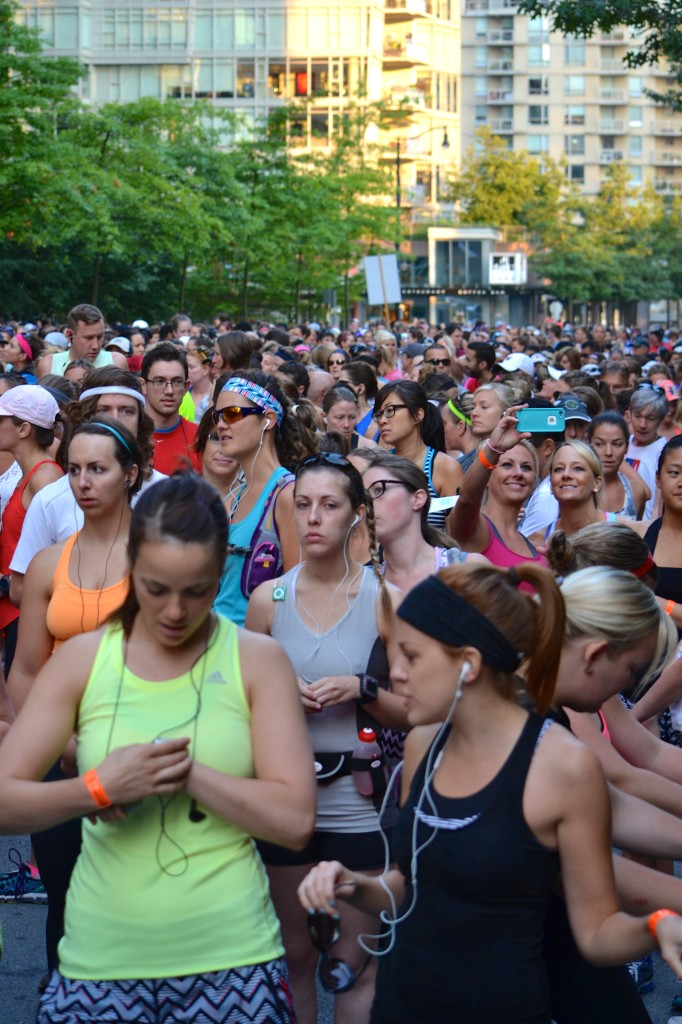 About 10 minutes before the race was going to start it got PACKED. People were jumping the fence blocking off the corrals and shoving themselves into any available space, regardless of time (which made it a bit of a mess for the first few miles as runners took off like a rocket to try to catch a pacer or created obstacles everyone else had to go around).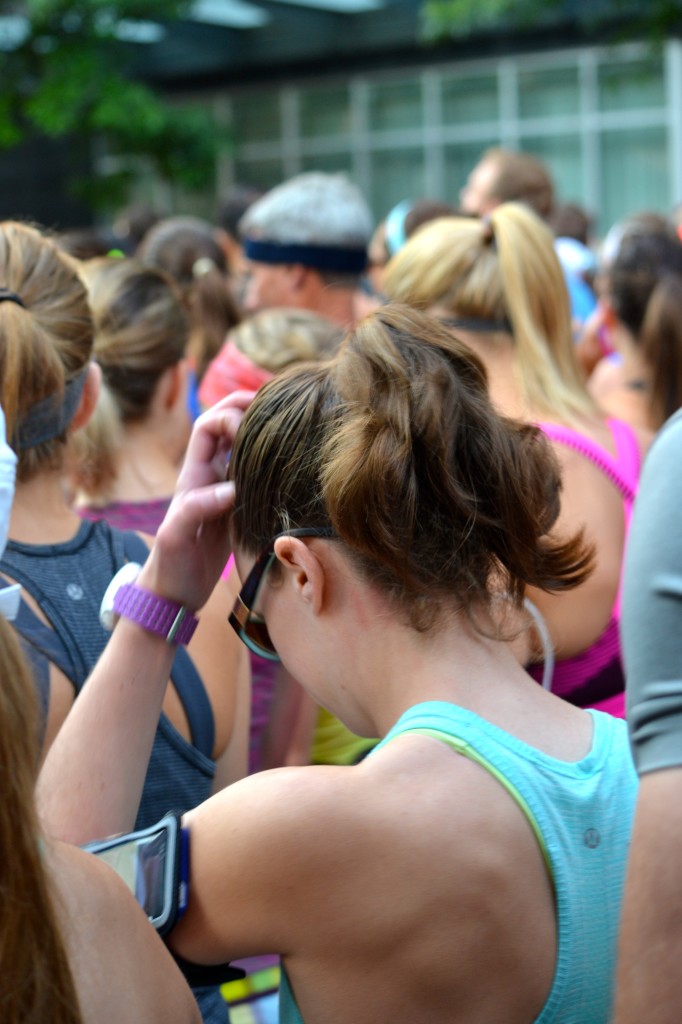 (Apparently my nervous, pre-race jitters make my head itchy.)
My goal was to start the race slow and add a little speed as I went. I would love to say I did amazingly at this… but let's be real. My watch wasn't picking up an accurate pace at the beginning so I was running on feel (aka pure adrenaline). I will say I was zen about people speeding past me and not feeling like I had to keep up. I knew eventually I would find my people and we would all run at the same pace like one big, sweaty, happy family. What I didn't realize is that it would take almost 8 miles to get there.
The good news is that I was planning to run between 11 and 10 minutes per mile for most of the race, and I kept on pace for the most part (my average pace was actually 10:21 not too shabby, but definitely some room for consistency). For the first 5 miles I felt GREAT. Okay, mostly great. I was sore from a stupid run I did with a friend when I was supposed to be tapering (doesn't everyone run really fast during taper? No?). My poor calves protested from step one across the start line and my hope that they would loosen didn't totally happen.
The race starts in downtown Vancouver and for the first mile or so it winds through the tall buildings. (See the full course here.) It then brought us past Rogers Arena (the closest I had ever been to a real hockey stadium) and down into Chinatown. From there we had our first major aid station (hallelujah, water!). We ran through the city a bit more on our way to Burrard Bridge and into Kitsilano for a few miles.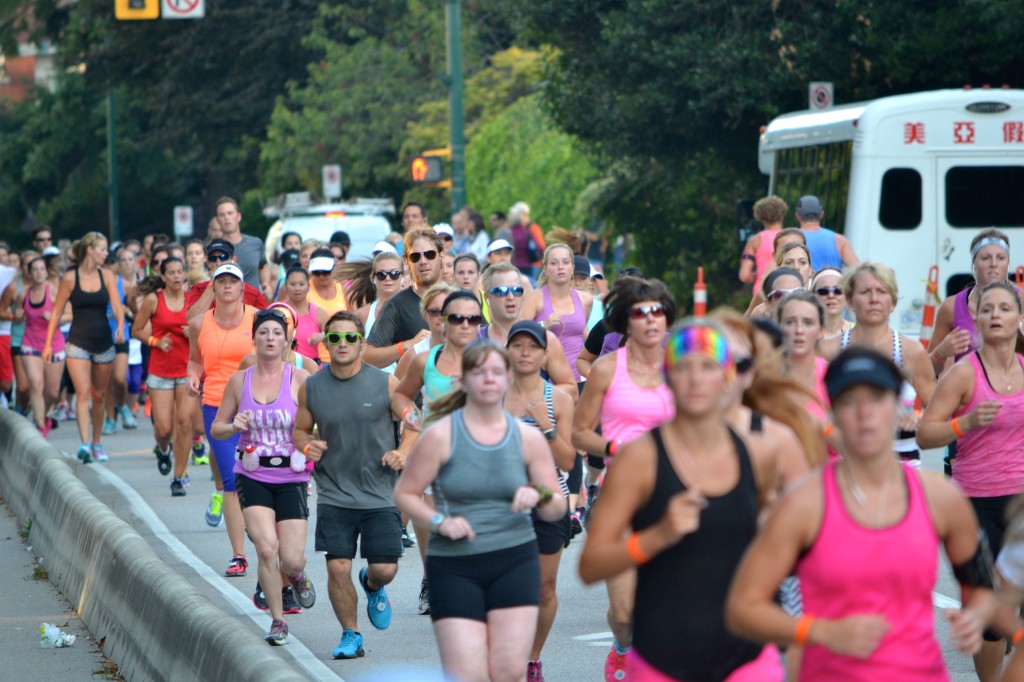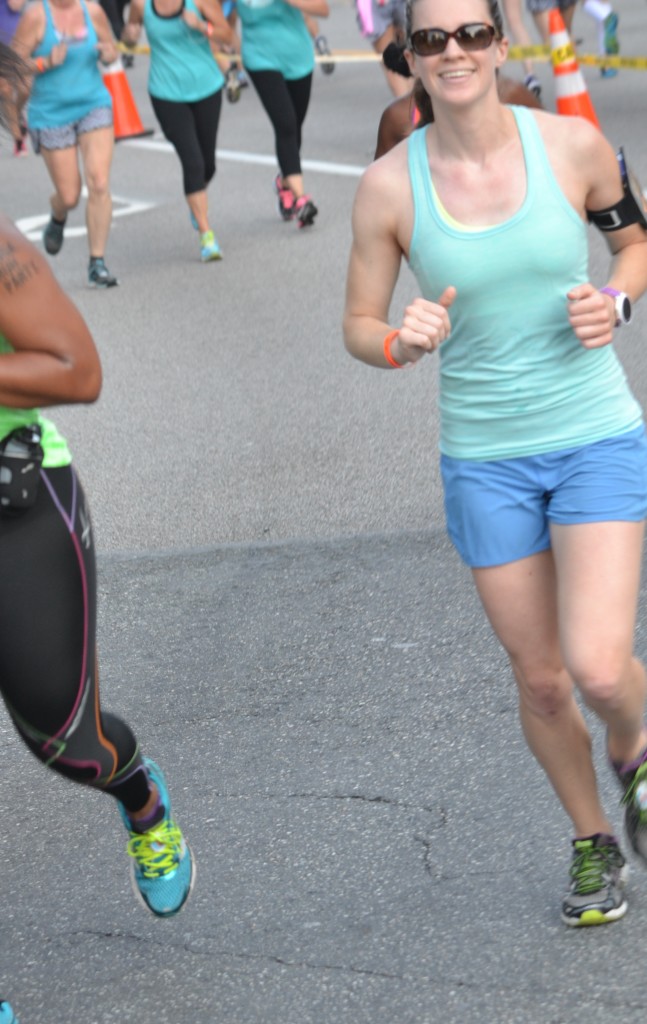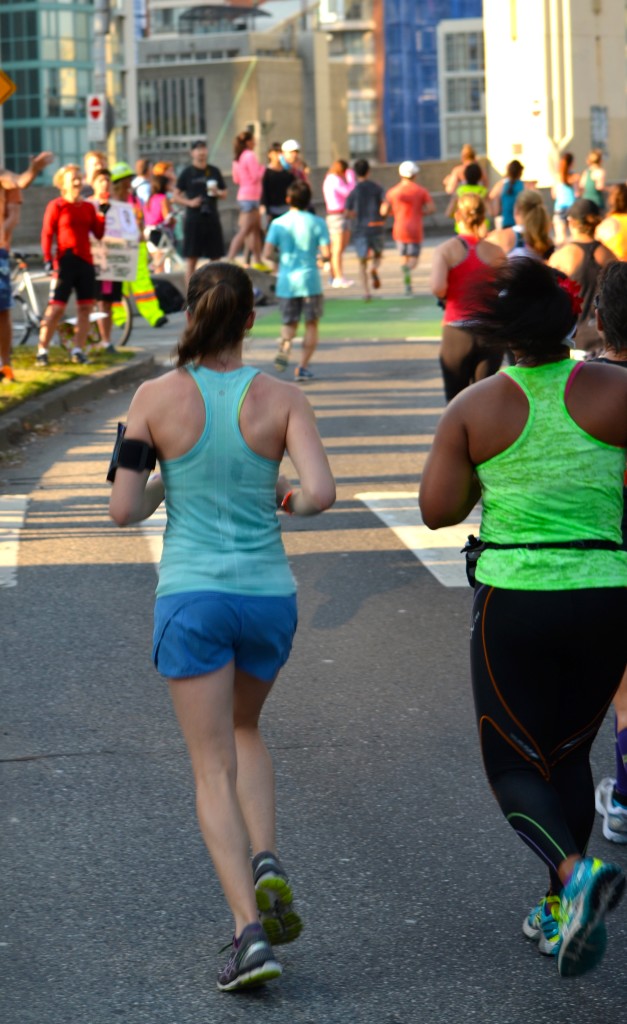 It was somewhere on the Burrard Bridge that I decided I could go for the unreachable. It was around mile 5.5 that I realized I hadn't even been running for an hour yet. My secret it-would-be-really-amazing-but-unlikely goal of breaking 2 hours at this race crossed my mind and stuck around a little too long. I picked up the pace and powered up and down the bridge's hills and tried to keep pushing a little harder on what felt like the never ending down and back in Kitsilano. My legs were killing me as I came back up the bridge, but I was feeling strong and ready to tackle the second half of the race.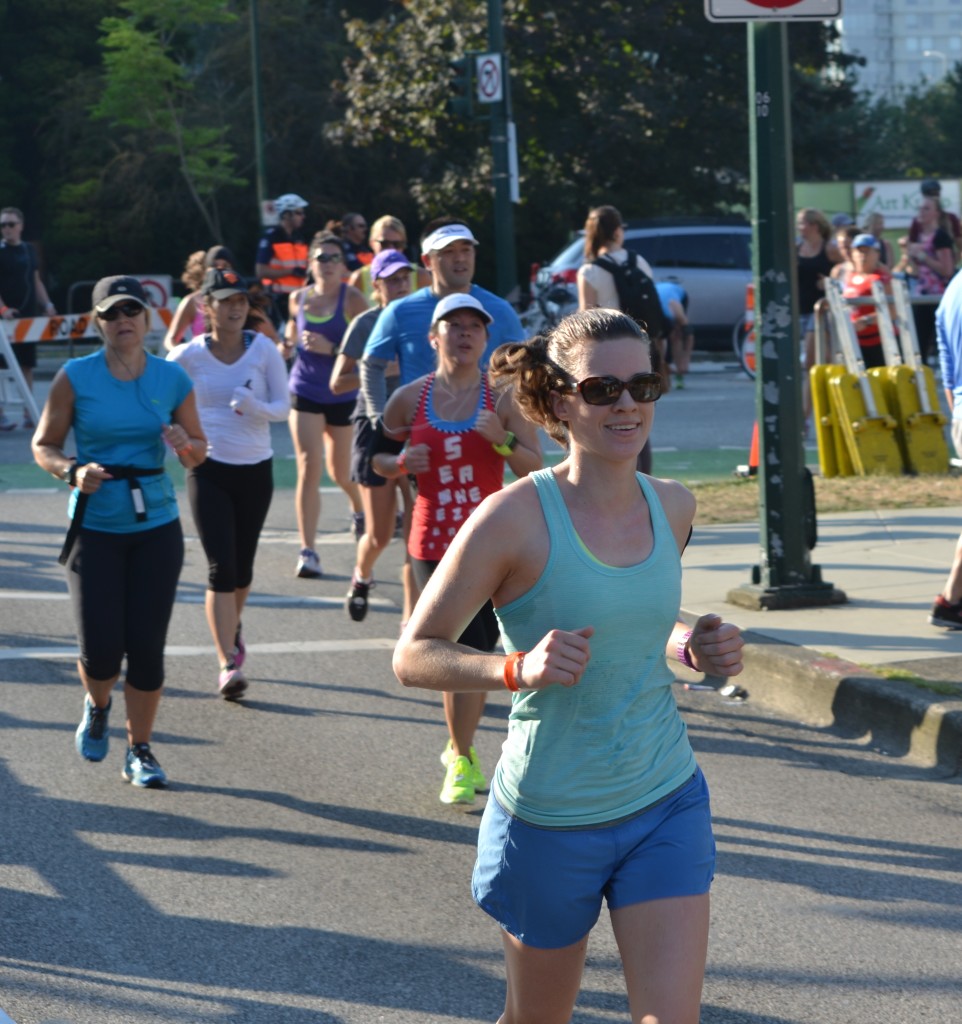 (Thankfully there is no photo evidence of me tripping around the corner in the background of this photo and windmilling my arms to stay upright. It's always unnerving when you make the crowd gasp. #Klutz)
After the bridge (and seeing my parents again for another super sweaty high five) we headed down to the water. The view was gorgeous! Too bad I was so busy trying to keep my legs moving and to not trip that I didn't take in too much of it. Every once in a while I would look out over the water to the mountains beyond and it would hit me how lucky I was to be there.
We ran along The Seawall in Stanely Park in a pretty solid group (not too many people tried to shove their way ahead along the narrower path). Unfortunately I hand't brought music because I thought I would like the crowd to cheer me on. I was wishing desperately I had it here since all I had to listen to was everyone's breathing and the random squawk of a seagull. Despite the lack of external motivation, I kept my pace and my head up. I was still toying with what it would feel like to finish in under or close to 2 hours and I was pretty determined.
With only a 5k to go (and the finish line far far away as far as my eyes were telling me) I picked up the pace by 45 seconds (not recommended). I hauled ass for a mile and a half before the serious pain and struggle set in. I was so thirsty and starting to get nauseous from the intense effort. I was desperate for some water, but there were only a couple of aid stations along The Seawall. It wouldn't be until mile 12 or that we would get water again. By then it was way too late.
I had pushed too hard, not had enough water, and not taken in enough calories. It was much warmer than I expected and I was sweating much more heavily than I did at my last half. I was rapidly crashing hard. I summoned all of the horrible CrossFit workout memories where I thought I was going to die and held my pace as much as I could. I thought I could push through it, and I did for about a mile, but at mile 12 I was crashing so hard I was almost tripping with every other step. Lifting my feet high enough was so hard. It took everything I had to keep moving. I felt like I was running through waist deep maple syrup. When we came around a turn and I saw another hill I just about lost it. I told myself I wasn't going to walk, but after two steps uphill I walked shamelessly. Once the finish line was in site I gave it everything I had (and still got passed by everyone and their mother). I don't remember the crowd. I don't remember being passed. I remember feeling like I was dying and that I honestly might not make it. A woman collapsed in front of me about 20 yards from the finish line, and I thought I would sit down right next to her.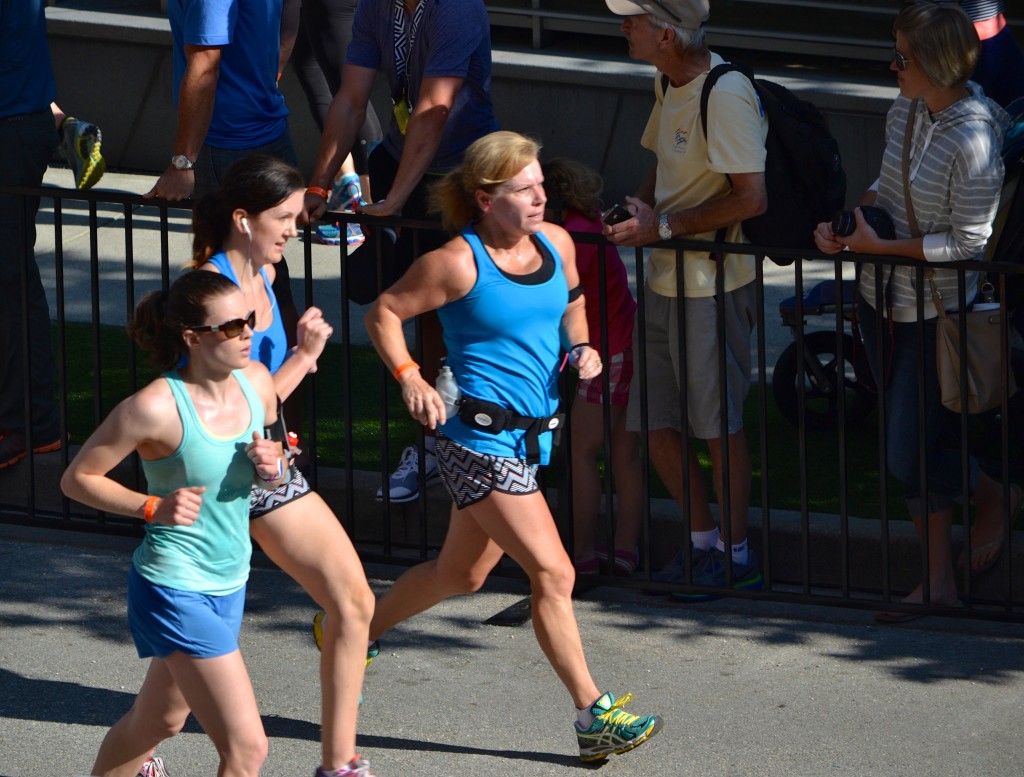 When I finally crossed the finish line my legs were shaking so bad I couldn't stand straight. I wobbled toward the water station and tried desperately to get a bottle. At this point I knew I was severely dehydrated and that I had clearly bonked. I stumbled out of the finish area (it took forever) chugging my water (mistake, take small sips) desperately searching for my family. Despite wanting the promised waffles at the runners' brunch (seriously, one of my goals was to finish before they ran out of waffles), I couldn't stand up straight in line. I thought I was going to throw up everywhere or sit down and not be able to get up. My parents kindly shuffled me the few blocks back to our hotel and got me waffles (which I promptly ate from my comfortable spot on the floor).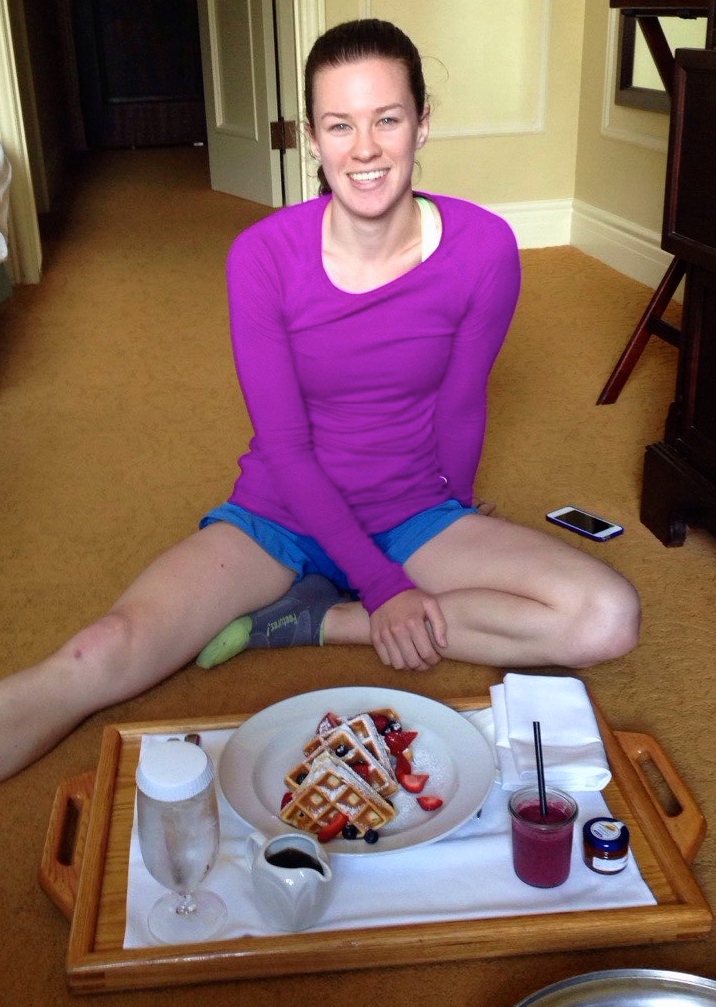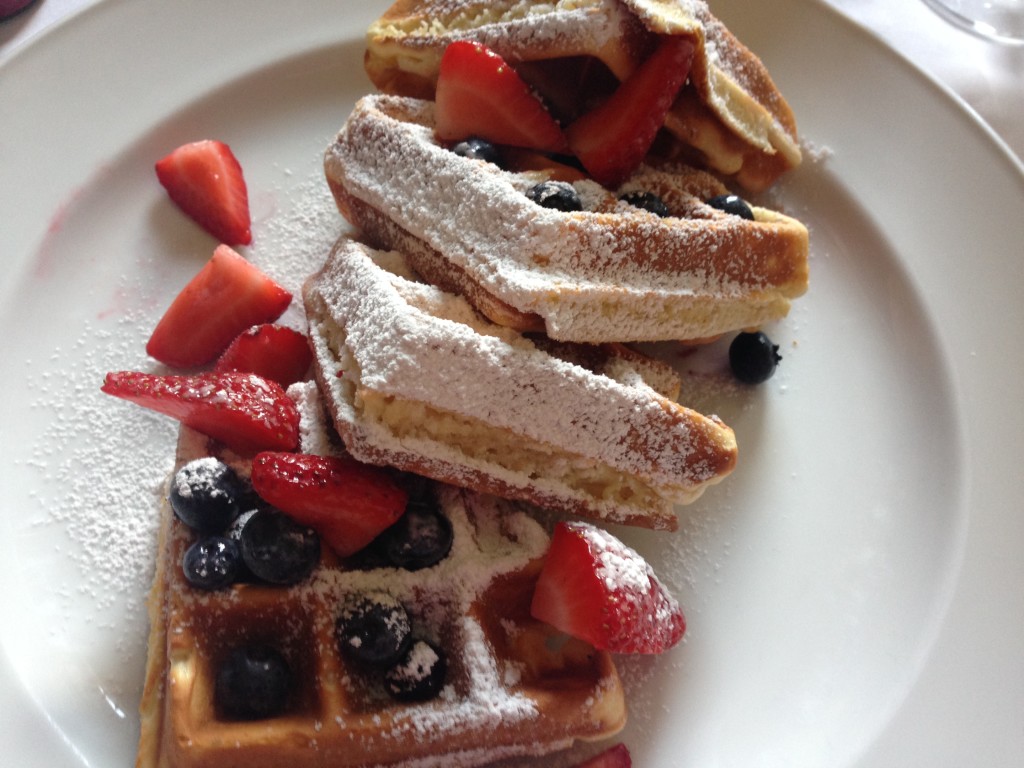 It took me a few hours to finally stop feeling horrible (it was a really really rough three hours) and finally realize what I had done. Sure, I didn't make my crazy, what-if time goal, but I sure as hell got a new PR. By 30 minutes! Not too shabby to go from being an injured, non-running disaster to finishing in 2:18. I'll take it.